If Russ Craft was drafted by any NFL team other than the Eagles, he would have been a running back and most likely a starter. But when Craft joined the Eagles in 1946, he found himself behind Steve Van Buren who led the NFL in both rushing and scoring the previous year.
"Steve was the best running back in the league, so I knew I wasn't gonna beat him out," Craft said. "Greasy (Neale, the head coach) said, 'Russ, how 'bout we put you on defense?' That was fine with me. As long as I was on the field, that's all I cared about."
But Craft was a star halfback at Alabama and he still had a desire to carry the football so he volunteered to return kicks. On October 7, 1950, he set an Eagles record by returning a kickoff 103 yards in a 56-20 rout of the Los Angeles Rams at Connie Mack Stadium. Craft's record stood until Tim Brown's 105-yard return against Cleveland in 1961.
"That was a big game," Craft said, referring to the win over the Rams. "We played the Rams in the championship game the previous year and beat them (14-0). They did a lot of talking about how they were going to come back and beat us in Philadelphia, show everybody they were the better team. We didn't say much, we didn't do a lot of talking, but we felt like we had something to prove.
"We got off to a fast start and when I scored on that kickoff return, it broke their backs. They had a great team. They had two Hall of Fame quarterbacks (Norm Van Brocklin and Bob Waterfield), two Hall of Fame receivers (Tom Fears and Elroy Hirsch), and great players up and down the line but we were the champs two years in a row and we showed it that day. We creamed 'em."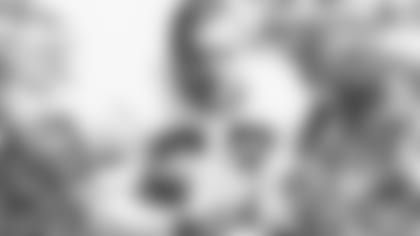 Craft was only 5-9 and 170 pounds but he was one of the top defensive backs in the league. Two weeks before the Rams game, he set an NFL record by intercepting four passes in a 45-7 win over the Chicago Cardinals. It is still the team record and it is tied for the league record.
"I was small but I played hard," Craft said. "I worked at being a sound defensive back. I had my share of interceptions but I always approached things conservatively. Some guys like to gamble and go for the big play. I didn't do that. I was more concerned with not giving up the big play. If the opportunity (to make a big play) came my way I took it, but I didn't go looking for it. That's how you get burned."
"Russ was one of those unsung heroes," tackle Vic Sears said. "He did a little of everything. He returned kicks, he was outstanding on defense, and when Steve was hurt Russ stepped in and did a good job at halfback. He was little but he would've been the last guy on the team I'd want to fight. I don't think anybody could've whipped him, not even Bucko (Kilroy, the All-Pro tackle). He was strong and he had unbelievably quick hands. Pound for pound, Russ was probably the toughest guy on the team."
Craft displayed his quick hands in a 1947 game against the Rams when he stole the ball from Hirsch and returned it for a touchdown in a 14-7 Eagles win. NFL Films included the play in the video Pro Football's 100 Greatest Touchdowns. On the film, Hirsch is seen catching the ball and turning upfield only to have Craft snatch it away. It happens so quickly that Hirsch takes several steps before realizing he no longer has the ball.
"That play got a lot of publicity," Craft recalled. "The next season, we went to Los Angeles to play the Rams and when we got off the train, two policemen grabbed me and handcuffed me. A lady came running up screaming, 'He's the one. He's the one who stole the ball.' It turns out it was a publicity stunt. There was a photographer there and they put the picture of me in handcuffs on the front page of the L.A. papers.
"We all got a laugh out of it later but at the time I thought, 'What the heck is going on?'"
Craft was one of several World War II veterans on the Eagles' championship roster. He was an Army infantry officer in the Allied drive across Europe and finally into Germany. He was among the first wave of GIs who freed the prisoners in the concentration camps.
"It has an effect on you, no doubt," Craft said. "I was a young guy from a small town (McEwan, Tennessee), all of a sudden I was thrown into this (war) not knowing if I'd ever get home. I was so grateful when it was over and I could go home and play football again. All the (veterans) on the team felt that way, (Pete) Pihos, (Joe) Muha, Chuck (Bednarik), all of us."
After his playing career ended in 1953, Craft retired to Wellsburg, West Virginia where he worked in a bank and served as the county treasurer, but he never forgot his eight seasons with the Eagles.
"Hardly a night goes by that I don't dream about playing with the Eagles," Craft said in a 1982 interview. "Some people worry about concentrating on the past, but I don't really do that. I'm glad to relive those days. Why shouldn't I? I had a grand time there."
An award-winning writer and producer, Ray Didinger was inducted into the Pro Football Hall of Fame in 1995. He has also won six Emmy Awards for his work as a writer and producer at NFL Films. The five-time Pennsylvania Sportswriter of the Year is a writer and analyst for NBC Sports Philadelphia. Didinger will provide Eagles fans a unique historical perspective on the team throughout the year for PhiladelphiaEagles.com. You can read all of his _Eagles History columns here_. He is also the author ofThe Eagles Encyclopedia: Champions Edition which comes out in October.