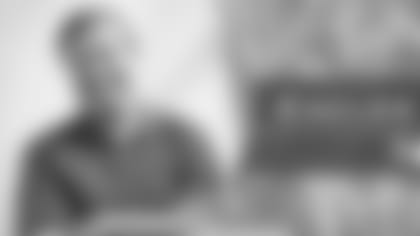 By now I'm sure many Eagles fans know of my history with Tommy McDonald. I've told the story before, how he was my first football hero, how I carried his helmet at Eagles Training Camp and how I later campaigned for his election to the Pro Football Hall of Fame.
When Tommy was voted into the Hall in 1998, he asked me to be his presenter. It was a tremendous honor. I'll never forget riding in the parade next to my boyhood idol and then delivering my speech at the enshrinement. I couldn't believe I was the one introducing Tommy right there on the steps of the Hall.
It is a one-of-a-kind story about hero worship and life coming full circle in a wonderful and unexpected way. I felt it was a story worth sharing, but I wasn't sure how to do it. A book? A magazine article? They didn't seem quite right. Then I thought: "What about a play?"
It took awhile - more than a year, actually - but I finally finished the script for a play entitled "Tommy and Me." It will have its first public reading at the Plays and Players Theatre on Monday, May 4, at 7 PM. The theatre is located at 1714 Delancey Place just off Rittenhouse Square in Center City.
Theatre Exile, a local theatre company, will stage the reading. Joe Canuso, the company's artistic director, will direct the reading. Tom Teti, a prominent local actor, will read the part of Tommy McDonald. Matt Pfeiffer, who is an actor and director with Theatre Exile, will play me.
Luckily for me, Joe Canuso is a Philadelphia native and sports fan. Like me, he grew up in the city in the '60s and Tommy McDonald was his favorite player, too. When he read the script, he said, it brought back many of the same memories, going to Franklin Field every Sunday and watching Tommy McDonald catch touchdown passes from Norm Van Brocklin and Sonny Jurgensen.
I never had written a play before so it was all new to me. Joe brought in Bruce Graham - whose play "The Philly Fan" was a huge success - to help me fine tune the script. After several rewrites and lots of tweaking, "Tommy and Me" is finally ready for the stage.
An All-America halfback at the University of Oklahoma, Tommy McDonald was a third-round draft pick of the Eagles in 1957. He played his first seven seasons in Philadelphia and set the club record with 66 touchdown catches. He had 13 touchdown receptions in the 1960 season and added another in the championship game against Green Bay as the Eagles won the NFL title. He still resides in the Philadelphia area.
After the reading on May 4, I will join the director and the cast on stage to field questions from the audience.
An award-winning writer and producer, Ray Didinger was inducted into the Pro Football Hall of Fame in 1995. He has also won six Emmy Awards for his work as a writer and producer at NFL Films. The five-time Pennsylvania Sportswriter of the Year is a writer and analyst for Comcast SportsNet. Didinger will provide Eagles fans a unique historical perspective on the team throughout the year for PhiladelphiaEagles.com. You can read all of his Eagles History columns here. He is also the author of The New Eagles Encyclopedia.