Fred Barnett and Calvin Williams arrived in Philadelphia together. They were the Eagles' third and fourth selections in the 1990 NFL Draft, a pair of wide receivers with low profiles but high expectations.
Barnett played his college football at Arkansas State, a small school well off the national radar. Williams played at Purdue, a bigger school, but one where he was lost in a wishbone offense until late in his senior year.
Barnett and Williams weren't even the first receivers drafted by the Eagles that year. Buddy Ryan selected Mike Bellamy, a wide receiver from Illinois, in the second round. As it turned out, Bellamy lasted only one season in Philadelphia. Barnett and Williams came and stayed.
Barnett played six seasons with the Eagles, Williams played seven. They currently rank eighth and ninth among the team's all-time leading receivers. Barnett had 308 catches for 4,634 yards and 28 touchdowns. Williams had 295 receptions for 3,840 yards and 34 touchdowns.
Fred and Calvin. In many ways it is impossible to think of one without the other so it is only fitting they will appear at Lincoln Financial Field together Sunday as the Honorary Captains presented by Santander for the game against the Detroit Lions.
Barnett and Williams teamed with quarterback Randall Cunningham to give the Eagles one of the league's most explosive passing attacks. Barnett was selected for the Pro Bowl following the 1992 season when he caught 67 passes for 1,083 yards. The next year, Williams ranked fourth in the NFL with 10 touchdown receptions, including three in one game against Washington.
"There are a lot of great receivers in the league, guys like Jerry (Rice) and Sterling (Sharpe) but for a one-two punch, I'll take Freddie and Calvin," Cunningham said. "I just have to throw the ball and they go up and get it."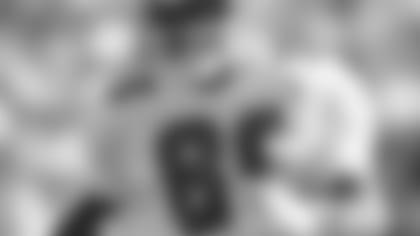 That is what happened on that blustery December day in Buffalo, 1990, when Cunningham ducked away from a Bills rush in his own end zone and heaved a desperation pass to midfield. Barnett soared over a Buffalo defender to make the catch and raced away to complete a 95-yard touchdown play, the second-longest pass play in Eagles history.
It was an amazing play about eight different ways and it was the kind of play that Barnett envisioned himself making as a youngster growing up in Gunnison, Miss.
"When I was a kid, I used to lie across my bed visualizing that NFL football coming at me in that perfect spiral you see on TV and me catching it," Barnett said in a 1992 interview.
"It was a goal of mine and after I saw it take place in my mind, it was such a positive influence on me that I kept visualizing it and it became stronger as I kept working for it. I just felt that one day I'd be right where I am now.
"I still visualize things," he said. "I see Randall standing in there, getting good blocking and I see me and Calvin catching balls and us scoring a lot of points and winning."
Barnett was 6-feet and 205 pounds. Williams was 5-foot-11 and 190 pounds, but they played much bigger. In a 1992 win over Denver, they accomplished a rare feat, both topping 100 yards receiving in the same game. (Harold Carmichael and Mike Quick had done it in a 1983 game against Washington).
Ryan gave Barnett the nickname "Arkansas Fred" and it stuck throughout his time with the Eagles. Even today if you mention his name to most Eagles fans they will say, "Oh yeah, Arkansas Fred." They will also remember his two touchdown grabs in the 1992 Wild Card game against New Orleans, a game the Eagles rallied to win, 36-20.
Williams grew up in Baltimore and played basketball at Dunbar High School where his teammates included Muggsy Bogues, Reggie Williams and David Wingate. He accepted a football scholarship to Purdue, but it wasn't until the team switched to a pro-style offense his senior year that he attracted the attention of pro scouts.
"I felt someone would draft me, I just didn't know where," said Williams, who was the 133rd overall pick. "All I wanted was a chance. If someone gave me a chance, I would make the most of it."
"It is a shame these kids don't get more notoriety because they deserve it," said Rich Kotite, who was their head coach for four seasons (1991-94). "When most people think of our team they think of Reggie (White) and the defense and they think of Randall, but Freddie and Calvin are outstanding players.
"What most people don't see but we (as coaches) appreciate is how hard they work every day. They are here early in the morning watching film. They go hard on the practice field and they carry that same work ethic into the game. They want to be good, really good, and they are."
An award-winning writer and producer, Ray Didinger was inducted into the Pro Football Hall of Fame in 1995. He has also won six Emmy Awards for his work as a writer and producer at NFL Films. The five-time Pennsylvania Sportswriter of the Year is a writer and analyst for Comcast SportsNet. Didinger will provide Eagles fans a unique historical perspective on the team throughout the season for PhiladelphiaEagles.com. You can read all of his Eagles History columns here.