Nick Foles wasn't thinking about making history when he took the field in Oakland on November 3, 2013. He was just trying to prove to his coaches, his teammates, and himself that he could really play quarterback in the National Football League.
Two weeks earlier, Foles played miserably in a 17-3 loss to Dallas. He completed just 11 of 29 passes for 80 yards before leaving the game with a concussion. He sat out the next week - a 15-7 loss to the New York Giants - but when Michael Vick pulled his hamstring in that game it put Foles back on the field against the Raiders.
At the time, there were many questions surrounding the team. Could head coach Chip Kelly's offense work in the NFL? The Eagles had not scored a touchdown in their previous two games. If Vick wasn't injured who would be the starting quarterback? The answer probably was Vick since he outplayed Foles in the preseason, although neither was getting much accomplished in the team's 3-5 start.
But perhaps the biggest question involved Foles. Did he have a future with the Eagles? Could a 6-6, 245-pound pocket passer be successful in Kelly's uptempo, spread offense? Indeed, did Foles have the skills to compete in the NFL? After watching him struggle against the Cowboys, it was a legitimate question.
Foles responded with a historic performance against the Raiders, tying an NFL record with seven touchdown passes in a 49-20 victory, their first ever at the Oakland Coliseum. Foles completed 22 of 28 pass attempts which means he had more touchdown passes (7) than incompletions (6). His passer rating was a perfect 158.3. He went from awful to awesome in a span of two weeks.
"Nick was kind of dialed in to what we wanted to do and he was outstanding in terms of his performance," Kelly said.
Kelly claimed he never lost confidence in Foles. He knew there were critics who were ready to write off the young quarterback after the Dallas game but Kelly believed Foles would bounce back.
"I think that's what we all expected so maybe Nick showed some other people," Kelly said. "What happened in the Dallas game was really the exception not the rule for him."
"Nick played unbelievable," said tight end Brent Celek, who caught the first of the seven touchdown passes. "I think the stats speak for themselves. He was great. We knew he has it in him. Today he really showed it."
"He just seemed so focused in this game, like he had something to prove," running back LeSean McCoy said.
Foles said he spent the week studying the tape of the Dallas game learning from his mistakes. He noted his mechanics broke down in that game. His footwork was poor and as a result, many of his throws were off target. Foles had receiver Jason Avant wide open in the end zone for what should have been an easy touchdown but he made a hurried and off-balance throw that fell incomplete.
Against the Raiders, Foles did not look like the same player. He was in total command from the very first possession when he completed 6 of 7 passes for 94 yards, finishing the drive with a 2-yard touchdown pass to Celek. He led the Eagles to touchdowns on each of their first four possessions opening a 28-13 halftime lead.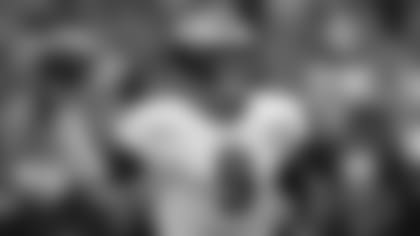 When Foles met the press after the game, he was typically low-key, shrugging when it was mentioned that he had just made history.
"I'm just glad we won the game," he said. "That's really all I was thinking about."
Foles said he didn't feel any special motivation coming off the Dallas game. He just knew he had to play better - and he did.
"Sometimes you're going to have bad games and they're tough to deal with," said Foles, who was making only his ninth career start. "The Dallas game was like that. But I saw what I did wrong and I knew I could fix (the mistakes) by working on them in practice and watching them on film.
"I felt good coming into this game. We had a good game plan, the line played great in front of me, and everyone else was contributing making plays."
Riley Cooper had three touchdown receptions. Celek, McCoy, DeSean Jackson, and Zach Ertz (then a rookie) each had one. For Ertz, it was his first NFL touchdown.
Foles had all seven touchdown passes by the end of the third quarter. He had a good shot at breaking the NFL record but Kelly lifted him after one series in the fourth quarter. Kelly didn't see the point in risking an injury and Foles agreed.
As it was, Foles put his name in esteemed company. The other quarterbacks to throw seven touchdown passes in one game include three Hall of Famers (Sid Luckman of Chicago, Y.A. Tittle of the Giants, and George Blanda of the Houston Oilers), two future Hall of Famers (Drew Brees and Peyton Manning), a league MVP (Joe Kapp of Minnesota), and a fellow Eagle (Adrian Burk who tied the record in 1954).
After the game, Foles' jersey, cleats, and the ball he threw for the final score were sent to Canton, Ohio and put on display at the Pro Football Hall of Fame. He was named NFC Offensive Player of the Month, completing 71 percent of his passes in November with 10 touchdowns and no interceptions. His quarterback rating for the month was 152.8, the highest one-month rating ever recorded.
Foles made the cover of* Sports Illustrated* and his eye-popping statistics had everyone around the league talking. That included Brees, who attended the same high school (Westlake High in Austin, Texas) as Foles.
"Those are unprecedented numbers, especially for a guy in his first year as a starter," Brees said. "I'm very happy for his success. Not just the fact we're from the same school and I know the road he's traveled but because he seems like a tremendous young man. You can see by the way he plays, he's mature beyond his years."
An award-winning writer and producer, Ray Didinger was inducted into the Pro Football Hall of Fame in 1995. He has also won six Emmy Awards for his work as a writer and producer at NFL Films. The five-time Pennsylvania Sportswriter of the Year is a writer and analyst for NBC Sports Philadelphia. Didinger will provide Eagles fans a unique historical perspective on the team throughout the year for PhiladelphiaEagles.com. You can read all of his Eagles History columns here.