Chip Kelly finally announced this week what everyone, including Michael Vick, already knew: Nick Foles is the Eagles No. 1 quarterback. That has been clear for awhile.
But Foles has done more than win the starting job. He has put together a string of games that could make him the highest-rated quarterback in team history. There are five games left in the regular season - and you could argue those are the biggest games given what's at stake - but if Foles keeps it going he could have the best season ever statistically for an Eagles quarterback.
At the moment, Foles leads the league with a quarterback rating of 128.0, well ahead of Peyton Manning (114.5), Aaron Rodgers (108.0) and Drew Brees (107.3). At this pace, he would establish the highest single-season quarterback rating in Eagles history. Currently, the top 12 are:
EAGLES' TOP SINGLE-SEASON QB RATINGS
Rank
Player
Year
QB Rating
1
Donovan McNabb
2004
104.7
2
Michael Vick
2010
100.2
3
Tommy Thompson
1948
98.4
4
Jeff Garcia
2006
95.8
5
Donovan McNabb
2006
95.5
6
Donovan McNabb
2009
92.9
7
Randall Cunningham
1990
91.6
8
Ron Jaworski
1980
91.0
9
Donovan McNabb
2007
89.8
10
Kevin Kolb
2009
88.9
11
Sonny Jurgensen
1961
88.1
12
Randall Cunningham
1993
88.1
Foles' numbers this season are off the charts. He is completing 63.6 per cent of his passes and averaging a league-best 9.59 yards per attempt. He has thrown 16 touchdown passes and no interceptions. He recovered from the clunker against Dallas with three superb performances in as many weeks. He tied an NFL record by throwing seven touchdown passes in one game, the 49-20 rout of Oakland.
Of course, Foles season is still a work in progress. A lot can happen between now and the final regular season game in Dallas, December 29. We've been down this road before. There are dozens of Bobby Hoying and Kevin Kolb jerseys gathering dust in area closets. It is dangerous to rush to judgment on young quarterbacks and Foles, with just 11 career starts, is still that. We can't even be sure of the coach's commitment to him beyond this season.
But for now he has been on quite a roll.
To this point, how does Foles' 2013 season compare to those at the top of the list?
McNabb's 2004 season was the high point of his career. With Terrell Owens added to the offense, McNabb established career highs in completion percentage (64 percent) and touchdown passes (31). He was the first player in NFL history to accomplish a rare double: throwing for more than 30 touchdowns and fewer than 10 interceptions (eight, to be exact). McNabb could have padded his stats, but coach Andy Reid sat him out for the final two games of the regular season minus one drive at St. Louis. Of course, he capped off that season by leading the Eagles to the Super Bowl.
Vick is the only other Eagles quarterback to finish a season with a rating above 100. He took over the starting role after Kolb was injured in the league opener and went on a spectacular three-month run that included a breathtaking performance in Washington (four touchdown passes, two touchdown runs against the Redskins) and a memorable comeback win against the New York Giants. It was the only time in his career that he completed more than 60 per cent of his passes (62.6) and his touchdown-to-interception ratio was a solid 21-6.
Of the top finishers, Thompson is the most surprising because he played in an era when the NFL was all about running the ball. That was particularly true of the Eagles who had the league's best rusher, Steve Van Buren. But in 1948, a 12-game regular season, Thompson led the league with 25 touchdown passes. Washington's Sammy Baugh was second with 22 and no other quarterback had more than 14. Thompson operated coach Greasy Neale's T-formation to perfection and guided the Eagles to their first world championship.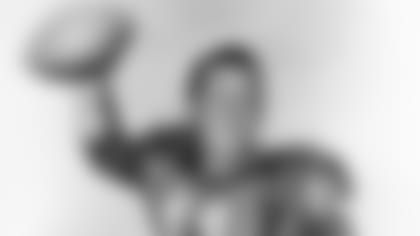 Like Vick, Garcia came off the bench to replace an injured starter (McNabb) and rallied the team to a spot in the playoffs. Under Garcia, the Eagles won six games in a row, including a first-round playoff victory over the Giants, before losing in the divisional round to New Orleans. Garcia completed 61.7 percent of his passes but what he did best was avoid mistakes (just two interceptions) and sacks (six).
Statistically, those stand as the best seasons ever turned in by an Eagles quarterback and the standard by which Foles will now be measured. But statistics aren't always the most accurate evaluator. That is especially true with quarterback ratings. Google the mathematical formula used to arrive at the number. It is a noble attempt at ranking the quarterbacks, but it isn't exactly reliable.
For example, if you go by the quarterback ratings Chad Pennington (90.1) was better than Dan Marino (86.4). David Garrard (85.8) was better than McNabb (85.6) and Roger Staubach (83.4). Brian Griese (82.7) was a better quarterback than his Hall of Fame father Bob (77.1). Mark Sanchez (71.7) is better than Terry Bradshaw (70.9) and Joe Namath (65.5). Well, that's what the numbers say. We all know the numbers are wrong.
In my opinion, Norm Van Brocklin's 1960 season was the best ever played by an Eagles quarterback. I'll admit to a fan's bias – I was a 14-year-old sitting in the end zone seats at Franklin Field – but Van Brocklin was an absolute magician that season. Almost every week, it seemed the Eagles trailed going into the fourth quarter and Van Brocklin somehow found a way to drag them safely to shore.
His quarterback rating for the season was 86.5 which ranks 14th on the Eagles' all-time list. He completed 54 percent of his passes with 24 touchdowns and 17 interceptions. Look at those numbers now and you shrug. But it was a vastly different game then. Quarterbacks didn't dink and dunk, they threw the ball down the field and took more chances. They called their own plays and, in Van Brocklin's case, he was his own offensive coordinator. At 34 years old and playing his final season, the Dutchman was the unquestioned leader of the team.
Unless you were there to see it, it is hard to appreciate how great Van Brocklin was that season. I know this: the Eagles would not have won the NFL Championship without him. He was voted the league's Most Valuable Player for the regular season and he won the MVP Award for the title game victory over Green Bay. It was the only postseason game Vince Lombardi ever lost as a head coach and he lost it to Norm Van Brocklin.
Nick Foles is having a very good season but, numbers or no numbers, he will have to go some to eclipse what the Dutchman did in 1960.