When Zach Ertz caught his 15th pass on Saturday, a graphic flashed on the TV screen noting he had just set a team record. Fifteen catches in a single game broke the mark previously shared by Brian Westbrook and Don Looney.
I'm sure the reaction of most Eagles fans was: "Don who?"
That's understandable because Looney set the original record of 14 catches in 1940. His brief partnership with quarterback Davey O'Brien is a little known but fascinating chapter of Eagles history.
Looney and O'Brien were teammates at TCU. In an era when teams rarely threw the ball, TCU threw it all the time and it was the tiny O'Brien (5-foot-7, 150 pounds) throwing to the lanky split end Looney (6-foot-2, 175). In 1938, O'Brien won the Heisman Trophy as he led TCU to an undefeated season.
The Eagles used their first pick in the 1939 draft to select O'Brien and they drafted Looney the following year. Bert Bell, the team's coach and general manager, figured O'Brien and Looney would have the same success in the NFL. He overlooked one thing: the rest of his team stunk.
In 1940, O'Brien threw the ball on almost every play and Looney was usually the intended receiver but it was all for naught. The team finished 1-10 even though O'Brien and Looney connected 58 times for 707 yards making them the most prolific pitch-and-catch combination in the league.
Looney's 58 receptions put him well ahead of Green Bay's Don Hutson, the dominant pass catcher of the era, who finished with 45. It established an Eagles record that stood for 13 years until Pete Pihos, the future Hall of Famer, led the league with 63 catches in 1953.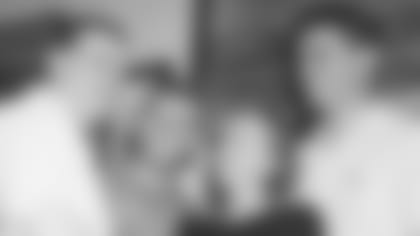 Bert Bell with Davey O'Brien (second from left), O'Brien's wife, Janie, and Don Looney (far right)
It is ironic that O'Brien and Looney had their biggest day in Washington in a game paralleling Ertz's record-setting performance. It was December 1, 1940 and O'Brien threw the ball 60 times - a mind-boggling number any time but especially back then - to set a league record.
It is still the second-most pass attempts in a game by an Eagles quarterback, topped only by Randall Cunningham's 62 attempts against Chicago in 1989. Even Andy Reid on his most pass-happy day never reached the 60 mark. He topped out at 58; that's how many times he had Donovan McNabb throw the ball in the 13-13 tie at Cincinnati in 2008.
But O'Brien attempted 60 passes that day in Washington and completed 33 which set another NFL record. Looney caught 14 for 180 yards. Still, the Eagles lost the game, 13-6.
What made headlines was not the records set by O'Brien and Looney, but the news that it was O'Brien's final game. He announced he was retiring from football and walking away from a $12,000 salary, among the best in the league, to join the Federal Bureau of Investigation.
It was a huge story: one of football's marquee players quitting the sport after just two seasons to become a government agent. O'Brien said his decision had nothing to do with the Eagles' miserable record. He said he would have done the same thing if he were playing for a first place team. Government service was something he wanted to pursue all along.
"Football has always been my first love and it has been mighty nice to me," O'Brien said, "but for the sake of the future, it's time to quit. I'm fortunate to get this (FBI) job and unless a man expects to stay in football, the longer he plays it, the longer he delays starting whatever work he is going to do afterwards."
Before his final game, O'Brien was presented with a silver plaque by Bert Bell. The inscription read: "Davey O'Brien, the greatest player of all time, retiring from pro football to serve his country. Small in stature but with the heart of a lion. A living inspiration to the youth of America."
Even Washington's owner George Preston Marshall paid tribute, saying: "The National Football League, naturally, will miss Davey. However, he will become the property of all the people of the nation and I feel sure he will be a credit to his country."
O'Brien spent 10 years with the FBI as a field agent. When he left the bureau, he went into private industry in his native Texas. Looney played only one more season and he, too, quit football. He and O'Brien later teamed up as business partners and - no surprise - they were very successful.
An award-winning writer and producer, Ray Didinger was inducted into the Pro Football Hall of Fame in 1995. He has also won six Emmy Awards for his work as a writer and producer at NFL Films. The five-time Pennsylvania Sportswriter of the Year is a writer and analyst for Comcast SportsNet. Didinger will provide Eagles fans a unique historical perspective on the team throughout the season for PhiladelphiaEagles.com. You can read all of his Eagles History columns here. He is also the author of The New Eagles Encyclopedia, the perfect gift for any Eagles fan this holiday season.