FOXBOROUGH, MA -- Against the first-team defense of the New England Patriots, the Eagles offense was able to move the ball as well as anyone could have hoped for. It was not simply the Brian Westbrook show either. A committee of wide receivers was able to get open and help move the chains and help put points on the board. At the end of the first quarter, Donovan McNabb completed six passes to six different receivers. When the game ended, 12 different players had made a catch, totaling 22 receptions for 286 yards. Three tight ends, two running backs and seven wide receivers found their name in the box score under "receiving" after the 27-17 victory.
Head coach Andy Reid's high-flying passing offense was still successful even without his two starting receivers, Kevin Curtis and Reggie Brown, thanks to the performance of the reserves: Greg Lewis, Jason Avant, Hank Baskett and DeSean Jackson to name a few.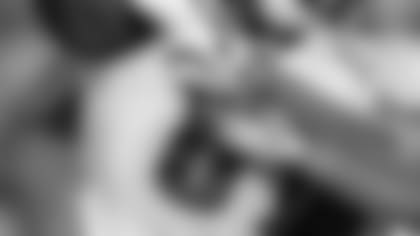 WR Jason Avant celebrates his TD
"I thought they played well," Reid said. "I'll have to analyze it on the film but I thought we caught the ball well and it looked like they gave Donovan the chance to do some things."
In his one half of action, McNabb was 13 of 17 for 180 yards and one touchdown. Although no one will make the argument that the team does not miss Curtis or Brown, their absence allowed the backups the chance to shine a little.
"I think you have to give guys opportunities to make plays and we did that today," McNabb said. "It's obviously big when you lose somebody like Kevin, who had 77 catches last year and then you don't have your other top receiver in Reggie Brown. I think the preseason gives guys an opportunity to come out and showcase their talents and do great things for us. We have a ways to go, but it's a good sign."
Jackson started the game and perhaps he has made the most of his playing time this preseason more than anyone on the roster. The rookie led the team in receptions and yards for the third straight week, making four catches for 67 yards.
"It was a privilege to be out there with the starting group," Jackson said. "I was able to start due to injuries to Kevin (Curtis) and Reggie (Brown), but it I gave it all I could give it out there and that's what I was hoping to come out and do."
L.J. Smith finished with three catches 44 yards. Avant made a nice seven-yard diving catch for the game's first touchdown. Baskett nearly had a touchdown to add to his two catches for 15 yards until it was overturned after the Patriots challenged the ruling on the field. Michael Gasperson entered the game during the fourth quarter and brought in the longest pass of the night for either team, a 42-yard strike from Kevin Kolb.
"The coaching staff and the players themselves have good faith in us to know that whenever someone goes down, they are confident in the guys that go in after them and the guys that go in after that to go in and make plays," Baskett said. "It just feels good to get out there and show that the guys that weren't the original starters can step up whenever the rest of the guys go down. We are all here to continue to fight and do whatever we can to help this team out like we did tonight.
"We have to look out for one another. When one of us got tired a guy on the sideline was ready to come in and we just knew that we had to come out here and make things happen because there was a lot of pressure on us tonight. Everybody was going to be watching the wide receiver position, especially to see what happens without Kevin and Reggie."
If Friday's performance still leaves you with questions about the Eagles before they begin the regular season, take it from the man throwing the passes on what to think about the receivers and this team as a whole.
"My confidence comes from how the team feels and I think the team is really high right now," McNabb said. "For all of us to really gel together and be able to achieve that common goal, knowing that it takes some steps, good things will happen for us."