The impact on the football field that DeSean Jackson brings, we know all about that. He says that if he were to line up and run a 40-yard dash right here, right now, he would time in at about 4.32 seconds, just off his best time of 4.27. The man brings zoom to the Eagles' offense.
Just as interesting is the evolution of DeSean Jackson, the man.
He returned to the NovaCare Complex after five seasons away with a fiancée and three sons and he knows he's joining an Eagles offense that has a galaxy of playmakers in wide receivers Alshon Jeffery and Nelson Agholor along with tight ends Zach Ertz and Dallas Goedert.
"I'm just looking forward to winning," said Jackson, who signed a new three-year deal Thursday after being acquired in a trade from Tampa Bay on Wednesday. "I kind of got used to being in the playoffs when I was here the first time (the Eagles made the playoffs four times in Jackson's six seasons) and I haven't been back much (just once, in the 2015 season with Washington) and it's hard to end the season early. I missed the postseason. That's what you play for. You play to win. I want to win and I'm excited to do that here."
Five seasons away changes people. Jackson said he was glad to be back and see some of the familiar faces at the NovaCare Complex. Jackson said he was "feeling great. Rejuvenated" coming back to Philadelphia. There are no hard feelings from the past. Jackson's mindset is very much looking forward. He has a new contract with the Eagles, a new beginning in familiar digs.
And he wants to make the most of it.
"I am a veteran guy now, man," Jackson said, "and I see things a little differently. When I was here the last time, 2013, I was so young. I had to go through what I went through in my life and in my career to be able to move forward. I look at it like, when you walk you take a step forward. You can't go backwards in life. You can learn from everything you go through and it makes you a man. I had to become a man fast in this world, especially having kids and having a family.
"I'm excited about coming here and finish off what I started."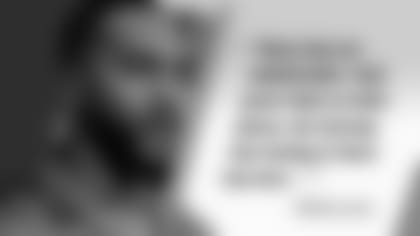 That's truly the theme of Jackson's return – moving forward, not looking back – although the view of Jackson's first six seasons in Philadelphia is one of big plays and spectacular moments. Jackson's breathtaking speed made a difference then and it's going to make a difference now. The offense just gained a jolt of energy, and Jackson is going to be put to great use.
But what's really interesting to see if how time changes a young man. Jackson is 32 years old now and a family man and who knows how much longer he's going to play in the league? When you're young and you come into the league and you star right away, maybe you think it's going to last forever. When you're entering you're 12th NFL season and you've seen what Jackson has seen and you've moved around as Jackson has moved, you know the reality of the world: The NFL can be taken away from you at any time.
"It's a business and you learn that early in your career," Jackson said. "As you go along, you understand how much work it takes to stay here. You can't cut corners. You have to put in the time, put in the work. I've learned all of that. I know what I need to do to keep my body ready for action. I'm here and I'm going to make the most of this opportunity. I feel blessed to be here. I feel like we've got great things ahead for the Philadelphia Eagles and I'm excited to help."
Jackson still doesn't have a sense of the new dynamic in the locker room with only six players still here from the time he left following the 2013 season – Jason Peters, Jason Kelce, Brandon Graham, Zach Ertz, Lane Johnson, and Fletcher Cox – but he'll fit in just fine. D-Jax talked in his press conference how he's gone from being the one who looked up to Donovan McNabb and Michael Vick early in his Eagles career to the guy who his younger teammates watched when they were in middle school. Age humbles. Age levels the playing field. Age reminds us all how precious time is.
And with that, Jackson starts another chapter in what truly has been a remarkable NFL career. He's a wispy 175ish pounds – all heart and speed and an innate skill set for an NFL wide receiver. He is clearly thrilled – absolutely thrilled – being back in Philadelphia and continuing on a journey that few predicted would last this long.
"You're gonna get out of this game what you put into it," Jackson said. "I'm here to work hard and to win games. That's all I care about. There are going to be some games where I'm going to get some throws and there might be some games where I'm not involved as much. That's fine with me as long as we win the game. I know this team has gotten used to winning a lot of games and I'm here to help that. That's my role."
Perfect. Jackson is the front-and-center addition to date as the Eagles have added to their defensive line strength with Malik Jackson and their depth and competition at linebacker and on special teams with linebacker L.J. Fort. More work is ahead. We're early in a process that extends into the summer months. The Eagles are off to a strong start with what they did prior to free agency – retaining Brandon Graham, resolving the Jason Peters question, extending deals for center Jason Kelce and Isaac Seumalo – and now comes the part where preparation and sticking to the strategy counts.
Free agency is a "supplement" for the roster, Howie Roseman has said, and the Eagles have supplemented the offense with much-welcomed speed from DeSean Jackson, a veteran who returns with a new perspective and a more urgent hunger to get to the top of the NFL.