One would think that it would be hard to ignore a 6-8, 321-pound offense tackle. However, it seems as if that's exactly what has happened to Dennis Kelly.
A fifth-round pick of the Eagles in 2012, Kelly was pressed into action early as a rookie. In all, Kelly started in 10 games and made appearances in three other contests.
There is a lot of reason for optimism regarding the Eagles' offensive line in 2013. New line coach Jeff Stoutland orchestrated the nation's most dominant offensive line at Alabama for the back-to-back BCS National Champions. Three starters, including All-Pro left tackle Jason Peters, are slated to return for the Eagles after ending last season on Injured Reserve. On top of all of that, the Eagles used their highest draft pick on over a decade on an offensive tackle, Lane Johnson.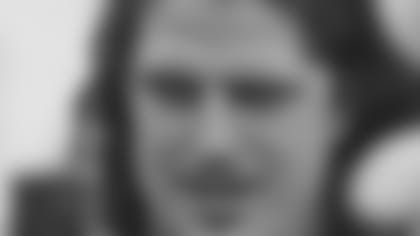 Nonetheless, Kelly is still working with the first-team unit during the Organized Team Activities which wrapped up Friday at the NovaCare Complex. He started the training sessions at right tackle and shifted over to left tackle with Peters not attending recent workouts for personal reasons.
"It's kind of hard because playing so much last year, you want to come in and be kind of considered a starter, but with (Johnson) being drafted so high and him being that good of a player you accept it a little bit, but at the same time you want to play," Kelly said.
"I want to play well and be seen as someone who can start here. I'm just going to have to take it in stride and do what I do."
Kelly is now squarely focused on the tackle positions after learning the guard's responsibilities as well last season. Guards who tower over others at 6-8 are a rarity in the NFL. Even at that height, it is fair to wonder if Kelly will thrive in new head coach Chip Kelly's up-tempo offense. It turns out Kelly has experience from playing at Purdue where he was a two-time team offensive MVP and co-captain as a senior.
"It actually helped a lot. We ran a high-tempo offense. It wasn't as similar as the Oregon offense. We were a little bit quicker because we were a little bit more predetermined with what we were going to run," Kelly said. "We'd have one word and just go no matter what they lined up in whereas at Oregon they had different types of speeds and tempos."
Kelly also sees himself making a smooth transition from former offensive line coach Howard Mudd's zone-blocking scheme to Stoutland's zone concepts.
"Jeff likes the physical aspect," Kelly said. "Smack the guy in the mouth and get him moving backwards."
While at Purdue, Kelly said that alumni would come back and explain the importance of proper nutrition and provide other nuggets of wisdom. Kelly admitted that it was advice one can't fully appreciate until it is needed. In the past year, Kelly's described his introduction to the NFL as a "roller coaster." He looks to use what he's learned to keep the rookie at bay when it comes to the right tackle position. But with Kelly manning the left side in Peters' absence, Johnson is getting reps with the first team at the spot that is expected to be his home come September.
"You never know what's going to happen, so I just have to do what I have to do to get on the field," Kelly said. "When he gets a shot, we'll see what happens."