CHICAGO –In the first half of Sunday night's 24-20 loss to Chicago, the Eagles allowed 196 total net yards and three touchdown passes. In the second half, the defense did an about-face and gave the offense every opportunity to win a game at Soldier Field.
In the end, though, the Eagles fell to Chicago and tried to explain a tale of two halves that were so dramatically different defensively.
"You have to give them credit, too," said safety Brian Dawkins. "They made some plays in the first half, made some catches in the end zone and did some things. We made the adjustment and then we went out and balled. You see what can happen when we keep things in front of us."
For a while, though, it looked like the defense would have trouble getting it together.
Chicago set the tone right away, marching 59 yards on three big plays to take a 7-0 lead. First it was a Kyle Orton pass to Rashied Davis that went for 34 yards, a knifing play that cut out the heart of the defense. Then Orton went short to running back Matt Forte for 6 yards before he delivered a perfect strike to tight end Greg Olsen, working against linebacker Chris Gocong. Olsen reached out and made a fingertips catch for the touchdown, and the Bears offense was off and, well, passing.
By half's end, Orton was 15 of 24 passing for 174 yards and three touchdowns. The Bears, normally a run-first team, had 35 rushing yards on 12 attempts. Orton stood in against some tremendous pressure – he was sacked twice in the half and had his arm hit on two throws, one of which was intercepted – and made big plays down the field.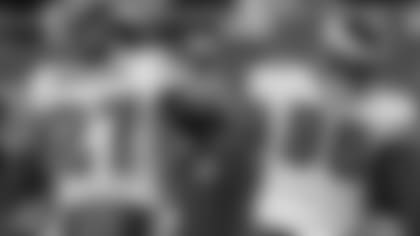 LB Omar Gaither led the unit in tackles
Anyone who expected the Eagles to dominate as they did a week earlier knew by halftime that it was an entirely different story on this Sunday night at Soldier Field.
Orton found seams and exploited them. He threw a touchdown pass to Marty Booker, who beat Quintin Mikell to the ball in the end zone as Dawkins came over too late to help. Then Orton dropped back quickly and lofted a throw down the right side for Devin Hester and Hester separated away from Asante Samuel to make a nice catch for the touchdown that put the Bears up, 21-14.
It was a painful first half for the Eagles, no question about it. But the second half was dominating.
"We changed a few things up and just went from there," said middle linebacker Stewart Bradley. "Unfortunately, it wasn't enough. We gave them too much in the first half."
Mikell started things off the right way in the second half, intercepting an Orton pass in the end zone after the Bears picked off Donovan McNabb, and then the defense had a chance to make a stand with 10:41 to go in the third quarter with Chicago on its 3-yard line.
On first down, Omar Gaither drilled Forte for a 1-yard loss. On second and 11 at the 2-yard line, Gocong leaped high to deflect an Orton pass. Then on third down, a handoff to Jason McKie gained a yard, and the Bears were forced to punt.
The Eagles offense took over after a DeSean Jackson 12-yard punt return at the Chicago 35-yard line. But the Eagles failed to take advantage, as David Akers' 47-yard field goal bounced off the right upright and the score remained 21-14.
But the defense came up huge again on the next play when Trent Cole sacked Orton and forced a fumble that Gaither recovered and returned to the Chicago 28-yard line.
Again, the offense was in good shape to strike and Akers' field goal netted three points.
But the defense wasn't done in the third quarter. A fumbled handoff from Orton to Forte was recovered by Bradley and the offense again had a chance to take control of the game. Another drive stalled, though, and Akers kicked a 31-yard field goal to bring the Eagles to within a point early in the fourth quarter.
Chicago gained just 60 total net yards on offense in the second half, but the Bears converted a huge third-and-4 play from their 7-yard line with just over two minutes to go after the Eagles offense failed to put the ball in the end zone on a goal-to-go situation.
"It comes down to winning and losing and we didn't do enough to win," said Gaither, who was marvelous with nine tackles and a fumble recovery. "We need to do more, and play the way we did in the second half for the entire game."