IRVING, TX – A defense that came close to perfection in the opening-day win over St. Louis had its share of troubles against Dallas' high-powered offense on Monday night. The Eagles struggled holding down the Cowboys' passing attack in the 41-37 loss, and you can bet coordinator Jim Johnson is going to look for some remedies with a short week ahead before Pittsburgh comes to town on Sunday.
Knowing that wide receiver Terrell Owens and tight end Jason Witten were the top targets for quarterback Tony Romo, the Eagles had trouble covering either player on Monday. Owens had two touchdowns and three catches for 89 yards. Witten's 42-yard catch late in the second quarter set up a 51-yard field goal that brought Dallas to within six points at halftime. He finished with 7 receptions and 110 yards.
"Great players and we just didn't do enough to stop them," said middle linebacker Stewart Bradley. "We needed to do a better job. We needed to come up with more stops and it didn't happen."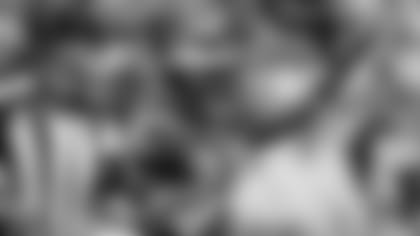 When the Eagles did get pressure, it worked as in the case of the Samuel INT
The defense did a good job of taking away Marion Barber and Felix Jones and the Dallas running game (Dallas gained 68 yards on 24 rushing attempts), but Romo gashed the Eagles with big plays. A 72-yard touchdown throw to Owens started things on Dallas' first third down of the game – safety Sean Considine bit on a Romo pump fake and Owens inside move, and Owens ran away from Considine and Lito Sheppard to settle under Romo's perfect throw to put the Cowboys ahead, 7-3.
Witten got into the act late in the first half, catching a 42-yard pass to set up Nick Folk and cut the Eagles lead to 30-24 after two quarters and he teamed with Martellus Bennett and Tony Curtis to give the Cowboys great production from the position. The three combined for 10 catches and 137 yards.
"They made the plays and we didn't," said safety Quintin Mikell. "We have some things to work on."
A 32-yard completion to Witten after Dallas recovered Brian Westbrook's fumble in the fourth quarter set the Cowboys up at the Philadelphia 5-yard line. Dallas went in for a touchdown and took a 41-37 lead. Those ended up being the winning points.
The main problem was the lack of a consistent pass rush. Romo was pressured very rarely, and his was right on the money with most of his throws. The exception was an errant pass – with pressure off the edge from Darren Howard and Trent Cole – that Asante Samuel intercepted, leading to seven Eagles points.
Otherwise, Romo was outstanding, completing 21 of 30 passes for 312 yards and three touchdowns. He was not sacked.
And the Eagles defense paid for it. Dallas rolled up 380 total net yards and converted 6 of 10 third downs. The Eagles had two takeaways, including a touchdown when Romo fumbled a handoff to Barber in the end zone, recovered it, fumbled again when he was hit by Dawkins and linebacker Chris Gocong was there for the recovery and the six points.
"We did not do enough. You can't give up big plays to a team like Dallas," said Dawkins. "We had our chances. We needed to come up with that one stop after our fumble, and we didn't get it done.
"There is no time to hang our heads, though. It's a short week. We have to come back strong on practice on Wednesday."