When he left Utah with a year of eligibility remaining, defensive lineman Joe Kruger didn't expect to wait seven rounds before hearing his name called. But that's what happened, and the former Ute is ready to put his college days behind him and embark on his career as a Philadelphia Eagle.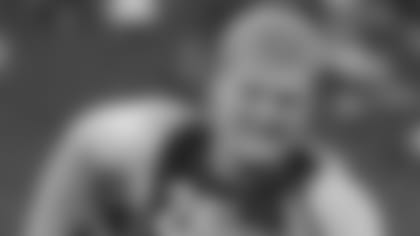 "I think I'm mature enough and I'm strong enough and I have Paul, who plays for the Cleveland Browns now, and he's been in the league for four years now," he said. "I think I'm ready to play. I've been around (the NFL) for a while now, and I know I can play with these guys."
The Eagles selected Kruger with the 212th in the 2013 NFL Draft, and along with a great deal of college productivity, head coach Chip Kelly is also getting a player with an impressive bloodline. Joe's younger brother Paul won a Super Bowl last season as a key contributor to the Ravens defense and signed with the Browns during free agency in March. The newest Eagle believes he and his brother are cut from the same football cloth.
"I would compare our game a lot," Kruger said. "We both are powerful players. I think we have a similar motor, we both go until the whistle's been blown; we both have the same mentality. I'm the kind of guy who hates to lose and I really don't sit well with it."
Kruger played both defensive end and linebacker in college, at times dropping back into coverage and also extensively rushing the passer. In his senior season, he compiled 30 combined tackles, including eight for a loss, six sacks and an interception he returned for a 24-yard touchdown. Kruger said the coaches haven't told him exactly how they'll use him, but he knows he'll be able to contribute right away.
"I know I'll be able to play and I know I'll be able to make a difference with the team and I know I'll be able to contribute," he said. "I'm excited to come out to Philly and show off my talent."
Now that he's an Eagle, Kruger isn't concerned about the past. He has a football home, and is eager for the chance to earn a spot on this roster and show what he can do on the field.