Twice this season, Asante Samuel and Brian Dawkins have collided when each was going for an interception on the same ball.
On Feb. 8, they could theoretically do it again – this time, in Honolulu.
Despite Samuel and Dawkins missing out on those two chances, their efforts as a whole didn't go unrecognized, as the productive pair from the Eagles' secondary were named to the 2009 NFC Pro Bowl team. It's a repeat trip for both players – Samuel making his second straight (first as an Eagle) and Dawkins his seventh. Dawkins is now tied with Reggie White for second on the Eagles' all-time list, one appearance behind two-way superstar Chuck Bednarik.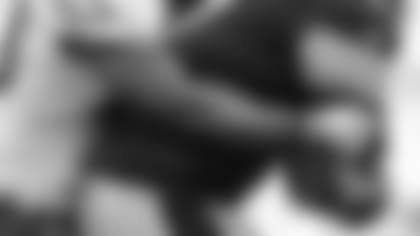 FS Brian Dawkins
"I think you guys know how I feel about Reggie and how much he means to me," Dawkins said. "To know that I have climbed the ranks to tie him, with all the great work that he had done on the field, is a tremendous honor to me."
Though he battled some early struggles, Dawkins has experienced a bit of a resurgence in the 2008 season. This season, he became the franchise's all-time leader in games played (181, surpassing wide receiver Harold Carmichael) while tying the Eagles' all-time interception mark with 34.
This season, the legendary free safety ranks third on the team in tackles, and he leads the Eagles with four forced fumbles, which is also tied for second in the NFC.
"Obviously, there's plays I wish I could make … that I didn't make," Dawkins said. "But that's always been a part of football."
Samuel signed a six-year contract during the offseason to solidify the Eagles' cornerback position, and his presence has paid immediate dividends. Though his season to date (four interceptions) hasn't been as prolific as past seasons, Samuel still leads the NFL with 23 picks since the start of the 2006 season.
For the 2008 season, Samuel has still lived up to his ballhawk reputation. Despite missing a game with a hamstring injury, he remains tied for second in the NFC in interceptions, and he's tied for first in the NFL with 24 passes defensed (Giants' Corey Webster). He contributed a critical touchdown on Monday night, his first as an Eagle, returning a Ken Dorsey pass 50 yards to blow the game wide open in the Eagles' 30-10 win against the Browns.
"I think I am playing at a high level," Samuel said. "I'm getting my hands on the ball. That's what they pay me to do: to come in and make plays and get my hands on the ball as much as possible."
NOTES:The 2009 Pro Bowl will be the 10th consecutive year the Eagles have been represented in the game. Additionally, they have had more than one representative honored in every game since 2000.