Free safety Brian Dawkins has won numerous awards for his work on the football field. He is now a finalist for one of the most prestigious awards given for work off of it.
Dawkins was named on Thursday as a finalist for the Walter Payton NFL Man of the Year Award along with Arizona quarterback Kurt Warner and Minnesota center Matt Birk. The finalists will be honored during Super Bowl week with the award being presented live on NBC just before Super Bowl XLIII on Feb. 1.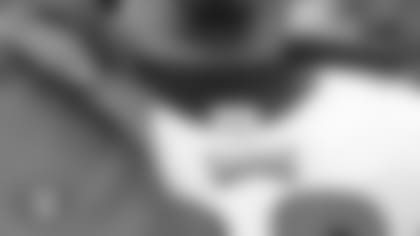 Dawkins was honored to be nominated for the Walter Payton Man of the Year Award
"It means so much to me," Dawkins said. "I know that there are so many guys that have won that award that I look up to, one being Troy Vincent, and how much he means to me. The award is named after someone that I respect tremendously. To know what it stands for, to know that I've been blessed with so many abilities, and so many things off the field, everything I do is from my heart. To receive this award would be a tremendous blessing that I would cherish."
The Walter Payton NFL Man of the Year Award is the only league award that recognizes a player's off-the-field community service as well as his playing excellence. The three finalists were chosen by a blue-ribbon panel from the 32 team nominees for the award, all of whom receive a $1,000 donation to the charity of their choice. The three finalists will receive an additional $5,000 donation in their name. The selection panel is comprised of NFL Commissioner Roger Goodell, former NFL Commissioner Paul Tagliabue, Pro Football Hall of Famer Anthony Munoz, Sports Illustrated football writer Peter King, football greats Frank Gifford and Jack Kemp, Connie Payton and 2007 winner Redskins defensive end Jason Taylor.
Dawkins, a seven-time Pro Bowl safety, averages 100 tackles each year, and serves as a father figure in the Eagles locker room. He was named "2008 Father of the Year" by the American Diabetes Association for his dedication to family and outstanding community work. After health difficulties struck close to home, as his twin daughters faced complications from a premature birth, Dawkins donated $10,000 to the Children's Hospital of Philadelphia, dedicating a neonatal unit in their names. Even on game day, Dawkins ensures that members of the community are treated to an unforgettable experience, selecting a local high school football player who exhibits great character on the field and in the classroom, giving that player his home game tickets, and meeting with him after the game.
The award has been given twice to a Philadelphia Eagle. In 1980, wide receiver and current Director of Player Programs Harold Carmichael won the honor. In 2002, Dawkins' former teammate in the secondary, Troy Vincent, was the recipient. The first player to earn the NFL Man of the Year Award was Johnny Unitas in 1970. The award was renamed in honor of the late Walter Payton, a previous winner of the award, in 1999.