Brian Dawkins made it to Tampa for the Super Bowl after all, albeit not in the capacity that he would have preferred.
Rather than suiting up in midnight green for Sunday's game, however, the Pro Bowl free safety is in town as a finalist for the Walter Payton NFL Man of the Year Award. The winner will be announced before kickoff of Super Bowl XLIII.
Just being mentioned among the distinguished finalists and previous recipients was enough to take away the sting of not playing in the Super Bowl, at least for a little while.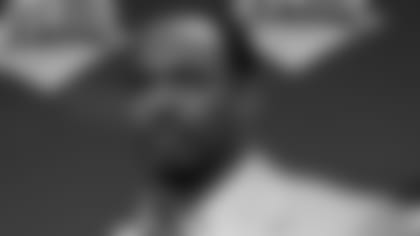 Dawkins is in Tampa as a finalist for the Walter Payton Man of the Year Award
"Up until this point, it was tough," Dawkins said in an interview with NFL Network's Adam Schefter on Friday. "Obviously, knowing we were this close to being here ourselves, but then being able to come with this award and the Home Depot (Neighborhood MVP) thing also, doing for charity puts a different feeling on it, altogether different. A good feeling, actually."
Dawkins joined Vikings center Matt Birk and Cardinals quarterback Kurt Warner as finalists for this year's award, which was renamed for the legendary Chicago Bears running back who passed away in 1999.
The Walter Payton NFL Man of the Year Award is the only league award that recognizes both a player's off-the-field community service as well as his playing excellence.
Former Eagles cornerback Troy Vincent won the award in 2002, joining wide receiver Harold Carmichael (1980) as the only two players in franchise history to be bestowed such an honor.
Dawkins hopes to expand that exclusive club on Sunday.
"What an absolute blessing this is," Dawkins said. "I think what took my feelings and emotions to another level was just listening to the list that (NFL Vice President of Player and Employee Development) Mike (Haynes) read off of all the great men that received this award. It's just a great honor. I am so blessed to be here and I just want to say 'Thank you.' Thank you for the opportunity to be mentioned with the same names of some of these men and the other recipients here today.
Scheduled to become an unrestricted free agent in February, Dawkins has said repeatedly that he wants to return to the Eagles, the only team for which he's ever played. He reiterated those remarks on Friday.
"I'll be prayerful and where I end up ... there's no secret with the Eagles (is where I want to be)," Dawkins said. "They know I want to be back there and hopefully we can get something done and get it on out of the way."
Dawkins, a seven-time Pro Bowl selection, was named 2008 Father of the Year by the American Diabetes Association for his dedication to family and outstanding community work.
After his twin daughters, Chonni and Cionni, faced complications from a premature birth, Dawkins donated $10,000 to the Children's Hospital of Philadelphia, and even dedicated a neonatal unit in their names.
Furthermore, Dawkins selects a local high school football player who exhibits great character on the field and in the classroom and gives that player his home game tickets and meets with him after the game.
These are just a few of the reasons Dawkins is up for such a prestigious award.
"It means so much to me," said Dawkins in a statement after being named a finalist for the award. "I know that there are so many guys that have won that award that I look up to, one being Troy Vincent, and how much he means to me. The award is named after someone that I respect tremendously. To know what it stands for, to know that I've been blessed with so many abilities, and so many things off the field, everything I do is from my heart. To receive this award would be a tremendous blessing that I would cherish."