With the Eagles falling into a precarious situation as far as their playoff hopes go, it was inevitable that the question would be posed to Brian Dawkins.
Dawkins could be entering the final game of his contract with the Eagles, the team with which he's spent his entire 13-year career, the team he's represented in the Pro Bowl for the greater part of those years.
When the Eagles run out of the tunnel for what will, at the least, certainly be the last time at Lincoln Financial Field this season, it could also be the last time Dawkins is introduced to his rabid fans.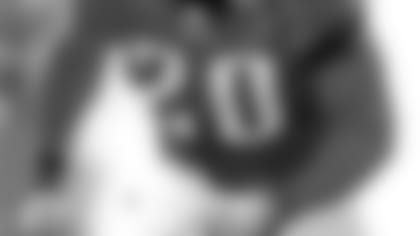 Will Dawkins be introduced to the crowd for the final time on Sunday?
But Dawkins doesn't care to dwell on whether or not he'll be back in midnight green next year, or whether or not he'll be back in pads anywhere. As far as he's concerned, his team still has a shot at the playoffs. And even if the playoffs aren't in the cards, the Eagles still have a game to play against their most hated rivals.
"That stuff will be handled when the season is over with," Dawkins said. "It is my job to go out and do my job. And my job this Sunday is against the Dallas Cowboys."
Dawkins stands at the forefront of the long-time Eagles with expiring contracts. Fan favorites Tra Thomas and Jon Runyan, too, don't have certain futures. But Dawkins has been a face for the franchise since 1996, when he jumped almost immediately into the starting lineup straight out of Clemson.
And, should it be the last, how fitting is it that the Cowboys are the team in town?
It gives Dawkins one more chance to fly across the middle in the game where every big hit seems bigger and every interception shifts more momentum. And more immediately, in gives him a chance to redeem himself for one of his more unremarkable performances in recent memory – at Dallas in Week 2.
Sure, Dawkins rebounded from that game, one in which he gave up a touchdown to Terrell Owens in single coverage. He bounced all the way back for his seventh Pro Bowl nod, which is tied for second in team history, behind only Chuck Bednarik.
To Dawkins, a win against Dallas – which would knock the Cowboys from the playoffs - would be a nice exclamation point for this Pro Bowl season. You can hear it is his voice.
"My focus is squarely on beating this team," Dawkins said. "I really can't state that any other way, It's the Dallas Cowboys."
There's a good chance the question of relocation and retirement will come to the forefront again after Sunday's contest. And should the season be over by that point, Dawkins will address it.
But he's zeroed in until then.
"I've been playing this game long enough, that thoughts that will tend to creep up, they don't stay," Dawkins said. "And I'm able to direct myself on the task at hand, and that's preparing for a very desperate team."