Oklahoma defensive lineman David King grew up in Houston during the "lost times" of the late 1990s. At that period, Houston had no professional football team after the Oilers moved to Tennessee in 1997.
King was in search of an NFL team to root for and he can recall the exact moment when he came to a decision. Coming off a 3-13 season, Philadelphia Eagles fans booed the No. 2 overall selection of the 1999 NFL Draft, Donovan McNabb.
"I'm a big fan for the underdog," King said, "so I was like, I'll follow this team."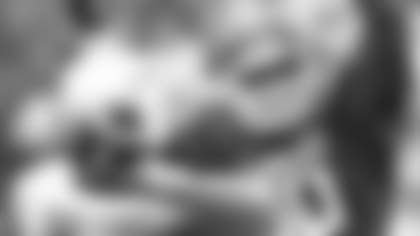 Rooting for the Eagles ever since, his heart stopped when he received a phone call from the Eagles on Saturday evening telling him he was the newest member of the organization.
"My dream became a reality," the 6-5, 286-pound King said. "I can sit back and just breathe now."
His favorite player growing up was former Philadelphia Eagles defensive end Jevon Kearse.
"I'd like to be at the level back in his prime one day," King said.
With the exception of one interview prior to the draft, King did not have much contact with the Eagles. Although he was not invited to the NFL Combine, he performed well in his Pro Day.
King describes himself as someone who will "go out there and play every down like it's his last." In 13 games, King had 27 tackles, 1.5 tackles for loss and 1.5 sacks for the Sooners in 2012.
He will join Oklahoma teammate and fourth overall pick Lane Johnson in Philadelphia.
"I was real happy for him," King said.
Johnson was one of King's closest friends on the team. King texted him congratulations and wished him luck, but just two days later, they were teammates once more.
While the notion of following his college buddy to play for his favorite NFL team is very exciting, King knows that there is plenty of work to be done.
"I'm going to do my best to get this organization back to where it should be," King said.