DENVER -- On a day when the Eagles needed to click on all cylinders, the special teams unit was unable to provide the necessary spark.
The special teams allowed the Broncos to score two touchdowns in Sunday's 52-20 loss.
"We just have to stay the course and not panic. We'll be fine," special teams coordinator Dave Fipp said. "These guys work hard. They train hard. We have to do a better job of coaching and they have to do a better job of executing, but when all is said and done we'll be fine."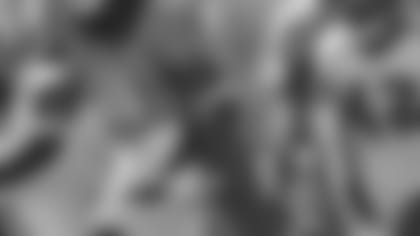 After the Eagles scored on an Alex Henery 35-yard field goal in the first quarter, Broncos kick returner Trindon Holliday promptly answered with a 105-yard kickoff return for a touchdown. Holliday rushed around the left side of the blocking to break free. Henery's diving attempt to tackle Holliday was the last obstacle between the returner and the six points. Fipp explained that he and the Eagles knew how dangerous Holliday was and how much respect they had going into the game for the fourth-year returner/receiver.
By the fourth quarter, the Broncos had put the game out of reach, but the special teams put the finishing touches on the win. The Eagles lined up to punt and the Broncos brought a full rush. Linebacker Steven Johnson came in the gap to the right of long snapper Jon Dorenbos. Johnson came in clean and blocked Donnie Jones' attempt. Johnson would pick up the ball at the 17-yard line and race it in for the score. Fipp said that there was a missed assignment on the play.
The Eagles continued to fight and marched down the field, going 52 yards in nine plays to set up an Alex Henery 46-yard attempt. Henery missed wide right. Henery entered the season as the most accurate field goal kicker in franchise history, but has uncharacteristically missed an attempt in three straight games.
"Obviously, he struggled, but he had a good week of practice. I think at the end of the season everything will be all right," Fipp said. "We'll continue to work and fight to get better. We have to go back to work this week."
The Eagles shift away from their string of AFC West games and turn their focus back to the NFC East next Sunday with a showdown in New Jersey against the Giants. The Eagles are 1-0 in the division and in order for them to turn their season around they'll need help from each phase, including special teams.