Though anxious for some advice, Kevin Curtis needed to be careful about what exactly he decided to listen to.
Yes, the Eagles' top receiver underwent surgery for a sports hernia last Thursday, the "same" injury that sidelined Donovan McNabb and L.J. Smith for extended periods. But it's also the "same" injury that cornerback Sheldon Brown played through, an injury Brown described as a constant stabbing pain.
So, with doctor's advice, Curtis decided to wait his injury out for himself.
"I talked to all of them before I even had (the surgery), just to kind of know what I'm getting into. Each injury's different. They're not all the exact same. There's different timeframes," Curtis said. "So I'm not really trying to compare myself to someone else's injury. I'm just going with how I feel and we're going to get back there (on the field) as soon as possible."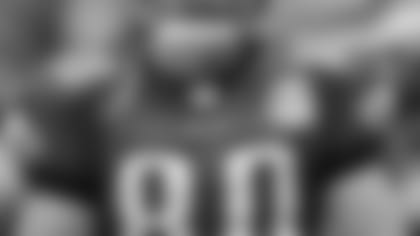 WR Kevin Curtis
Dr. William Meyers at Hahnemann Hospital performed the procedure and gave Curtis the lowdown – basically, despite being a sports hernia, the book on the injury provides such a wild range of recovery times that speculating on an accurate one is essentially futile. It could be a month, or, if handled incorrectly, it could mean the season.
Curtis has two relatively extreme examples to analyze on his own team. McNabb, probably, got his hernia repaired too late, and he wasn't able to salvage almost the entire second half of the 2006 season. By contrast, Smith said last week that he thought he came back from the procedure too soon, and his entire 2007 season was impacted.
Curtis' goal, he said, is to find that balance. Once he tried practicing with the injury, Curtis underwent the repair procedure as soon as possible. The first step is complete. Now, the waiting game, the feeling-out process, starts.
"Surgery's the last option and you don't want to have to do that. And this early in the year, it was just hard to see how I was going to get through the season and actually do my job," he said. "Unfortunately, you don't want to miss any of the season, but we just figured to knock it out now and get back as soon as possible."
For now, light rehab has already begun. Curtis said he's been walking – trying to increase his distances by a quarter-mile every day. In due time, jogging, then stretching, will fall onto his plate.
How he feels, Curtis said, is a big part of deciding when to take that next step. But both McNabb and Smith have said that feeling good isn't 100 percent certainty that the injury has healed. Far from it.
For Curtis, it's finding that balance between feeling and performance.
"I've never had this injury. I can't predict the future, but I'm going to do everything I can to get back on the field," Curtis said. "From what I understand about the procedure, there's no reason I can't at some point feel as good as I did before the injury. So I'm not worried about that."