The clock is ticking, Eagles fans.
On April 30th, the NFL Draft will kick off from Chicago, as NFL Commissioner Roger Goodell announces the latest class of NFL talent. To make sure that you're all set for when the Eagles are on the clock for the first time, we're counting down each day with look at each number from 100-1 and the significance that the number holds in Eagles history.
Without further ado, let's continue the countdown… Jeremy Maclin put up huge receiving numbers for the Eagles in 2014, and while it was a career year for No. 18, Riley Cooper was also able to set a career high in receptions in 2014 with 55 grabs.
Cooper added upon an impressive 2013 season in terms of receptions, and over the last two seasons, Cooper has proved to be a valuable piece of the Eagles offense, recording 102 catches for over 1400 yards and 11 touchdowns. First Eagle To Wear No. 55: C Frank Bausch (1941)
Current Eagle Wearing No. 55: LB Brandon Graham (2010-present)
LB Maxie Baughan (1960-65)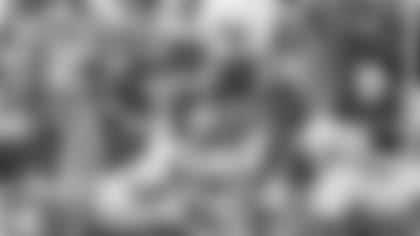 Drafted by the Eagles in the second round (20th overall) in the 1960 NFL Draft, Georgia Tech product Maxie Baughan was the model of consistency for the Eagles defense for six seasons. The linebacker played and started 80 games with the Eagles, recording seven interceptions and recovering five fumbles.
Baughan was a Pro-Bowl selection in five of his six seasons with the Eagles, but after the 1965 season, Baughan left the Eagles and joined the Los Angeles Rams, where he spent five more seasons and earned four more Pro Bowl nods.