The clock is ticking, Eagles fans.
On April 30th, the NFL Draft will kick off from Chicago, as NFL Commissioner Roger Goodell announces the latest class of NFL talent. To make sure that you're all set for when the Eagles are on the clock for the first time, we're counting down each day with look at each number from 100-1 and the significance that the number holds in Eagles history.
Without further ado, let's continue the countdown… In 2013, Donnie Jones downed a franchise-record 33 punts inside the opponents' 20-yard line. How did he follow that up in his second season with the Eagles? Jones once again set a franchise mark, this time by downing 34 punts inside the 20-yard line.
Since signing with the Eagles prior to the 2013 season, Jones has been an extremely valuable part of the Eagles special teams unit. First Eagle To Wear No. 34: G Roy Lechthaler (1933)
Most Recent Eagle To Wear No. 34: RB Bryce Brown (2012-2013)
FB Kevin Turner (1995-1999)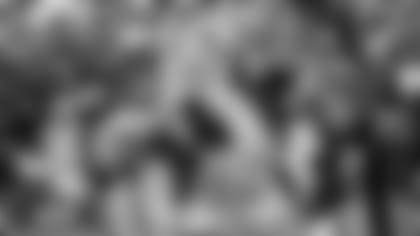 Kevin Turner spent the first three years of his NFL career with New England before changing conferences. He then signed with the Eagles in 1995 to become the league's second highest-paid fullback.
He returned the following season, serving primarily as a blocker and receiver, paving the way for running back Ricky Watters to rush for 1,000-plus yards in 1996 and 1997. Turner himself recorded over 400 yards receiving in each of those two seasons and was recognized as the team's Ed Block Courage Award winner in 1996. He also blocked for Duce Staley's first 1000-yard rushing season in 1998. Turner retired following the 1999 season at the age of 30.
In 2010, Turner was diagnosed with ALS and has joined the fight to raise awareness and find a cure for the disease through his Kevin Turner Foundation.