The clock is ticking, Eagles fans.
On April 30th, the NFL Draft will kick off from Chicago, as NFL Commissioner Roger Goodell announces the latest class of NFL talent. To make sure that you're all set for when the Eagles are on the clock for the first time, we're counting down each day with look at each number from 100-1 and the significance that the number holds in Eagles history.
Without further ado, let's continue the countdown… The Eagles made the most out of their 224th overall pick in the 2014 NFL Draft, selecting Wisconsin defensive tackle Beau Allen. Despite being a seventh-round pick, Allen made a nice contribution to the Eagles defense during his rookie season, recording 15 total tackles and half a sack. Allen also became very active in the Philadelphia community, as he attended a number of community events in his new home city. First Eagle to Wear No. 24: T Howard Auer (1933)
Current Eagle to Wear No. 24: RB Ryan Mathews (2015-present)
CB Sheldon Brown (2002-2009)
A third-round pick out of South Carolina in 2002, Sheldon Brown started just three games for the Eagles in his first two seasons, but after the 2003 season reached a disappointing ending in the 2003 NFC Championship Game, the Eagles went through some major changes in the secondary. Troy Vincent and Bobby Taylor, two main-stays of the Jim Johnson defense, moved on to other teams. Two youngsters had to step up and take over the starting cornerback jobs, and that's exactly what Brown and Lito Sheppard were able to do.
From 2004-09, Brown played in 16 games each and every season. During his eight years as an Eagle, he intercepted 19 passes, but he will always be remembered for a hit rather than a pick. During a 2006 playoff game with the New Orleans Saints, Drew Brees threw a swing pass out to Reggie Bush, and just as Bust turned his head to look up-field- WHAM. Brown came in and delivered a vicious blow.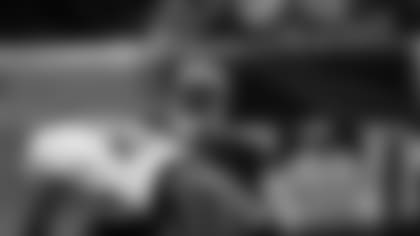 Brown played two seasons in Cleveland to wrap up his 11-year career in the NFL. His bone-jarring hit on Bush will remain a part of Eagles history forever.