At the beginning of the season, you probably thought this game was a sure thing for the Eagles. The Falcons were in disarray after a four-win season. But with a new head coach and a new quarterback, the Falcons have already matched last season's win total. Meanwhile, the Eagles needed a 23-point fourth quarter in San Francisco to pull to .500 on the season. Now, the Eagles want to capitalize on the momentum from that win. It doesn't hurt that the Eagles have never lost coming off of the bye week under head coach Andy Reid. Let's breakdown the matchup in this week's Countdown to Kickoff ...
Wide receiver Kevin Curtis commented on Friday that this is the healthiest the Eagles have been all season, by far. He's right.
Curtis is among the Eagle playmakers returning to the fold after a highly therapeutic bye week that allowed banged up stars like himself, Brian Westbrook, Donovan McNabb and L.J. Smith to mend their wounds. The relaxation comes in anticipation of a second half of a season in which the Eagles' position seems considerably brighter than it did just three weeks ago.
The question now is whether the Eagles have too many weapons to help form some consistency with a unit that's done everything but be consistent. But could the mere presence of players like Curtis and Westbrook help settle McNabb down?
Still, the bad news this week came with Shawn Andrews' back surgery, which will keep him out at least six weeks, and Reggie Brown's limitations in practice.
The offense isn't the only side of the ball adding playmakers for the Eagles. Defensive coordinator Jim Johnson has been able to get a little bit more creative in recent weeks with the return and development of some of his personnel.
Victor Abiamiri played just fewer than 20 snaps against San Francisco in Week 6, allowing Johnson some flexibility with his defensive line rotation that's been missing since Abiamiri's dislocated wrist required surgery during training camp.
Defensive end Chris Clemons got involved in the pass rush, and Juqua Parker scored a pick-six while being used at the joker position on a zone blitz.
"Chris played 11 plays and did a good job. He came up with a big fumble (recovery). He was very active. The thing he did was let JP rest until the fourth quarter when JP had an unbelievable fourth quarter," Johnson said. "It's nice to have that rotation, where you have the confidence in Chris taking a few plays and resting JP. Same thing with Victor helping out there, too."
In all, the rotation helped to solidify a defense that was never dented – let alone beaten – in a fourth quarter in which the Eagles blasted the 49ers with 23 unanswered points.
"It is one of the better fourth quarters I have been around. I think they had six possessions and we had six stops in the fourth quarter," Johnson said. "All of a sudden you get that momentum and we had the quarterback on the move a little bit. We came up with some big plays and I think we were fresh, too. It helped being fresh."
QB Matt Ryan: Ryan has garnered Rookie of the Year attention after leading the Falcons to a 4-2 record in his first six NFL games. But this is perhaps Ryan's stiffest test. Eagles' defensive coordinator Jim Johnson has an 8-3 record against rookie signal callers and Philadelphia's defense is ranked seventh in the league.
DE John Abraham: Abraham comes into the contest ranked fifth in the NFL with seven sacks, but three of those came against the hapless Detroit Lions. The responsibility of keeping Abraham away from quarterback Donovan McNabb primarily lies with tackle Tra Thomas, who's been protecting McNabb's blindside for the last 10 years.
RB Brian Westbrook: Coming off two weeks of rest after suffering fractured ribs against the Redskins, Westbrook seems like he's chomping at the bit to get back on the field. An ankle injury also limited him earlier this season, so Westbrook is anxious to improve on his 3.6 yards per carry average, which is significantly below the 4.7 he's averaged over the course of his career.
DE Juqua Parker: If opposing teams are going to double-team defensive end Trent Cole, they're going to have to deal with Parker. Parker has stepped up when the eagles have needed him the most, supplying a team-high 4.5 sacks to go along with 36 tackles and an interception return for a touchdown thus far. Parker will be mostly squaring off against Falcons right tackle Tyson Clabo.
KEEP AN EYE ON ... Falcons RB Michael Turner
Sure, the Matt Ryan story is nice and all, but let's face the facts. If it wasn't for the Falcons' big-ticket free-agent pickup in running back Michael Turner, Atlanta wouldn't be one of the biggest early-season surprises of 2008.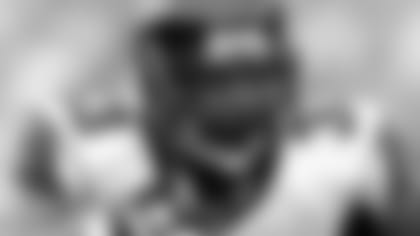 Falcons RB Michael Turner
The former backup to LaDainian Tomlinson in San Diego has had a breakout season rushing for 597 yards and six touchdowns while averaging just a shade under five yards per carry. What makes Turner so difficult to contain is the fact that he is built like a rock - 5-10, 244 pounds - and is tough to bring down. Defensive coordinator Jim Johnson noted that Turner is among the league leaders in yards after contact.
In the past two games, the Eagles have allowed a 100-yard rusher - Washington's Clinton Portis and San Francisco's Frank Gore. In the Eagles' first four games, they were relatively stout against the run. In fact, the Eagles at one point this season ranked first in the league in run defese. If the Eagles can contain Turner and force the Falcons into predictable passing situations, then the Eagles will have a good chance to win. If not, however, it could be a long day for the defense.
The Eagles are a perfect 9-0 under head coach Andy Reid when coming off a bye week.
The Eagles are looking to secure Reid's 100th-career victory.
Atlanta is seeking its third consecutive victory.
With 499 wins as a franchise (483 in the regular season, 17 in the playoffs), the Eagles are one win shy of becoming the seventh franchise in league history to reach 500. The others are the Steelers, Bears, Giants, Redskins, Rams and Packers.
In four games vs. Atlanta (including playoffs), RB Brian Westbrook has carried 30 times for 146 yards, and caught 15 passes for 149 yards and 1 TD.
With 21 rushing yards on Sunday, Westbrook will reach 5,000 for his career.
In three career home games vs. Atlanta (incl. playoffs), QB Donovan McNabb is 3-0 and has completed 67 of 100 passes (67.0 pct.) for 738 yards, with 5 TDs vs. 1 INT, for a 101.2 passer rating.
Philadelphia's defense and special teams have both played a major role in the Eagles' starting field position in 2008, as they rank 5th in the NFL with a 32.9 avg. and t-3rd in the NFL with 13 drives starting in opponents' territory.
While racking up 21 sacks on defense, the Eagles have allowed just 10 sacks all season, including 0 in the last 2 games.
Through six games, the Eagles rank t-3rd in the NFL with a 5 turnover ratio.
With a 263.5 net passing yard average, the Eagles offense currently ranks 5th in the NFL. The Falcons rank 26th against the pass and are allowing an average of 231.7 passing yards per game.
Falcons DE John Abraham has 17 sacks in past 21 games.
Falcons K Jason Elam has converted 16 of 17 FGs (94.1 pct.) this season. He has also made 38 50-plus yard field goals, putting him in second place all-time.