The anticipation for full-contact practice is tremendous, especially for the defensive players trying to make a name for themselves. Defensive coordinator Jim Johnson, during his press conference on Tuesday, talked about how corner back Joselio Hanson was able to go from an undrafted rookie free agent in 2003, to a legit nickel and dime corner in the NFL. It all started with Hanson being able to capture the coach's attention when the pads went on during training camp in 2006.
Two players trying to follow Hanson's example in 2008 are Kyle Arrington and Therrian Fontenot.
During the seven-on-seven portion of practice, the two young corners are constantly shoving receivers at the line of scrimmage and talking trash after the play.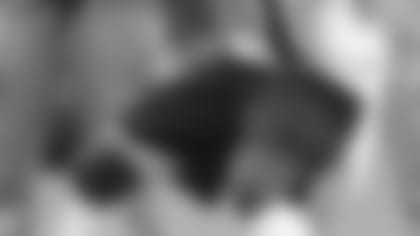 CB Therrian Fontenot
"That's the style I love to play - that's the style I'm built for," Arrington said. "With the Eagles, 80 percent of the game we are going to press and that's my favorite. Playing off man is nice but there is nothing else like being in another guy's face."
Secondary coach Sean McDermott was pleased with the aggressiveness and nasty attitude of his players in the first few days of training camp.
"He (McDermott) was getting us hyped up about that because during (Tuesday's) afternoon practice we kind of got torched a little bit in the red zone so we had to step it up another level," Arrington said.
Rookie DeSean Jackson is one receiver that Arrington pushed around a little bit. There is no doubt that Jackson is going to face bigger corners that will try to throw him off his route from the snap. He will have to get used to guys like the 196-pound Arrington, second only to Sheldon Brown in terms of weight at the corner position, who get physical.
"We are the best of friends, but out on the field, in between the lines it's you verses him," Arrington said. "He is fighting for a job and just like I'm fighting for a job. You got to do what you got to do, right?"
One player in direct competition with Arrington is Therrian Fontenot, who spent the second half of the 2007 season on the Eagles practice squad. He is more of a speedy corner, as he holds the California 100-meter state record in track and field, but he, too, has taken some receivers to the ground.
Fontenot hopes he has opened some eyes already and will continue to impress.
"I'm going to go out there everyday and do what I have to do to show that I can play and I want to play," he said. "I want to be here for the Eagles, to play."
The Eagles offer a variety of receivers for Fontenot to face off against from the fast Kevin Curtis to the big-framed Hank Baskett. The 5-11, 185-pound corner is looking forward to it.
"I love challenges," he said. "I'm ready for big. I'm ready for small. I'm ready to play"
The pads come on Saturday, much to the delight of Fontenot.
"Oh yeah, I'm looking forward to that," he said. "That's what I like to do. I like to be physical and come up to hit and tackle. That's my game."