Going into 2013, one of the biggest questions about the Eagles defense was how Trent Cole would transition to 3-4 outside linebacker after playing his first eight seasons in the league as a 4-3 defensive end.
"I'm learning, and every game I get comfortable," Cole said. "You just build from every game and get used to the playing that position and learning different things that can help you out. That's what I'm doing, I'm just trying to learn different things that are going to help me out because everybody's different. I'm just learning every game."
Cole officially has not registered a sack yet this season, though he was credited with one against the Kansas City Chiefs before the NFL changed the official scoring and gave it to Connor Barwin. On the play, Cole spun away from the offensive tackle and laterally chased Alex Smith, diving at his feet and appearing to make a shoestring tackle on the quarterback. Instead of falling immediately, Smith seemed to momentarily stay on his feet before going down with Barwin closing in on him. Barwin ended up getting credit for the sack only because he touched Smith after he was on the ground.
"The sack I got against Kansas City was (Cole's) sack," Barwin said. "But it's just the way the rules are that I got the sack ... He's getting pressure, and, really, the most telling stat is pressures rather than sacks."
Indeed, even without the accumulation of sacks, Cole still leads the team in forced fumbles, with two, and, as Barwin mentioned, has been able to affect the pocket and generate pressure. His stunts and twists on the defensive line have also helped other players get sacks themselves. For example, on Vinny Curry's second quarter sack against the Dallas Cowboys, Cole looped in behind him and engaged the left guard just as Curry was getting free from him, which allowed Curry to proceed unimpeded and haul down to Tony Romo for a 10-yard loss.
The biggest adjustment for Cole has been in coverage. Whereas he only used to have to worry about rushing upfield and attacking the quarterback, now he has to be cognizant of the fact that his responsibilities could change in an instant, from being a pass rusher to dropping back in coverage. After a tough beginning, that part of his game has evolved markedly.
"I've improved a lot and think I've gotten good at just reading from run to pass," Cole said. "I'm still learning, as far as coverage-wise, with my feet, opening up. It takes practice. You have to do that on the practice field and in the game."
Cole has, in fact, flexed his improving coverage ability in live game action. Look no further than the job he did against Cowboys tight end Jason Witten on the second play of the second quarter last Sunday. Cole lined up covering Witten in the slot and forced an outside release, then ran with him step for step for 15 yards. Only at the end was Witten able to gain the briefest hint of separation, but by that time Earl Wolff was coming over the top with safety help. Romo had to make a perfect pass and fit the ball into the tightest of windows but was unable to do so, overthrowing Witten and bringing up second down. (It was on the following play that Curry got his sack.)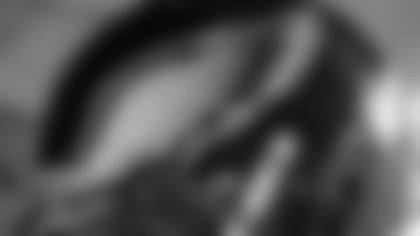 "Yeah, I covered (Witten) downfield and (Wolff) came over the top with the help and it all worked as planned," Cole said. "That's the way it works. Everyone has to do their job as a team and as a defense and we'll be good."
"That was a great play," Barwin said. "Not only was (Cole) right on (Witten), but for a guy who played defensive end for eight years to make that play – because that was a check; we're in a defense, then we had to check our defense because of the formation. Trent got the check, changed his job right before the snap and then covered Witten down the seam. If (Witten) had got a better throw, (Cole) might have got an interception."
For good measure, later in the game Cole alertly leaked out to cover the running back in the flat and left Romo with nowhere to throw the ball.
"They tried to throw a quick flare pass towards our boundary on one play," head coach Chip Kelly said. "(Cole) was in a peel blitz and ran with the running back stride for stride, and Romo had to throw the ball away."
Cole had to alter his mindset and "learn to be happy with having really good games without having sacks" as a 3-4 outside linebacker in Bill Davis' scheme, but his play has not been lost on his teammates. Barwin understands what Cole has gone through, as he started off in the NFL as a 4-3 defensive end with the Houston Texans before switching to 3-4 outside linebacker when Wade Phillips took over as defensive coordinator in 2011.
"I've been down that road, too," Barwin said."It's hard because (the sack is) such a big stat for (the media) and certain people, but at our position, sometimes you rush and sometimes you don't. It's different than playing defensive end where you just rush every single snap, so I think (Cole's) done a great job realizing what his role is and not getting down on himself when he's not getting one or two sacks every single game.
"I had no doubt in Trent. I didn't really know him personally, but just from watching him the last four years – he's been doing it for eight years – but I've been watching him (from afar). Everybody in the league knows he's just a football player and just a maniac out there. I had no doubt that he would be able to make the transition, but, I think, getting to know him and how open-minded he's been to (making the switch) after playing defensive end for eight years at a high level – to make that switch at that point in his career has been really impressive."
The willingness and effort have always been there with Cole, and he has proven a vital cog in the new 3-4 scheme. The sack may be the sexy stat, and hopefully that type of production will come, but Cole's impact is being felt in a variety of ways on an Eagles defense that has steadily progressed along with him over the last month.
"I've seen Trent really improving in terms of what we're asking him to do," Kelly said. "Maybe his numbers aren't what people think his numbers should be, but I think his contributions in terms of how he's creating a lot of havoc in there – we've been really, really happy with him."