For fans that enjoyed watching Reno Mahe fair catch punts for the past five years, new Eagles returner DeSean Jackson has some bad news.
While Mahe was good at his role, those days are long gone.
"I really don't like to fair catch too much," Jackson said. "As you've seen, I haven't fair caught it yet. That's not really my deal. But if somebody runs up into my face, I'll be smart and fair catch it so I don't have to take a big hit. But that's not my deal. I don't like to fair catch it."
With the vision and speed Jackson displayed on the punt return squad against New England in the third preseason game last Friday, there's probably a good reason he doesn't like to wave his arm over his head.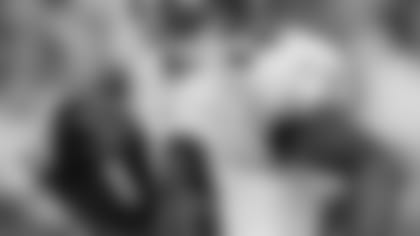 WR/PR DeSean Jackson
The fact that his first NFL punt return for a score came against the Patriots wasn't lost on Jackson.
"It gave me a lot of confidence," Jackson said. "Sitting at home last year, watching the Patriots and their awesome season, to be able to get a punt return against them (was a great feeling). To be able to do that definitely let me know that I was comfortable and confident about the whole situation. I just have to keep working and not get satisfied."
According to Jackson, the coaching staff has made sure that Jackson isn't reading his preseason press clippings.
"The coaches, they really make me feel like a rookie," Jackson said. "The wide receiver coach (David Culley) is always telling me, 'You haven't done anything yet, you have to keep working, don't worry about all that. It's just the preseason. You haven't done anything yet.' I'm going to approach what I need to do and try to carry it over to the regular season and handle my business."
Jackson has been handling his business since becoming an Eagle in April. Even though he was a popular guy at Long Beach Poly High in California before becoming a star at the University of California, Jackson has been surprised how quickly he's been adopted by the City of Philadelphia.
"I'm loving this so far," he said. "This is a great team. It's pretty wild. I go out a little bit and a lot of people say how happy they are that I'm a Philadelphia Eagle … Out here, everybody's focusing on me so I have to try and be cool. It's a good feeling, though."
Part of the reason for his newfound fame is his work ethic. For example, Jackson said he catches 30 to 40 punts a day to help prepare for the regular season and become more comfortable at the NFL level.
But what many fans might not realize is the amount of film study Jackson puts in, especially on the opposition's punt coverage tendencies, to be ready for whatever might be thrown at him.
"You have to study everything," he said. "You have to see how the punter kicks the ball, see how the punt team is coming down the field; you have to look at the lanes. There are a lot of things to study."
And that's on top of learning a new playbook and developing into the type of offensive weapon the Eagles and their fans hope he can be.
"I just have to go out there, keep putting in the hard work and see where it takes me from there," Jackson said.