Seven years ago, linebacker Chris Gocong arrived at the NovaCare Complex to take part in his first post-draft camp as a member of the Philadelphia Eagles. On Friday, Gocong returned to the NovaCare Complex hoping to continue his NFL career. The Eagles invited the free agent linebacker to participate in the rookie camp on a tryout basis. The 29-year-old Gocong missed the 2012 season after rupturing his Achilles tendon during a Training Camp practice last August.
"If everything goes well, I'll be here," Gocong said. "We'll see. We'll see what happens."
Gocong spent the past three seasons in Cleveland after being traded along with cornerback Sheldon Brown for linebacker Alex Hall and a pair of draft picks. Gocong started all 32 games in his first two seasons with the Browns and registered 141 tackles and 5.5 sacks playing both inside linebacker in a 3-4 scheme and outside linebacker in the 4-3. Last month, Gocong was released to save money as the Browns transition, again, from a 4-3 to a 3-4 defense. Friday's workout was Gocong's first football work since he suffered the Achilles injury.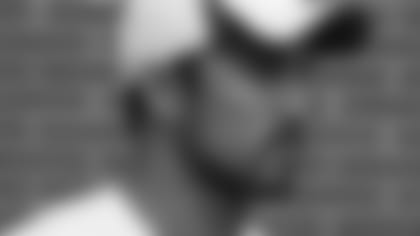 "It's just one of those things with a serious injury, teams want to see where you are," said Gocong, who was listed with the Browns at 6-2, 263 pounds. "I don't dwell on the past too much. I'm just seeing where I'm going from here."
Gocong's linebackers coach in Cleveland was Bill Davis, who is now the Eagles' defensive coordinator. Gocong would relish the opportunity to play for Davis again beyond this three-day tryout.
"He's so smart. He's such a great coach. I knew it was going to happen," Gocong said of Davis' reprise to defensive coordinator. "I'm looking to get a chance to come here and play for him. We'll see how it works out."
Gocong was a third-round pick of the Eagles in 2006 out of Cal-Poly SLO. He was one of the most prolific sack artists in the college ranks recording 42 quarterback takedowns in 41 games. He earned the Buck Buchanan Award as the top defensive player in I-AA in the process.
The story of how the Eagles acquired Gocong showcased the importance of secrecy during the draft process. The Eagles targeted Gocong and wanted to move up. The New York Jets also wanted Gocong and thought that they could move back five spots and pick up a seventh-round pick in the process. They had no idea Gocong was on the Eagles' radar.
Why? It was uncertain where Gocong would fit in the Eagles' plans. The Eagles envisioned Gocong as a strongside linebacker, but he would need to develop cover skills after playing as a defensive end at Cal-Poly. He spent his rookie season on the Injured Reserve list with a stinger injury suffered in the preseason. In 2007, Gocong started 12 games and had 92 tackles and a sack of Patriots quarterback Tom Brady in the near upset during New England's perfect regular season.
In 2008, Gocong started 12 games once again and had 61 tackles, 2.0 sacks and a fumble recovery for a touchdown against Dallas. He was also a demon on special teams with 19 tackles, good for third on the team.
When the Eagles' defense transitioned from Jim Johnson to Sean McDermott in 2009, Gocong was one of the players most affected. He would still start 11 games, but one of them was at middle linebacker against San Diego. He lost playing time to rookie Moise Fokou and in 2010 he was traded to Cleveland.
"It's a great town to play in," Gocong said of his first stint in Philadelphia. "A lot of great times. It would be nice to win it and we never did it. It would be nice to do that here."
Seven years ago, Gocong came to Philadelphia with all of the promise in the world and time to develop and harness his craft. After seven NFL seasons with five good years of playing experience, nothing is promised for Gocong beyond this weekend. Gocong said the leg felt great after the first workout. Let's see if it's the first step towards getting another opportunity in the city where his NFL career began.