LANDOVER, Md. -- Cornerback Cary Williams joined the Eagles in the offseason as a marquee free agent signing, charged with helping to fix a secondary that collapsed down the stretch in 2012. He took the first steps in doing just that with an unforgettable debut against the Washington Redskins and was a key contributor in the Eagles' 33-27 victory. Williams exuded a fire, attitude and tenacity that has been lacking in recent seasons, and his teammates responded in kind as the defense took its first step in forming an identity.
"Cary's a competitor," defensive coordinator Bill Davis said. "He's a fiery competitor and it shows up on every down. We saw that tonight. That's who Cary is, and I'm sure glad we have him."
There were three standout plays for Williams. The first was a sack of Redskins quarterback Robert Griffin III on a cornerback blitz, in which Williams came flying off the blindside edge and leapt onto the back of the unsuspecting quarterback. Under a minute into the third quarter, Williams made a stupendous diving, full-extension interception along the sideline that will make its way onto every top-10 highlight reel. The Eagles capitalized two plays later on a LeSean McCoy 34-yard touchdown run to take a 33-7 lead.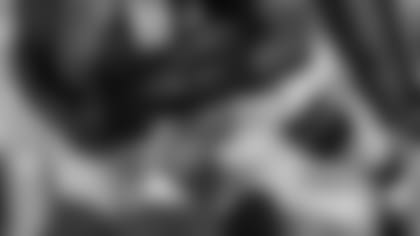 "I was just fortunate to hold onto (the ball)," Williams said with a smile.
The last of the three plays was a critical pass breakup on 4th-and-15 in the fourth quarter with the Redskins down 33-20 but driving in Eagles' territory. The Redskins had just scored two quick touchdowns to get within 13 points and looked poised to make a monumental comeback. Griffin III fired a throw over the middle beyond the first-down marker to wide receiver Aldrick Robinson, who got his hands on the ball briefly before Williams came over the top to swat it away.
"It was another bang-bang play," Williams said of the pass breakup on fourth down. "You just try to go out there and put your best foot forward each and every week. And every time I step between the white lines, it's my resume, so as far as I'm concerned I'm going to go out there and play my butt off each and every down, each and every series, each and every play. I'm just trying to make my team better and better myself each and every week and hopefully we can build off of this and continue this streak."
Despite his personal performance and the defense sacking Griffin III three times and forcing three turnovers, Williams remained tempered in the locker room afterwards and was sure to emphasize that this was just the first step in a long journey of a season. The defense played a tremendous first half and there were plenty of encouraging signs, but as the second half showed, this unit is still a work in progress.
"It's one (game) of 16, man," Williams said. "I think we still have some work to do, I still think we're not there where we need to be yet, but it's a building block and I think we have a lot to build on tonight. We played extremely well, we made plays when we needed to. Guys came up big for us, we had a lot of turnovers tonight, and the offense had our back. It was just a great collective win."
Williams has already infused his personality and emerged as a leader on this defense. The future looks bright for a unit that has flown under the radar but made a name for itself Monday night and is ready for more. The next test is quarterback Phillip Rivers and the San Diego Chargers on Sunday, September 15.