Maybe the brightest spot amid the Eagles' disappointing 4-12 season last year was the emergence of seventh-round rookie Bryce Brown. Unheralded throughout the draft process, Brown won the job of No. 2 running back and, when he got his chance, looked every bit the part of a former No. 1 overall high school recruit. In his first two starts in place of an injured LeSean McCoy, Brown combined for an astounding 347 rushing yards, the second highest two-game total in franchise history.
Brown's combination of size, speed and decisiveness certainly allows for fans to have sky-high hopes for the future of the 22-year-old. But what about Brown? Does he believe he can become an elite running back?
"I do, yes," Brown told Dave Spadaro on PhiladelphiaEagles.com. "It's a goal of mine, it's a dream of mine and that's what I expect of myself. I know it's not going to be an easy task or an easy road to get to, but doing the little things and staying humble and putting God first, I think it's possible."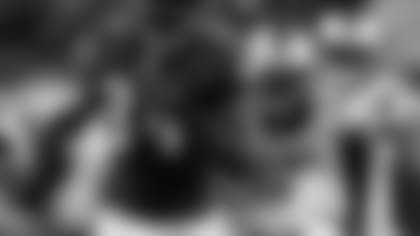 Of course, there are plenty of obstacles in the way between Brown and the company of the elite at his position. For one, there's the minor problem he had with protecting the ball as a rookie. Brown had four fumbles in 128 touches last season. Fumbling problems are actually common among rookie running backs, even future Hall-Of-Fame running backs, but Brown isn't making any excuses.
Ball security "has been probably my number one priority besides being in shape," Brown said. "And I think being in shape and being able to go longer will help me in that area. I can say last year I wasn't in the best shape that I could be. I'm in a lot better shape now. I think me being in the best shape that I can (be) will allow me to dig deep, fight harder and be able to hone in on the little things like keeping the ball (protected)."
For Brown, there was also the learning experience of going through the grind of an NFL season, especially after his brief collegiate career.
"It was great," he said. "I definitely learned a lot, learned a lot about the NFL and learned a lot about myself as well. I continued to fight. I took advantage of the opportunities when they were given to me. Coming into this year, there are so many things I want to work on to bring to the table. Again, this year is another opportunity for me to show what I can do."
And in the new Eagles offense, Brown will certainly get his chances. Though LeSean McCoy remains the main attraction in the backfield, Brown is surely slated to play a big role as well.
"I think with the staff we have here and the things that they have in place here, I think it allows me to really focus on the details, put us in position to be successful, not just me but all the players that we have here," said Brown. "Just learning this whole new offense, it's amazing."