Bill Davis, Sr. is a proud papa. He's in town with his son, Bill, the defensive coordinator of the Eagles, as the team prepares for tonight's game against New Orleans. A long-time NFL coach and personnel evaluator (Davis coached with the Eagles with Dick Vermeil's staff from 1976-79 and ran the Eagles' personnel department in 1988-89), daddy is enjoying his son's success.
"We've always been proud of him, his mom and dad," said Bill Davis, Sr. "Every Halloween he was a football player from the time he was 4 years old, wearing a helmet, shoes, socks up to his waist. He loved the game, played in high school and played wide receiver and quarterback in college and then switched over to defense in the NFL.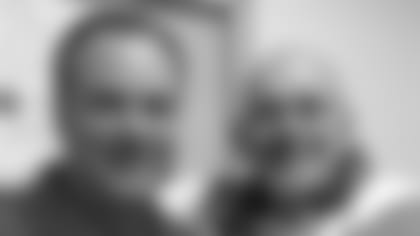 "We text and Skype and stay in touch all the time. I feel so great that he shares his experiences with me and to see how much he enjoys this, it's just so wonderful. We always knew that he wanted to be in coaching and, really, I've been trying to talk him into the personnel side of things eventually. I think he would make a great general manager."
The game has changed so much since the days Davis, 75, worked in the NFL. Davis ran the personnel departments in Miami and Cleveland after his coaching career and understands the long hours and the dedication needed to make it in the league. Technology has changed the game, but the essence of the job remains: You have to love it and live it.
"Bill has had the opportunity to work with a lot of brilliant minds in his career. He tells me that this is the best teaching group of coaches he's been around," said Davis. "He loves what Chip (Kelly) has put together here. It's an excellent group.
"I watch every game. I'm a fan during the game. I can be a little bit expressive as I'm watching it with my wife and my grandkids, so I can get pretty excited.
"Bill grew up in the game. We talked about everything as he was going into the business. Bill has had some great teachers along the way. He knew what he was getting into when he made the decision to be a coach. He used to sit in personnel meetings with me and watch the way the business worked. So, to see him working in something that he loves and to see the career he's had, it's wonderful for all of us."