Anybody that has questions about Seattle quarterback Seneca Wallace can get answers from strong safety Quintin Mikell.
Wallace, who will be starting in place of Matt Hasselbeck on Sunday, has started just six NFL games in his six years in the league.
But Wallace went to Iowa State, which happened to play Mikell's Boise State squad in the Crucial.com Humanitarian Bowl in 2002.
As all of you Humanitarian Bowl fans know, Boise State won 34-16.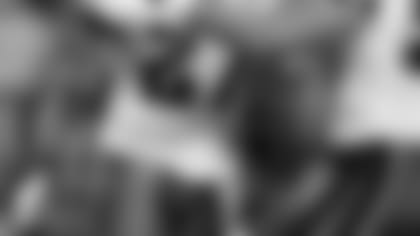 Quintin Mikell knows all about QB Seneca Wallace, who will start for Seattle
"I played against him in college, so I know what kind of guy he is," Mikell said. "He's a guy that can make all the throws. He can create with his feet, getting outside the pocket, stuff like that. He's a guy that once you let him get on a roll; he can do a lot of damage. We're going to try to keep him from doing that."
That's exactly what defensive coordinator Jim Johnson is afraid of. The Eagles really haven't played against a scrambling-style quarterback since they played against Michael Vick.
"He's a great scrambler," Johnson said. "I'm not sure we've faced a faster quarterback that I can remember for a while. He's got great speed and can get outside of the pocket. He did it last week against the 49ers. He's a little bit different quarterback than the drop-back quarterback. He's a quarterback that can hurt you getting outside. He's an excellent athlete and has very good speed. I don't think we've faced a quarterback since Michael Vick where we really had a concern about containment and stuff like that."
Mikell said there was one fundamental difference between Wallace and Vick.
"It's been a while since we played against somebody like that," Mikell said. "You do have to worry about it a little bit. But I think (Wallace is) a quarterback that looks to scramble but he looks to throw before just taking off and running. Michael Vick used to just take off and run, so it was a little different game plan. We definitely have to be worried about that, but also stay in coverage because he can throw it deep."
Last week in San Francisco, Wallace completed 15-of-25 passes for 222 yards and two touchdowns in a 34-13 win. He didn't have a rushing attempt, but that doesn't mean Wallace was unable to create few plays using his feet.
"He's a real mobile guy," middle linebacker Stewart Bradley said. "I think that's one of his best weapons - his threat to always run the ball and extend the play. He had a pretty good game against San Francisco."
Even though Wallace has only six yards rushing this season, the Eagles have to respect his ability to run. Johnson said Wallace reminded him of a faster version of former Eagles quarterback Jeff Garcia. Mikell said the Eagles had better be on their toes.
"You have to be aware of it," Mikell said. "In certain packages, we'll have someone looking out for him. (We'll) try to contain him as best we can. It does hurt your pass rush a little bit because if you lose containment or he scrambles up the middle, then he can obviously hurt you. We'll have a couple wrinkles in place to help deal with it."
The fact that there is limited film on Wallace only makes the Eagles' job more difficult.
"I think all you can do is emphasize the containment of this guy, with that type of ability," Johnson said. "Like I said, he hurt the 49ers last week. We haven't seen a lot of him this year. We've only seen a couple games. In the one against Tampa, they we're behind a little bit. They're very capable of making plays, so we'll see if we can do a good job on him."