The first preseason game is in the books. There's nothing in the way of major injuries to report. So, not surprisingly, the big story at Eagles training camp is the Big Kid.
Pro Bowl guard Shawn Andrews reported to camp Sunday afternoon, ending his prolonged absence from the team. Andrews has been placed on the Active/Physically Unable to Perform list. In order to make room for Andrews, tackle Franklin Dunbar was waived/injured.
According to many published reports, Andrews said he has been diagnosed with and is battling clinical depression. Andrews has not been with the team in any capacity since the first week of Organized Team Activities (OTAs) in June.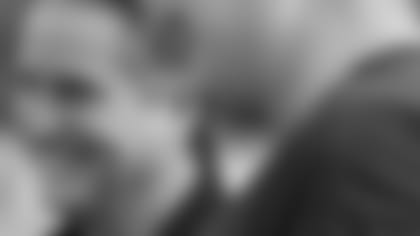 Head coach Andy Reid with NFL Network's Steve Mariucci
Reid, who has been in contact with Andrews and talked extensively with him by phone on Saturday, said Andrews is excited to get back to football.
"He wants to come back," Reid said. "I'm sure there's some apprehension there, but I know he wants to get back going, get back up here with the guys."
When exactly Andrews will resume playing football has yet to be determined. Reid said he will meet personally with him and determine Andrews' level of conditioning, then proceed from there.
Until Andrews presumably retakes his starting spot, Max Jean-Gilles will continue to take first-team reps at right guard, a role Reid said Jean-Gilles has been performing admirably in so far.
Reid said getting Andrews reacclimated won't be a rushed process.
"I'm going to gradually feed him back in. I want to see how he's doing. That's my primary focus right now," he said. "Then we'll see about those other things, we'll see where they fall in."
Reid hasn't been the only member of the organization in touch with Andrews. He said many players have been in touch with him and wouldn't need a briefing when Andrews does report.
"Quite a few of the players know the situation and have been in communication with him," Reid said. "He's got some guys here that really care about him."
Somewhat lost in the Andrews shuffle was cornerback Asante Samuel's return to practice. Samuel hadn't practiced since July 26, when he suffered a hamstring strain.
Samuel participated in all drills except for the final team segment, where he watched from the sidelines.
"I wasn't sure he was going to make it that far," Reid said. "I was gauging it on how he felt. (Head athletic trainer) Rick (Burkholder) was communicating with him during the practice. We actually got more out of him than what I anticipated."
Reid said that, as of now, Samuel could play in Thursday's preseason home opener against Carolina.
"He needs to practice in this scheme, but he'll pick it up and be fine," he said.
Tackle Tra Thomas sat out the morning session with back spasms, and punter Sav Rocca missed with knee inflammation. Defensive tackle Brodrick Bunkley was excused for personal reasons and could return Sunday afternoon. Also missing were wide receiver Reggie Brown (Achilles), tackle Stefan Rodgers (concussion) and wide receiver Frantz Hardy (sprained ankle).