BETHLEHEM, Pa. -- For second-year wide receiver Danny Amendola, this year's training camp has a much different feel than his rookie training camp with the Dallas Cowboys. On the plus side, he's already had his introduction to the speed and level of play of the pro game as opposed to the college game. But he also has to cope with an increase in intensity and fatigue as he goes from a fairly lax Cowboys training camp to the Andy Reid training camp, which he says has been well-described to him by teammates.
However, the most interesting change between last year's and this year's training camp for Amendola is that he's no longer under the watchful eye of the HBO viewing audience.
HBO's Hard Knocks, a program that documents one team's NFL training camp each season, spent last summer focusing on the Eagles' NFC East rival, the Dallas Cowboys. During the course of the show, Amendola became one of the main storylines as he fought to grab a spot on the Cowboys' roster. Although he ultimately fell short, he ended up spending the 2009 season on the Eagles practice squad, working on his game and preparing for another hard-fought battle this summer - and he feels the hard work has paid off.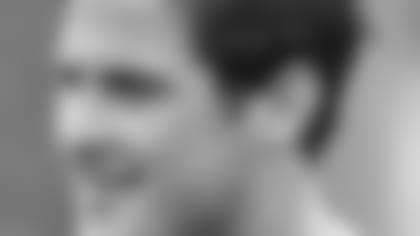 Amendola would rather be on the field playing then on a TV reality show
"I'm a lot better than when I first got to rookie (Organized Team Activities)," Amendola said. "I could run around and catch balls, but as far as being a receiver I was nowhere near where I am now. And that just comes from good coaching and having good guys around you.
"In every offense there are little knacks, you know the routes, and you know what to do and what not to do, but just getting down the little secrets that you need to know. Getting that down, that comes with more experience."
Amendola has indeed been impressive in the beginning of this 2009 training camp. He has shown a quickness and shiftiness that is often hard to find, and has also proved to be willing to do whatever the coaches ask him to do, including being the only return man for both punt and kickoff returns here at camp so far.
"Man, I was getting tired, being the only one back there," joked Amendola.
But that's exactly what has made the first couple days of practice so important for Amendola.
"We didn't have a rookie camp last year in Dallas, so I didn't get that many reps," he said. "I'm getting more reps now, getting everything done before the older guys get here. It gives us more opportunities, more time to shine, so I'm excited about it"
Amendola does certainly face an uphill battle to break into a very deep Eagles receiving corps, but you never know what kind of role a player with Amendola's motor can be used for. He's made some nice plays so far in camp, including a nice highlight reel grab on a long pass from Donovan McNabb in which he pulled down the ball over Reshard Langford.
"I'm trying to find (my role) out right now, whatever they want me to do really," he said. "All I can really control is show up and get my business done every day and see where I stand."
And how does it feel to no longer be under the HBO spotlight?
"Actually, I didn't even notice the cameras really," Amendola said.
In fact, he barely even watched the show.
"I mean, I've seen a couple of them, I haven't seen all of them. I don't like to watch myself on TV or anything," he said.
But that didn't stop his new teammates from teasing him about it when he first got to Philadelphia.
"When I first got here, yeah, it was funny," Amendola laughed, as his ride back to the Lehigh dorms, Mike Gibson, honked his horn. "But there's nothing really I can do about it."
So the focus for Amendola now is making enough of an impression on Andy Reid and the rest of the coaching staff to garner a coveted spot on the 53-man roster. And he's excited about the opportunity.
"I like getting challenged," he said. "You know whenever I'm in the weight room or running, I try to push it to the limit. And I know (this camp) will because I've heard lots of good things about it."