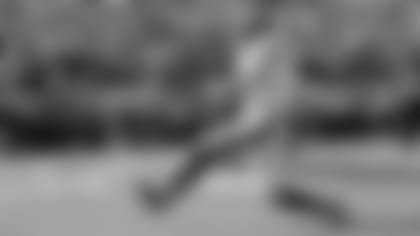 The best special teams player on the league's premier unit might never have found his way to Philadelphia if it wasn't for Facebook.
To be honest, safety Chris Maragos would likely have found another avenue to make his dream come true. This just makes for a better story. Maragos is about to enter his sixth NFL season, second with the Eagles after signing on the second day of free agency in the 2014 offseason. It is highly unusual for a player who makes his hay on special teams to be an early signing in the free agent process, but Maragos' journey is not your typical one.
Maragos rewarded the Eagles' faith in him by leading the team with 14 special teams tackles and being named an alternate to the Pro Bowl. He scored one of the team-record and league-best seven touchdowns on special teams when he returned a blocked punt in the win over the St. Louis Rams.
Growing up in Racine, Wisconsin, "everything is Wisconsin Badgers" football, Maragos recalls. He began playing football in second grade and was coached by his father, Nick, who played safety at Northern Iowa. After games, the family traveled to watch the Badgers play at Camp Randall Stadium.
"It was kind of always this dream, this vision out there for me just to be like, 'Man, this would be awesome.' That's kind of how the dream started," Maragos said.
Maragos learned from his father that the dream would take hard work and sacrifice from an early age.
"He really didn't just talk it. He showed me," Maragos said. "He was one of the hardest working guys I ever saw. He sacrificed for our family. He really showed us what a great leader was. "When we would go and we would do workouts, if we would go and play catch he would always make me be so detailed. He would make all the little things matter for me. If I caught a pass, it couldn't just be good enough. It had to be in my hands. If I did something it would have to be right. He really developed this mentality of always not cutting corners, doing things the right way, doing thing with character, integrity, all those kinds of things. It just carried over from a young age."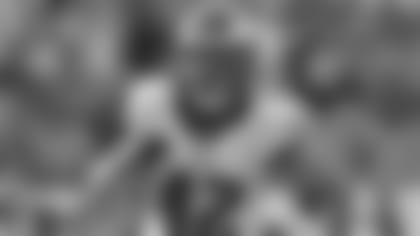 Maragos was set on making his dream come true. After three years at Washington Park High School in Racine, Maragos transferred to a bigger school, William Horlick, in 2004 to get on the radar of college programs. Initially, the gamble appeared to pay off. As a wide receiver, Maragos was statistically among the best in the state with 27 receptions for 359 yards and two touchdowns through the first four games of the season. However, quarterback Justin Kammler broke his collarbone and Maragos' production waned as a result.
At the end of the season, there were no scholarships awaiting Maragos. Western Michigan offered the opportunity to join the team as a walk-on. The dream was still alive. Maragos spent the 2005 season as a redshirt freshman learning from Greg Jennings, who is now a two-time Pro Bowl receiver playing for the Miami Dolphins. He also met Sarah West on the first day he moved into the dorms. The woman who would eventually become his wife lived one floor above him.
"She's really the one who held it all together," Maragos said. "There's been so many times at college and the NFL that have been really difficult, and she's just a rock and the one encouraging me and supporting me through everything, being the one that's giving me that extra push when I need it. She's there to listen when I need her to listen, there to give the pep talk when I need her to give me the pep talk, all those types of things. She's really been that secret ace. It's been awesome having her a part of everything."
According to Maragos, Western Michigan promised a full scholarship if he became a starter and major contributor. He played in 13 games, six starts, as a redshirt freshman in 2006. There was no change in Maragos' status.
"I was given the run around there. They told me one thing and they lied to me, kind of did things backdoor on me," Maragos said. "I basically told my coach that I can't play the way that my style of play is, just the way that I give everything I have. I have to be 100 percent confident in trusting in a coach for me to lay it all on the line for him. I just felt like I couldn't do that."
Western Michigan finally offered Maragos a scholarship. He told the school of his intention to transfer.
But where? There was only one place Maragos wanted to go - the University of Wisconsin. Maragos' brother, Troy, was already at the school. Troy was the school mascot, Bucky Badger. Troy told Chris about Badgers wide receiver Luke Swan, who was once a walk-on but finished his career as a team captain and one of the most productive players in Badgers history. The two were also members of the Campus Crusaders for Christ.
Chris Maragos reached out to Swan through Facebook with a simple message. "Hey. We're very similar. We're both walk-ons from Wisconsin," Maragos wrote. "Would you mind giving me a look and checking my film out?"
Swan got the game tape and showed quarterback Tyler Donovan, who took it to head coach Bret Bielema.
"Before you know it, there it was. Bret Bielema was calling me, invites me to Madison," Maragos said. "I'm sitting in his office, and he wants me to come on the team. It was pretty cool. Obviously, my whole family was ecstatic. It was unbelievable."
After Maragos transferred, Swan invited Maragos to be his roommate.
"Faith was our first connection. That's why we're drawn together and why we're similar. All the other stuff just stems off that realization that God has given us the gift to play football, and the work ethic just falls into place," Swan said. "Chris definitely exhibits that, and it's shown in his leadership and the way he's worked over this last year. We're both highly competitive as well, and I think that stems from the same thing — just realizing who we're representing through that and He has just created each of us to be similar in that sense."
It was at Wisconsin where Maragos made the transition from wide receiver to safety. When Bielema made the suggestion, Maragos put his faith in the coaching staff.
Maragos had to sit out the 2007 season due to the transfer rule. He played in all 13 games for the Badgers in 2008, but he was in for a surprise the following year. Not only was Maragos named a team captain, but he finally earned that elusive college scholarship.
"To me, to this point that's my greatest accomplishment, being named captain by your teammates to me is the ultimate compliment," Maragos said. "For me, I feel like the best leaders are the greatest servants. The best leaders are the best servants. I look at serving my teammates, trying to put them in the best positions, making sure they're taken care of, just trying to help them better themselves. If you can do that, guys are going to follow your lead."
After not getting a scholarship out of high school and fighting to find a home in college, it should come as no surprise that Maragos was not selected in the 2010 NFL Draft. You should know by now that was not going to stop Maragos.
"There's a lot of moments where there are situation or moments that could break you, but you just remember you have to stay true to who you are and the process that it takes to get you to those points," Maragos said. "It was difficult. There's so many thing that were out of your control and you want to take things and do them the best way possible. When you don't have an opportunity to do things, it's difficult."
He signed with the San Francisco 49ers as a rookie free agent and played in three games as a rookie. Maragos landed in Seattle in 2011 and made 11 special teams tackles in the final 11 games. In 2012, he played in all 16 games for the first time in his career. He won a Super Bowl with the Seahawks in 2013 as a backup safety and special teams ace. He carved out a niche in the NFL where many players who were once stars at the collegiate level struggle because it doesn't receive the same limelight as offense or defense.
"We talk about it all the time, if you're not in that top group of guys, the three ways to make this football team are special teams, special teams and special teams," head coach Chip Kelly said.
On a recent summer day at the NovaCare Complex, the Eagles' practice has just concluded. Maragos spends a few precious moments chasing his two boys - Micah and Mason - around with his wife nearby. Just as Nick served as a role model for Chris, he does the same now for his boys. Maragos' story is one that sounds like it could have been scripted by Hollywood. But it's a real life example of hard work and perseverance paying off in a big way.
This story originally appeared in the Ravens-Eagles edition of Gameday Magazine.