The sheer numbers are staggering.
According to BreastCancer.org, one in eight women will develop breast cancer over the course of her lifetime. One in eight.
It should come as no surprise then that the Eagles Cheerleaders, a squad of 36 young women, have been directly impacted in one way or another by this disease.
Almost a year ago exactly, Maurisa, one of the captains on the squad, was going through her normal morning routine on what should have been an otherwise ordinary day. As she was getting dressed, she happened to feel something that she never felt before. She was alarmed, immediately realizing that something was off.
Just 26 years old at the time, and with no family history whatsoever, she wondered how this could be possible. Instead of dismissing it, Maurisa rushed into action and got a mammogram. There was, indeed, a tumor in her breast. She had a biopsy done, and it came back benign. But her doctor wanted to remove the tumor and test it, just to be sure. Thankfully, she received good news.
"If we would have waited, it could've become cancerous and it could have spread throughout my body," Maurisa says, "so I think it's super crucial to do monthly breast exams, no matter how old you are, no matter if it runs in your family or not. It's just so important for all women of all ages. I will definitely be on top of that for the rest of my life."
Maurisa returned to the squad just after Thanksgiving, a little over two weeks following her surgery, and helped cheer the Eagles on to the Super Bowl.
"Don't be scared to go to your doctor and take the next step to get it removed. Don't push it off because you think it will go away," Maurisa says.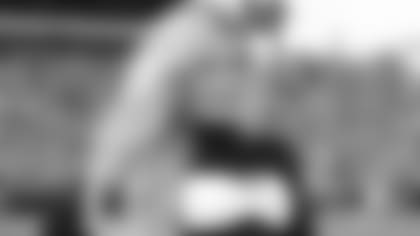 Maurisa cheering on the Eagles at Lincoln Financial Field.
Dana's rookie season on the squad was unforgettable, ending on the turf at U.S. Bank Stadium in Minneapolis. It took five tries for Dana to earn a spot with the Eagles Cheerleaders, but the courage and perseverance were traits passed down from her mother, Cheryle, who is a breast cancer survivor.
Again, like in Maurisa's case, there was no family history. Fortunately, Cheryle was a nurse in the intensive care unit at Thomas Jefferson University Hospital and knew the importance of annual mammograms. That's what caught the cancer. Dana was only 17 at the time and wanted to remain strong not only her mother but her two younger sisters as well.
"The good thing was, my mom is always positive. She's always been a positive person and I think that kind of contributed to her success because she was optimistic and knew she would get through it and we knew
she would get through it as well," Dana says.
Cheryle was in Stage 2 when the cancer – ductal carcinoma – was detected. She aggressively attacked it by undergoing a double mastectomy as well as taking Tamoxifen.
"Be proactive, notice changes in your body, make sure you try to maintain a healthy lifestyle when you can," Dana says.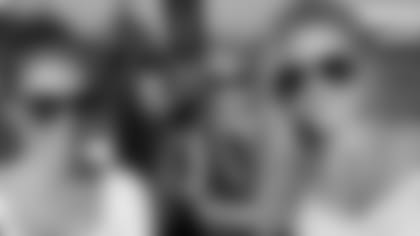 Dana with her mother, Cheryle, and sisters in Italy.
Not every story involving cancer on the squad has a happy ending. Corinne, Kassi, and Shardae are just three members who have lost loved ones to this treacherous disease.
Cancer is unfortunately prevalent in Corinne's family. She lost her grandmother when she was little, but admits that the passing of her Aunt Sandi at the age of 52 showcased the evil of cancer.
"She had to go through chemotherapy, and I vividly remember her hair being shortened," Corinne says. "And her energy level, when I was there she definitely tried to be excited and happy, but you could definitely tell she was not as active and it was just draining her. And unfortunately, the chemo didn't necessarily work, as she continued to fight the battle for the next few years."
Hardened by the experience, it still wasn't any easier when her mother, Bette, was diagnosed on Christmas Eve in 2014. In all, five of Corinne's family members have battled breast cancer. Her mother was fortunate to catch it at Stage 0 due to biannual mammograms. After a year-long ordeal, she is cancer-free.
"I could see all the pain that she went through, but she's so proud of her scars and everything that's come of it that she loves showing her friends," Corinne says. "She wanted people to see, 'I came out on top, this is how I came out, and I'm still here and still fighting,' so that was just so great getting to see her spirit change in that sense."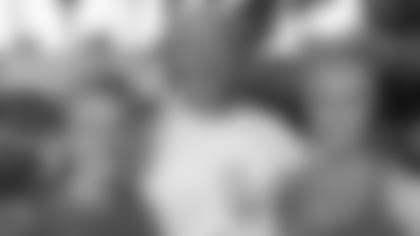 Corinne with her parents. Corinne's mom, Bette, is a survivor.
Shardae was only 8 years old when she lost her Aunt Shirley due to breast cancer. When she is not cheering on the Eagles, she is a role model for young women as the cheerleading coach at Steinert High School in Hamilton, New Jersey. Three members of the high school squad have mothers who are breast cancer survivors.
"The best thing for me is to always be aware and to do things like self-exams. I do those almost every day in the shower. There's never an age when you're too young to start because my aunt got it at 39," Shardae says.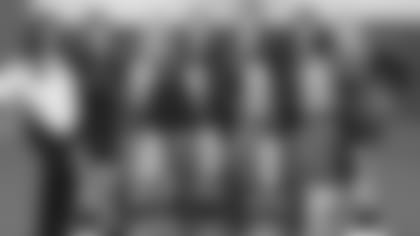 Shardae with her cheerleading squad at Steinert High School.
Kassi also lost a close family friend who was diagnosed with breast cancer before the typical benchmark of 40 years old. Krissy Miller was 39 when she was handed the devastating news.
"It went away, but then it did metastasize all over to her lungs, her liver, and it was just very aggressive the type that she had. It was very quick," Kassi says.
Kassi cherishes her final time being with Krissy. It was tailgating before the Steelers-Eagles game in 2016, before Kassi was on the squad.
"She was always so supportive of my dreams of being an Eagles Cheerleader. She was so positive throughout her diagnosis and treatment," Kassi says. "It made it more bearable, and just really inspired me to be more positive throughout everything. She was an extraordinary person."
Kassi was also a rookie on the squad in 2017. That her dream was fulfilled shortly after Krissy's passing is not lost on her.
"It was divine intervention," she says.
Adversity can either unite a team or break it apart. When it comes to raising cancer awareness, the personal ties help make this Eagles Cheerleading squad a united front.