What a difference a week makes. The Eagles defense came out with purpose and attitude Thursday night against the Carolina Panthers. Players looked settled, under control and made more plays as a result.
"I think just looking at the guys' eyes out there, everybody calmed down a little bit," outside linebacker Connor Barwin said."That felt good out there. I think guys just zeroed in, got the first game jitters out last week and just did their job."
There was pressure from all over the alignment as well as gap control, disciplined pursuit, fundamentally sound solo and gang tackling. The tackling, in particular, really improved.
"Yeah, it's the hot subject," Barwin said."I think we tackled a lot better, right? There was a lot of gang tackling, guys filled the gaps. When you don't let them get in the open field, it's a lot easier to tackle."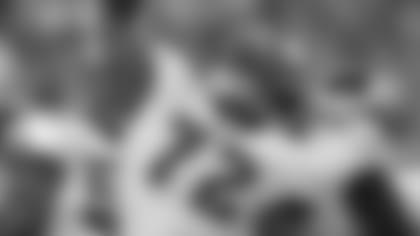 Quarterback Cam Newton rarely looked comfortable, as he was flushed from the pocket and forced into making difficult, low-percentage throws. From the defensive line to the linebackers to the secondary, the unit was working as a whole, and everyone was flying to the ball. It was a total team effort, with players fulfilling their responsibilities so that others could be free to make the ultimate play. Strong safety Patrick Chung, who has taken the reins as a leader on this defense, put forth a tremendous performance against the Panthers. However, Chung was sure to credit his teammates.
"It's those guys freeing me up to make those plays, not really just me making that play," Chung said. "It's (DeMeco Ryans) and (Mychal Kendricks) destroying everything, (allowing me) to get that free tackle. We're all working and working hard."
Things did not look promising early on. Newton started with a clean pocket on the first snap and fired a pinpoint pass to wide receiver Brandon LaFell along the sideline for a 16-yard gain. On the next play, however, defensive end Cedric Thornton used leverage and power to push right tackle Byron Bell backwards and penetrate the backfield. Thornton forced Newton to roll right and throw the ball out of bounds.
After a coverage breakdown that left wide receiver Ted Ginn, Jr., wide open for a 23-yard catch and run that moved the ball into Eagles' territory, the defense responded and stiffened. Defensive tackle Isaac Sopoaga occupied a blocker on a screen pass and forced the running back toward Chung, who made a strong solo tackle after a gain of only 3 yards. Chung got in on the next tackle, as well, and, along with Ryans, stopped running back DeAngelo Williams for another 3-yard gain. On third-and-4 at the Eagles' 40-yard line, inside linebacker Mychal Kendricks got pressure up the middle on a blitz and forced Newton to his right, with Barwin and defensive end Fletcher Cox giving pursuit. Cox chased Newton down and started to corral him, forcing the quarterback to throw short and incomplete. The Panthers punted.
The next Panthers drive was a three-and-out, highlighted by an unblocked Thornton exploding into the backfield and engulfing Williams the second he got the ball for a 5-yard loss. Cornerback Brandon Boykin, who had an excellent game, will tell you that he should have intercepted Newton's pass on the following play, but it deflected off his hands as he jumped high in the air.
The first-team defense would continue its stellar effort throughout the first half. While the Panthers offense had moments where it moved the ball, it only entered the red zone once. The Eagles defense stood tall and stopped that drive at the 9-yard line, forcing a field goal. The defense also held the Panthers to just two conversions on 10 third-down opportunities in the first half.
Kendricks was another standout player on Thursday night. He was all over the field, making plays as a blitzer, in the backfield and in pursuit. Kendricks blitzed and got a free shot on Newton that forced the quarterback to throw a hurried pass over the middle to wide receiver Steve Smith who, sensing Chung bearing down, did not go all out for the catch. Kendricks found a harmony between aggressiveness and playing under control. He shot gaps and showed good discipline when on an island as Newton attempted to get outside on a scramble. Defensive coordinator Bill Davis' scheme caters to Kendricks' skill set as an athletic and explosive linebacker, as it attempts to free him up so he can rely on his instincts and speed and just flow to the action. There were multiple instances where Kendricks lined up like he was going to drop in coverage, but then blitzed instead and vice versa.
"They (the offense) know someone's coming, they just don't know who," Kendricks said. "They know someone's dropping, they just don't know who. That's part of the benefit of being in this defense, there are a lot of schemes you can run."
Thursday night was hopefully just a glimpse of what this new defense can do. Not everything was perfect, though. In addition to some penalties, the unit has still yet to force a turnover. There were opportunities for turnovers, specifically interceptions, and those will have to be capitalized upon if this defense is going to realize its potential. That said, without a doubt the Eagles defense improved considerably from its first game, and optimism is high that the trend will continue.
"I feel like with every game, with every practice, us as a defense, we're getting better," Kendricks said.