Following Sunday night's tough loss to the Bears, Eagles fans can be forgiven for doing their best Chicken Little impersonation.
The Eagles, though, would disagree with such measures.
The sky certainly isn't falling, disaster is not imminent and there is no need for hysteria.
A loss on Sunday against the Washington Redskins would not signal the end of the Eagles' season. It would, however, be a serious setback.
"I don't look at it like (a must-win)," safety Quintin Mikell said. "We want to win. I don't think all is lost if we don't. We definitely need to win the game, but you have to be careful when you get into the "must-win" situation-type stuff. We're not buying into that. We need to go out there and play our game and worry about the rest of the stuff."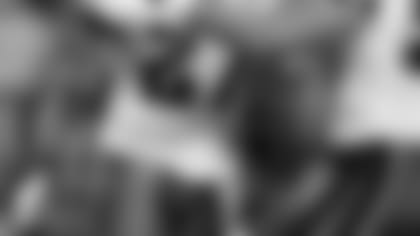 Mikell knows the season is far from over, win or lose against the Redskins
Mikell and the defense went out and played a stellar game against Chicago only to find themselves on the wrong side of the final score. Now the Eagles are in a situation where they'll face an NFC East rival with the possibility of falling below .500.
"You don't want to go 0-2 in your division," linebacker Omar Gaither said. "It's a big test for us, we know that. We know it's a must-win game, but we just want to get on the right track mainly. Regardless of who we are playing against, whether it's the division or not, we want to get on the right track again so that makes it even more of a big (game) for us.
"It's still early, but every week is a must-win. Some count more than others, but yeah, it is. Not because it's the Redskins, not because they're in our division but because we don't want to go under .500. We want to get back on the right track."
That might be tough against the Redskins, who have won three straight games including a stunner over Dallas last week. Making matters worse, Washington is the only team in the NFL that hasn't committed a turnover so far this season.
"People can categorize it however they want to," wide receiver Jason Avant said. "Every game is a must-win to me. We're going in to try and get a win. We know it's against a tough opponent. We know that they are going to be prepared."
That attitude starts from the very top and trickles down. That makes it a good thing that head coach Andy Reid has a short memory.
"First of all, the players believe it. Then as coaches we try not to dwell on it and learn from your mistakes," Reid said. "That's the important thing in this. You can sugar-coat it anyway you want to sugar-coat it, the bottom line is you put on the film, you look at it and if you goofed, you fix it. You can't get the play back. You can't get the game back. We all have a piece of the pie, starting with me. We got to be better."
The Eagles don't have to look very far for an example. The Giants showed last season that it's not how you start, but how you finish.
"I've been in this league too long and seen too many things, including the Giants last year who (were) in that same situation as we (are), won the NFC Championship or competed for an NFC Championship," Reid said. "You can't worry about it. All you can do is worry about the next game and take care of it."