As offenses continue to find mismatch players and hybrid talents at wide receiver, running back, and tight end, defensive coordinators search for versatile defenders to match up with them. Enter the new breed of safeties and linebackers in the NFL. This class has a handful of interesting prospects who fit that mold.
These are the players who analysts expect to see perform best in the athletic testing portion of the workout.
Kyle Hamilton, Notre Dame – Listed at 6-foot-4 and 219 pounds, Hamilton is like a giant praying mantis on the back end with his unique length and ferocity on contact. It's not just his tackling that is impressive, however, because Hamilton has range for days and his reported test numbers are impressive. Let's see how the top prospect at the position follows through in Indianapolis.
Daxton Hill, Michigan – It's not often that you see safeties treated like corners and passing those tests with flying colors. Hill was essentially the Wolverines' slot corner, having to match up with some of the top receivers in the country over the course of his career. His athleticism in those situations was extremely impressive, and it should show up in Indianapolis.
Jaquan Brisker, Penn State – In Bruce Feldman's annual "Freak List," Brisker was an afterthought as the No. 76 player on the list of 100, but his numbers are absolutely eye-popping. At 6-foot-1, 210 pounds, Feldman reported a time of 4.3 seconds in the 40-yard dash, a 3.98 in the short shuttle, and a 38.5-inch vertical leap. Those are astounding numbers for any safety, much less one of Brisker's size. We'll see if that follows through in Indy, but if there's one thing we've seen from Penn Staters in recent trips to this event ... they do not disappoint on the track.
Nick Cross, Maryland – At 6-foot-1, 215 pounds, Cross is a big, physical player with impressive speed and overall athleticism. A former four-star recruit who starred at Brian Westbrook's alma mater of DeMatha Catholic in Maryland, Cross also ran track for the Terps, starring in the 60-meter and 200-meter sprints. His times will impress across the board.
Tycen Anderson, Toledo – Anderson came in at the Senior Bowl at just over 6-foot-1, 200 pounds, with anacondas for arms. He's matched up against tight ends in man to man, even doing so against receivers in Mobile, and was a very effective special teamer throughout his career. His 702 core special teams snaps are more than any safety drafted since Pro Football Focus began tracking that at the college level.
Yusuf Corker, Kentucky – Corker started 36 games for the Wildcats over his career and was a two-time team captain. A well-rounded safety, Corker was actually a four-star recruit as the No. 1 cornerback in the state of Georgia coming out of high school. Corker starred on the track in his younger days at Woodland High School and could surprise with his workout this weekend.
Smoke Monday, Auburn – When you have the nickname "Smoke," you better run well, right? I don't foresee that as being an issue for Monday, who was a big-time playmaker for the Tigers throughout his career and was also a prime special teams player for them. In both areas of his game, his explosive speed and top-end athleticism show up.
JT Woods, Baylor – Baylor players tend to have an extensive track background, and that is the case with Woods, who actually ran hurdles for both his high school AND college programs. Look for the speedy free safety, who also earned an invite to the Senior Bowl, to make a splash in Indianapolis.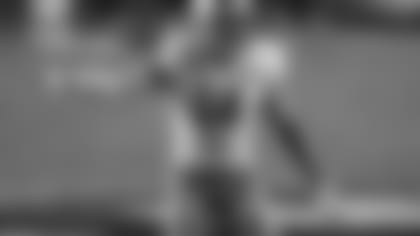 Everyone wants to get a sense of a safety's range and ability to make a play on the ball, and the Backpedal and Transition Drill is a good way to gauge that. The defensive back will start on the hash, backpedal then flip his hips when the coach gives the go-ahead. The prospect will then do a full-on speed turn, track the ball in the air, and attack the ball at the highest point before hauling it in downfield. Some things to watch in this drill:
1. Fluidity from snap to finish. Starting from his pedal, his transition, and then after the catch point where he turns into a runner and sprints through the finish. You want these guys to make it look easy!
2. Ball skills – it's great to see these guys track the ball and finish for the interception. Obviously, this is an uncontested ball, there's no receiver there to battle with, but they are forced to try and find the ball over their shoulder, adjust their bodies, and find it at the catch point.
Here are the players who have a chance to shine in these drills.
Jalen Pitre, Baylor – A slot corner and box player for the Bears throughout his career, the uber-productive Pitre has impressive versatility on defense. We'll see how he tests athletically, but Pitre is a football player who let his play speak for itself in college and in Mobile at the Senior Bowl last month.
Verone McKinley, Oregon – McKinley picked off six passes this past season as a junior for the Ducks as a first-team All-American. A safety who also played in the slot throughout his career, McKinley has the fluidity and the ball skills to stand out in this drill.
Kerby Joseph, Illinois – Joseph's fluidity to turn and run shows up consistently on film. He was one of the leaders in interceptions this fall with five picks for the Illini. Pro Football Focus' No. 1 graded defensive back in the country in 2021, Joseph's traits should transition well to this drill.
All of these players have great stories to tell, but who has taken the most unique journey to get to this point?
Lewis Cine, Georgia – Cine has one of the best backgrounds in this draft. A Haitian immigrant who came to America as a toddler, Cine grew up in Florida before his family moved to Massachusetts, where he played for the first three seasons of his high school career. As a senior, he moved in with his uncle down in Texas and played at Trinity Christian High School where he was coached by NFL legend Deion Sanders. Cine became a big-time recruit under Prime's tutelage, earning a scholarship offer from Georgia where he helped lead the National Champs in 2021. He's one of the best tacklers in this draft class. Cine wears the number 16 to honor his mother, who was just 16 years old when she gave birth to him.
Bryan Cook, Cincinnati – Cook earned a Senior Bowl invite in 2021 thanks to a standout final season on campus, his lone one as a starter at the FBS level. The Cincinnati native had no big-time scholarship offers out of high school, so he began his career as a cornerback at Howard University before transferring to Cincinnati in 2019. He redshirted his first year, barely played his second year, and then came through as a first-team All-AAC selection this fall. Cook put his name on the map and figures to be one of the first safeties off the board in the NFL Draft.
These are the players with a special tie to the City of Brotherly Love or to the Eagles that you should keep a close eye on.
Markquese Bell, Florida A&M – Bell grew up in Bridgeton, New Jersey, just a short ride across the river from South Philadelphia. A high school quarterback, wide receiver, and defensive back, he was a big-time recruit who initially signed with Maryland, but eventually arrived at the FCS level where he fully developed into one of the hardest hitters in the draft class. At 6-foot-2, 200 pounds, Bell stands to impress in Indy with his explosive traits.
Percy Butler, Louisiana – Regarded as one of the top special teams players in the draft, Butler starred at free safety for the Cajuns and has the ability to test well in Indianapolis. The senior has solid size and the traits to stick in the league for a long time while making his mark in the third phase of the game ... much like the Eagles legend Brian Mitchell, who, like Butler, attended Plaquemine High School in Louisiana.
Everyone else who will take part in the events in Indianapolis (in alphabetical order):
Dane Belton (Iowa), Bubba Bolden (Miami), Qwynnterrio Cole (Louisville), Quentin Lake (UCLA), Leon O'Neal (Texas A&M), Juanyeh Thomas (Georgia Tech), Delarrin Turner-Yell (Oklahoma)
We get to read all about the measurements for all these players over the next few weeks...but wouldn't it be nice to have some context? What is considered a 'good' 40-yard dash time? What about arm length? The broad jump? Here's what the average player drafted at each position has looked like over the last decade (based on my own personal research).
Arm Length: 3158 (31 5/8")
Unofficial 40-Time (Stopwatch): 4.52 seconds
Official 40-Time (Laser): 4.54 seconds
10-Yard Split: 1.56 seconds
3-Cone Drill: 6.99 seconds
Short Shuttle: 4.24 seconds