A funny thing happened on the way to the 2013 Eagles becoming the league's most dominant rushing team. Throughout the offseason and during the early part of the season, the expectation was that Chip Kelly's new Eagles offense would lean heavily on the legs of LeSean McCoy and Bryce Brown while the impressive offensive line paved the way for ground success. Here at the Wulf's Den, we even predicted that the Eagles would threaten to break the franchise record for rushing yards in a season.
But while the Eagles' rushing attack has been superlative through much of the season – they still lead the league with 1,331 rushing yards on the season – the Eagles' passing game has become one of the most efficient and explosive ones in the league. Whether that's because opposing defenses have keyed so closely on the run is a question for another day, but the numbers clearly show that the Eagles have as well-balanced an offense as there is in the league and probably as the franchise has ever had.
2013 Eagles Passing Game
Category
Eagles (Rank)
Receiving Yards
2,543 (6)
Yards per Catch
14.0 (1)
YAC per Catch
6.8 (2)
Catches Resulting in 1st Down
61.3% (4)
Passing Plays of 25+ Yds
30 (1)
As a team, the Eagles lead the league with 14.0 yards per reception, which would also be the third best mark in the NFL over the last 20 years. From the eye test, it's clear that the Eagles offense is designed to take advantage of quick-pass opportunities when opposing defenses stack the box to stop McCoy and give the Eagles' receivers a cushion off the line of scrimmage. That's supported by the Eagles' average of 6.8 yards after catch per reception, which ranks second in the league. LeSean McCoy, meanwhile, leads the league with 12.3 yards after catch per reception.
Most Yards per Catch Since 1994
Team
Yards per Catch
1998 Atlanta Falcons
15.8
2000 St. Louis Rams
14.5
2013 Philadelphia Eagles
14.0
2013 San Francisco 49ers
14.0
2012 Carolina Panthers
13.8
*2003-2012 Eagles Avg.
12.1
But the best example of the Eagles' dynamism through the air is their league-best mark of 30 passing plays of 25 yards or more. Not only is that mark tops in the league, and more than the Eagles had all of last season, but it puts the Eagles on pace to beat the all-time record of 47 set by last year's New Orleans Saints.
Most 25+-Yard Passing Plays
Team
25+-yard Receptions
2012 New Orleans Saints
47
2011 Green Bay Packers
46
2000 St. Louis Rams
45
1999 Washington Redskins
45
2013 Philadelphia Eagles
30 (On pace for 53)
*2003-2012 Eagles Avg.
33.7
Through nine games, it's clear that Kelly wasn't kidding when he said the Eagles would be an "equal opportunity" offense. With the league's leading rushing offense and the most efficient, big-play passing offense, the Eagles bring a variety of weapons into each game. If you were an opposing defensive coordinator, what would you try to stop?
Prior to the start of the season, the Wulf's Den predicted that the 2013 Eagles would challenge the franchise record for team rushing yards and every week we keep track of that race. The Eagles still lead the league in rushing, but they have fallen behind the pace to break the franchise record.
Franchise Record: 2,607 yards
2013 Eagles Pace: 2,366 yards
Wrestling With Comparisons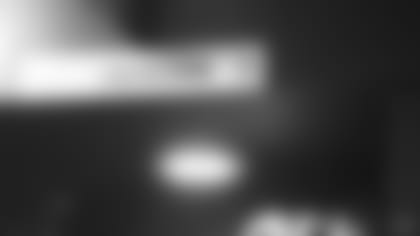 When you walk by DeSean Jackson's locker, it's hard not to notice the glistening WWE World Heavyweight Championship belt that sits near the top of his cubicle. But while Jackson has the gold, it's his locker neighbor to the right who possesses the encyclopedic wrestling knowledge. Not only does Vinny Curry use his Ric Flair boa as decoration, but the actual WWE Encyclopedia sits atop his locker.
So we enlisted Curry's help, along with assistance from Dennis Kelly and DeMeco Ryans, to compare players in the locker room to current and former professional wrestlers. There are no set rules here, so physical resemblance will be the focus for some while defining personal characteristics will set the tone for others. Curry insists on identifying with Flair, his stylin', profilin', limousine riding, jet flying, kiss-stealing, wheelin' and dealin' favorite wrestler of all time. From there, it's only natural to expand the Four Horsemen to the defensive line. So Fletcher Cox gets the nod as Arn Anderson, Cedric Thornton, the defensive line technician, becomes "The Man of 1,000 Holds" Dean Malenko, and Bennie Logan gets slotted in as Brian Pillman "because he's young and crazy."
Since the defensive line represents one of the greatest stables of all time, it's only natural that the offensive line would do the same. This was an easy call for Curry, who has referred to the offensive line as the nWo all season long.
"Tell me that's not Todd Herremans," Curry said, pointing to a picture of Kevin Nash in his Encyclopedia. "The way he talks. The way he walks. It's perfect … And Evan Mathis is always in the middle of Todd Herremans' antics, (so he's Scott Hall)."
Jason Peters then becomes Hollywood Hulk Hogan because "he's the best on our team." Completing the offensive line, Lane Johnson becomes Big Poppa Pump Scott Steiner and Jason Kelce slots in as Buff Bagwell by default, despite his uncanny resemblance to Hacksaw Jim Duggan.
In terms of lookalikes, there is no better match in the locker room than Dennis Kelly as the Undertaker, a connection that is explored further down the Wulf's Den.  Here are the rest of Curry's lookalikes: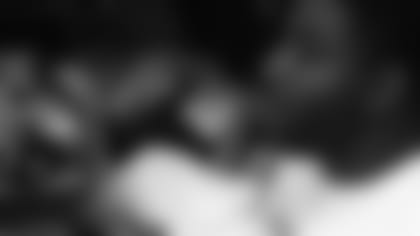 James Casey is the Eagles' jack of all trades, filling in at tight end, fullback and even as the emergency quarterback. So of course he's Mick Foley, the proprietor of Mankind, Cactus Jack and Dude Love. LeSean McCoy may be a bit of a smack talker, but he's also perhaps the best running back in the league, despite his somewhat ordinary size. So Shady gets the nod as (Le)Shawn Michaels. DeSean Jackson was overlooked in the draft because of his lack of size, but he's gone on to become one of the league's best wide receivers. For Curry, that makes Jackson CM Punk because "He's the best in the world … a strong personality who does everything with his skills."
Trent Cole is perennially underrated as one of the best pass rushers in the league and is, occasionally, difficult to understand. That makes him Rowdy Roddy Piper. Michael Vick is a long-standing icon with electric playmaker ability, so he is The Rock. In the open field, Brent Celek shakes off would-be tacklers as if he were no-selling their offense, so he is the Ultimate Warrior. Curry calls Connor Barwin a "young superstar" and pairs the linebacker with Randy Orton. The cameras in the locker room always surround Cary Williams when they need a sound bite, so he's the king of the promo Macho Man Randy Savage.
Brandon Boykin is extremely athletic and may jump higher than anyone on the team, so he's Kofi Kingston. Jon Dorenbos is, without question, the court jester of the locker room, which makes him Doink the Clown. Originally, DeMeco Ryans was slotted in as Goldberg, because his tackles are like spears and the two share the shaved head look. But Ryans insisted instead on he and Mychal Kendricks patrolling the middle of the field as the Legion of Doom. Coming off his 158.3 quarterback rating against the Oakland Raiders, Nick Foles is an easy choice as Mr. Perfect.
There is perhaps no better match, though, than head coach Chip Kelly with the greatest manager in wrestling history. Not only do Kelly and Bobby "The Brain" Heenan share a biting, sarcastic wit and the ingenuity to outthink the opponent, but there's also some physical similarity. Curry was also shrewd enough to tab Merril Reese as Jim Ross and out own Dave Spadaro as Jerry the King Lawler.
We end, though, with a scene from the discussions. Curry identified Owen Hart as a great wrestler, though often overshadowed by his older brother, Bret. On a week when Casey Matthews was chosen by the Green Bay media to be the Eagles' player representative on the media conference call because of his connection to Packers linebacker Clay Matthews, the fit was only natural.
Casey Matthews: I'm not Owen Hart, he died.
Vinny Curry: Bro, you are Owen Hart.
CM: He died. I'm Kane.
VC: You are Owen Hart.
CM: He's dead, man.
VC: Half this book is dead.
CM: That's true … You better not put Owen Hart, unless you want my comment after.
Bo Wulf: Owen Hart was great.
CM: I'm out of here.
VC: There you go walking off, just like Owen Hart would do.
CM: (Shakes his head)
Dennis Kelly: Alright, nugget.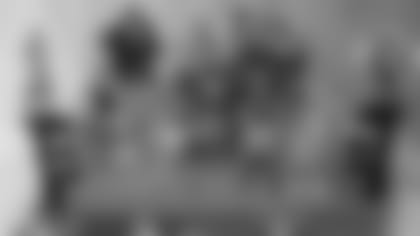 ](http://prod.static.eagles.clubs.nfl.com/assets/docs/2000x1550_Wrestlers.jpg)
*Each week, we'll sit down with a member of the Eagles to discuss something you may not know about him. This week, we continue the wrestling talk with Undertaker lookalike Dennis Kelly.  *
Bo Wulf: Is it OK if I call you "The Deadman?"
Dennis Kelly: Yeah, that's fine.
BW: Do you prefer being billed from Parts Unknown or Death Valley?
DK: I think Death Valley's a good place to be billed from because it does give that tone. Parts Unknown gives you a little more to think about, but when it's Death Valley, it's already kind of stating the whole death aspect.
BW: Have you ever pancaked a defender on the field and then stood over him and said, "Rest In Peace"?
DK: No, but actually while I was at Purdue, there was a play where it looks like I gave a kid a chokeslam. The guy jumped, and I shoved him, but he didn't go down. Then I looked away, he jumped again and I just shot out with my right hand and hit him right here (just under the throat) and he went straight down. On the film, it looks just like I chokeslammed him.
BW: Can you do the eye-roll back into the head?
DK: Yeah, I always did it when I was a little kid. I don't know because I've gotten black eyes and everything how it works now but … (rolls his eyes into the back of his head perfectly).
BW: Wow, that was perfect.
DK: So yeah, I guess I can.
BW: Do you think Paul Bearer will ever come back?
DK: You know, it's unfortunate because he did recently die. I think that's just something that's probably better left untouched.
BW: Didn't they do a whole angle with it right after he died?
DK: Yeah, I think that was just, they figured there was no way they couldn't address it and it was a good way to make CM Punk a bad guy because at that point he was right in the middle. Obviously everybody like Undertaker and Paul Bearer and that whole story and so for him to kind of do what he did, it was an angle that was so close to it though.
BW: Do you think "The Streak" will ever end?
DK: I don't think so. I think it's one of those things that people pay to see all the time, although I could see it being one of those things to get the younger guys a huge push like right when they need it. But the question is, you don't want Joe Schmo snapping the streak but at the same time it's got to be someone established enough for him to want to go against. I personally don't think it will end.
BW: If you had to wrestle one football player in a Casket Match, who would it be?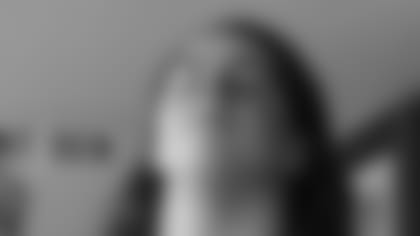 DK: Logistically, it would probably have to be one of the smaller guys because it would be easier to get him in there. You saw when he faced King Mabel in a Casket Match, that wasn't easy. That's tough. I'm trying to think. I could say Vinny because both of us would actually have an idea of what's going on. We could get a good story told.
BW: What are your thoughts on Kane? Obviously you have a very complicated relationship.
DK: I really like Kane. It's amazing to think about Kane or the Undertaker or people like Shawn Michaels, people who stayed. Obviously they started somewhere but they've been with the WWE for coming on 20 years now consecutively. They've asked him to do everything from wear a mask and not talk to doing a spinaroonie in the middle of the ring once. He's always done everything. I think he kind of has that attitude like the Undertaker to just do it for the business.
BW: Are kids ever afraid of you?
DK: Yes, very much. The best story is I was walking out of a restaurant with my fiancé and my older brother Tim and we're walking out and this little kid, I think it was a little girl, was running around in front of her mom and dad, just not looking. She gets to be just in front of me and looks up and goes, 'Ahhhhhhhhh' and runs back because I snuck up on her. I think the overall size of me scares kids. Even my little nieces and nephews when they were younger, they liked the idea of me but when they saw how big I was, they got kind of scared.
BW: What was up with the motorcycle phase?
DK: Well obviously the Undertaker is a huge motorcycle guy, he has his own business. But I think it was a good changeup. I was actually just thinking about this. I think because they did that and then he came back as a dead man, it made his legacy a lot better. I think it's questionable that at that point the dead man thing could have gotten a little stale, especially after the Ministry and the Corporate Ministry angle that they did.
BW: So you've been a die-hard the whole time?
DK: Oh yeah. So they kind of went really extreme with him at that point and it kind of gave him a little more flavor. So when he came back after the motorcycle gig, came back as the dead man, I mean you can ask any fan, it's always great to see the old people come back. So when a wrestler goes back to his old gimmick, it gets a huge pop. So obviously he's been able to ride off of that.
BW: OK, this is the last question. Ten years down the road, five years down the road, the Undertaker retires. Could you fill in and step into his shoes, like a Dred Pirate Roberts situation?
DK: It's funny because I've joked about that with my college coaches a lot. Obviously this was three years ago when people were saying that he might be done soon.
BW: You just jump in and take over, a seamless transition.
DK: Yeah, it would be actually kind of funny. At that point though, it gets to a point where he did things so well, do you want to touch it? Do you want to just kind of let it be as it is?
BW: It would be cool if there was just always an Undertaker in perpetuity though.
DK: Right. But remember when they tried to do that with the Fake Diesel and Razor Ramon, and they used Kane as the Fake Diesel.
BW: Before he was Isaac Yankem.
DK: Yup. People could tell he looked different. But do you do like an apprentice type thing?
BW: He hands off the urn to you or something.
DK: Exactly. I like that.
BW: Could you do his moveset? Could you do the Tombstone and the walk on the top rope?
DK: I think so. I think I'm athletic enough. I can lay on the ground and kick myself up to my feet. I haven't tried it since the back surgery, but I can do that all the time.
BW: Yeah, I'm not going to make you prove it.
DK: Yeah, I used to do it a bunch, even before practice I would do it in my pads at Purdue. So I think I'm athletic enough to do it. I would probably have to get a little more toned so to speak.