There has been no fiercer running team in franchise history than the 1949 Eagles. Led by Steve Van Buren's 1,146 rushing yards, six Eagles ran for over 180 yards on the season. As a whole, the team averaged a mind-boggling 217 rushing yards per game, which they outpaced to the tune of 274 rushing yards in their NFL Championship victory over the Los Angeles Rams. In only 12 games, that historic team ran for 2,607 yards – a mark that has stood as the franchise record for 63 years.
For the first time in decades, that record could be in jeopardy.
Let's start with what we know. We know that LeSean McCoy is one of the best running backs in the league, with two 1,000-yard seasons under his belt, and that the 25-year-old is entering the season with a clean bill of health. We know that the Eagles also feature a pair of impressive young running backs behind McCoy in Bryce Brown and Chris Polk. We know that the Eagles' offensive line, if healthy, projects to be among the league's best as Jason Peters and Jason Kelce return while first-round pick Lane Johnson steps in at right tackle. We also know that the Eagles have one of the league's most athletic quarterbacks in Michael Vick.
Armed with that personnel, the 2013 Eagles project to be a formidable running team. But there are two more major ingredients that could produce a historic season on the ground. First, there's the play-calling. During Chip Kelly's six seasons at Oregon, the Ducks ran the ball 61.8 percent of the time, 62.5 percent if you only count his four seasons as head coach. Over the last 20 years, the Eagles have run the ball more than they've passed it only once (50.1 percent in 1995). During 14 years under Andy Reid, the Eagles ran the ball 42.8 percent of the time.
To be fair, Kelly's run percentages are slightly inflated because his teams were often beating opponents so thoroughly that the pass became unnecessary. But Kelly's offenses at Oregon weren't just reaching astronomic rushing totals because of sheer volume. Oregon also led the nation in yards per rush each of the last two seasons (6.0 yards per carry in 2012, 6.7 in 2011) and three out of Kelly's six seasons in Eugene.
Chip Kelly's Oregon Offense
Year
Rushing Yds
YPC
Run %
2012
4,098 (4th)
6.0 (1st)
64.7 %
2011
4,189 (1st)
6.7 (1st)
61.9 %
2010
3,721 (5th)
5.9 (4th)
61.4 %
2009
3,012 (7th)
5.5 (4th)
61.8 %
2008
3,641 (3rd)
6.2 (1st)
61.0 %
2007
3,272 (7th)
5.3 (9th)
59.8 %
Totals
21,933 (4th)
5.9 (1st)
61.8 %
The second schematic reason to keep an eye on the team's rushing total is the pace of the offense. Simply put, the Eagles should run for more yards as a team because they'll run more total plays. Kelly's teams at Oregon ran just over 75 offensive plays per game. Under Reid, the Eagles ran approximately 63 offensive plays per game, with a high-water mark of 67.4 plays per game last season. Perhaps Kelly's pace will be slowed a bit in the NFL, but there is every expectation that we'll see an up-tempo offense this season that will lead to more plays.
"That's the whole philosophy," said Kelce. "You get more plays in, the more plays you get the more yards you get, generally speaking the more points you score. Just from a logical standpoint, it seems to make sense to me."
So what would it take to top 2,607 team rushing yards? First, it means the Eagles would likely be first or second in the league in rushing. Ten teams have topped the 2,607-yard mark over the last 10 seasons, including the Washington Redskins and Minnesota Vikings last season. The most team rushing yards over that time? That would be the 2006 Atlanta Falcons, a team that featured two 1,000-yard rushers – Warrick Dunn and, you guessed it, Mike Vick.
Grabbing the franchise rushing record would be an impressive feat, no question. But when you consider all the factors, from personnel to scheme to pace, it really doesn't seem that farfetched. If we take the preseason to mean anything, the first-team Eagles offense ran the ball just under 46 percent of the time (which may be artificially low, considering the team was trying to evaluate a pair of quarterbacks).
Let's say the offense runs just one more play per game this year than they did in 2012. That would be 1,095 plays and, if the same run percentage held from the preseason, 504 rushes. It would then take 5.2 yards per carry to top the mark set by the amazing 1947 Eagles.
Best Eagles Rushing Seasons
Year
Rushing Yds
Leading Rusher
YPC
W-L
1949
2,607
Steve Van Buren (1,146)
4.1
11-1
1990
2,556
Randall Cunningham (942)
4.7
10-6
1981
2,509
Wilbert Montgomery (1,402)
4.5
10-6
1978
2,456
Wilbert Montgomery (1,220)
4.1
9-7
1979
2,421
Wilbert Montgomery (1,512)
4.2
11-5
Won NFL Championship
Or think about it this way: Vick has rushed for an average of 532 yards in his three seasons with the Eagles. If he hits that mark and McCoy rushes for about 1,300 yards and the duo of Brown and Polk combine for 700 rushing yards and the Eagles get 100 yards from miscellaneous running plays, that's your new Eagles rushing record right there. Doesn't sound that unreasonable, does it?
"With this type of offense, I don't think you need tons of carries to get a lot of yards rushing," said McCoy. "We're going to be moving so fast at a high pace where you don't give the defense enough time to set their defense … In this offense, all you need is a crease, and with the backs we have, we can hit it and get going.  
"So I look forward to having a big year, as long as everyone is healthy."
The 1947 Eagles can rest easy in one way though. If this year's Eagles can find a way to run to the top of the franchise mountaintop, they certainly won't be doing it in 12 games.
Click on the image below to see how the Eagles line up from 5-foot-8 Damaris Johnson to 6-foot-8 Clifton Geathers ...
](http://prod.static.eagles.clubs.nfl.com/assets/docs/1950-lineup.jpg)
*Each week, we'll sit down with a member of the Eagles to discuss something you may not know about him. This week's victim is linebacker Connor Barwin, one of four players on the roster to play football at Cincinnati, but the only one who also played basketball for the Bearcats. During his two seasons on the basketball team, Barwin averaged a Herculean 1.3 points per game. *
Bo Wulf: So we know all about the Cincinnati football pipeline to the Eagles, but I want to ask you about your experience as a Cincinnati basketball player. So I have your stats here.
Connor Barwin: Oh man, I don't know if you want to put those out there.
BW: Are you embarrassed about them?
CB: I think they're all about point-2 a game.
BW: Well I'll ask you, do you know your points per game?
CB: Tell me it's at least 2 points a game.
BW: You had 1.5 points per game in 2005-2006 and only 1.2 the next year.
CB: Yeah, (Mick) Cronin shut me down the next year!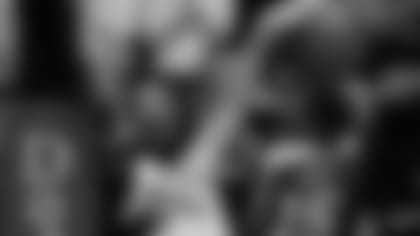 BW: So what was it like then playing on the worst Cincinnati team of the last 20 years?
CB: Well, I was on a good team the year before [in '05'-06].
BW: Wasn't that an NIT team?
CB: No, we got the biggest snub in the NCAA ever, dude. If you don't remember, if Syracuse hadn't gone to that freakin' Big East Tournament run, we were definitely in. Syracuse was out. They had a horrible record and Gerry McNamara went on a run, they beat us in the first round on a buzzer beater and they went on to have a few more buzzer beaters.
(Ed. note: You can relive Connor's heartbreak here, and you'll even get a glimpse of the freshman phenom at the very last second of the video)
BW: You had some good players on that team.
CB: James White, Jihad Muhammad, Chad Moore, Eric Hicks.
CB: We were loaded, man. We had all kinds of guys.
BW: So what was your role?
CB: I mean, both years I can say I averaged about 10 minutes a game every single game I was on the team. So I played, but I was that energy guy. I was a defensive player. My freshman year, we were good. I didn't score but I was allowed to shoot. Mick Cronin kind of put the clamps down on me my sophomore year.
BW: Well I've got your stats here, I'm wondering if you remember how many three-pointers you attempted in your career.
BW: Yeah, but you didn't make any. What's up with that?
CB: Well you've got to shoot more than three.
BW: You also only shot 61 percent from the line.
CB: You know, I spent the whole offseason playing football so I didn't have that much time to work on my free throws.
BW: What was it like doing both football and basketball?
CB: It was so fun. I had such a good time my first two years. My sophomore year was hard because we were really bad. But my freshman year was so much fun. Sometimes I look back and think I could have played all four years. My role would have decreased because Mick Cronin's teams got better, but it was just fun to be a part of it.
I would have played my junior year, but after my junior football year, that offseason you're preparing for your senior year. Every year I lost 15 pounds playing basketball. So everybody told me to train for my senior [football] season, but looking back I think I would have been fine.
BW: What year was it that you switched from tight end to playing defense?
CB: That offseason, before my senior year.
BW: So yeah, that would have been tough.
CB: But I would go from summer workouts to Training Camp to football season to, a week later, basketball season. The day basketball ended, right to spring football and then you get some time after spring football off and maybe go to summer football. So it was long, but you were young. You can do it when you're young.
BW: Do you still follow the team?
CB: Yeah, I still keep in touch with Cronin, who's done a great job turning that program around. I'm actually proud to be on that team his first year because I think he'll be at Cincinnati for a very long time and he'll never forget that first year. I mean, that was hard. We were not very good.
CB: Yeah, it was bad. And he never quit or made it acceptable. We were getting screamed at every game like we were supposed to win and we had no chance to win. So I give him a lot of credit.
BW: Who was the best player you played against?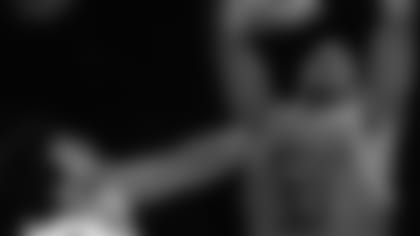 CB: Oh, I got dunked on so bad by Jeff Green. That's the only person I ever got dunked on by. He was the best player I ever had to play against. I mean, I had to guard Roy Hibbert, Greg Oden.
BW: So you were playing center?
CB: No, but I was the muscle at times.
BW: You were in there to give fouls?
CB: You know, I didn't really get fouls. But they were not worried about me getting fouls. But those big guys in college, you can usually just push them away. So I would just push them away from the basket. My job was to play hard on defense and rebound and stay out of the way on offense.
BW: Did you have any dunks yourself?
CB: I did, I dunked on the Big East No. 1 shot-blocker at Providence [Herbert Hill] my sophomore year. It was awesome. And I got fouled. And I missed the free throw. 
CB: That's what happens man.
BW: Now did you play in the Eagles league this year? How was that?
CB: Hands down, no doubt, if the NFL had a basketball league, we would have the best team. I was the best basketball player in Houston [with the Texans] for sure. But here? We have five legit basketball players.
CB: Brandon Boykin, Jeremy Maclin, really good, Jason Avant and, the sleeper of the whole group, Nick Foles. Really good.
BW: That's right, he was recruited by Georgetown and Texas I think.
CB: With that group, I'd suck it up and play the 5. We wouldn't lose to anybody.