Surely you remember the hit. It was the Divisional round of the 2006-2007 Playoffs between the Eagles and Saints, the most recent playoff meeting between the two sides. On the Saints' first offensive drive, their second play from scrimmage, Drew Brees swung a screen pass to running back Reggie Bush in the flat. In a flash, up came Eagles cornerback Sheldon Brown to deliver the flattening heard round the NFL.
"That's the hardest hit I've ever seen," said Trent Cole, after a maniacal laugh. "That I've ever, ever seen. I'm talking about, have you ever seen a man look like a folded lawn chair? He looked like a folded lawn chair. It looked like Sheldon went over there and folded that lawn chair up.
"I was in coverage to hit him myself. I was going to go hit him because he came to my side. I was coming around to go hit him and I just see Sheldon go right by me and 'Wham,' that's all she wrote. It looked like he went over there and folded a lawn chair up."
With the Saints on their way to Lincoln Financial Field for Saturday night's primetime Wild Card round matchup, we caught up with the man who delivered one of the most famous hits in Eagles history. Driving his R.V. back up to his home in South Carolina after watching his beloved Gamecocks take home the Capital One Bowl in Orlando, Brown remembers the play a little more clearly – and correctly – than Cole.
"Trent said he was on his way to make the tackle? No, he wasn't on his way. The next guy that was in the picture was Jeremiah Trotter, because what happens is Trotter would have been responsible for that coverage," Brown said. "The play was Marques Colston lined up close to the line of scrimmage, and he would go in and he would pick the linebacker or make the linebacker run around him. They would swing the ball to Reggie Bush and now he would be outrunning the linebacker. In the first game we played them, I think Matt McCoy was the guy that was trying to cover him … and they killed us on that play over and over again. What we did on that play was we decided to recognize it between me and Trotter to trade it off, which (defensive coordinator Jim Johnson) allowed us to do throughout the course of the week in practice.
"On that particular play, I'm sure they had worked on it all week, I was able to show man, back off at the end, act like I was covering the receiver but (Brees) would flare it out to Reggie and I would have a free shot to get him. And it worked just like we practiced it."
One of the many beauties of the hit is that it was such a clean blow. Brown did not lead with his helmet nor did he target Bush's head, and the timing of the collision was legal. Ever the skeptic, though, Brown expects that he would have been flagged for such a hit today.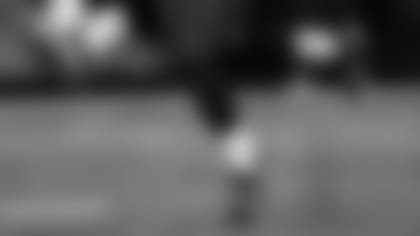 "It was a clean hit, but I'm sure they would have deemed him defenseless at the time," Brown said. "They might say he didn't have an opportunity to make a football move after the catch before I hit him."
Brown still vividly remembers the feeling of colliding with the Saints running back.
"Well, when a guy doesn't see it coming, you don't feel it at all," Brown said. "Like I've said before, it's like running through cardboard boxes. They're light. When a guy can see you coming to hit him, he can brace himself, shift his weight to try to gain an advantage on you. But he totally didn't see that hit coming."
Never shy from contact, Brown was one of the hardest-hitting cornerbacks in the league during his time in Philadelphia. True Sheldon Brown aficionados will recall another hit on an opposing NFC South running back.
(The hit on Reggie Bush) "is one of my favorite plays, but I enjoy my hit on Steven Jackson too because he was 240 pounds," Brown said. "It was one of those things where coach advised the DB's not to go high…. It was just; I was still able to put a big man on his back."
Knowing that Brees and Sean Payton are still running the offensive show for the Saints, Brown says that he wouldn't be surprised to see the same play from the offense on Saturday night. If that's the case, Cary Williams and Bradley Fletcher will have to be ready.
"If you remember in that Saints playoff run, they ran that same pitch play the next week against the Bears and (Bush) outran (Brian Urlacher) for (an 88-yard) touchdown," Brown recalls correctly. "I'm sure it is (still in their playbook) … with (Darren Sproles). I'm sure they're still running it."
Finally, Brown, a veteran of 10 playoff games with the Eagles, has some parting advice for the many young Eagles preparing to play in their first postseason game in Philadelphia.
"That atmosphere is a college atmosphere, first of all," Brown said. "It's probably as close to a college atmosphere as you're going to get when you're talking about professional team sports. They're die-hard.
"The players have to stick together through thick and thin, no matter how the game goes. There are going to be turnovers, there are going to be changes. No matter what happens throughout the course of the game, it's just the nature of the business. This could be their last game together and they have to go out and cherish the moment … Just go out and fight for the man next to you."
For more from Brown, check back on Saturday morning for more of his playoff memories.
Team Rushing Update Despite a valiant effort from LeSean McCoy and crew, the Dallas Cowboys were able to snuff out just enough of the Eagles' running game in the regular season finale to halt the march toward history and to cancel the declaration of the Wulf's Den's clairvoyance. In the end, the Eagles merely finished with a paltry 2,566 rushing yards – the second-highest total in team history, 41 yards shy of Steve Van Buren and the 1949 Eagles. 
Taking The Eagles To School
All week long, and likely throughout Saturday night's broadcast, you've heard about the connection between the Eagles and Saints quarterbacks. At Westlake High School in Austin, Texas, Foles broke all the passing records initially set by Brees about 10 years earlier.
But Foles and Brees aren't the only two NFL players connected through a common high school. In fact, Saints wide receiver Lance Moore and Eagles practice squad wide receiver B.J. Cunningham both attended Westerville South High School in Ohio. Actually, combing through the list of high schools on the Eagles roster reveals quite a tangled web of connections.
Sticking with football, as a 10th grader, DeMeco Ryans played alongside future NFL safety Kerry Rhodes, a quarterback at the time. Roc Carmichael played at Gwynn Park High School with Browns defensive tackle Phil Taylor and former Eagles linebacker Adrian Moten. Former Pro Bowl running back Warrick Dunn attended Catholic High School in Baton Rouge just like punter Donnie Jones.
Jets safety Ed Reed graduated from Destrehan High School just outside New Orleans, as did Damaris Johnson. Julian Vandervelde attended the same high school in Davenport, Iowa, as former 49ers running back Roger Craig and former Eagles offensive lineman Austin Howard. Brad Smith played on the same high school field as former Eagles safety Mike Zordich and former Heisman winner Frank Sinkwich. Safety Keelan Johnson, meanwhile, went to Mesa High School in Arizona only a few years after another former Eagle, Vai Sikahema.
Najee Goode shared Benedictine High School outside Cleveland with legendary Steelers head coach Chuck Noll. Meanwhile, LeSean McCoy, a Bishop McDevitt product in Harrisburg, is following in the footsteps of another former Eagles running back, Ricky Watters. Cary Williams, meanwhile, jumped around throughout his high school years.
"Jon Beason went to the high school I went to my Senior year," Williams said. "Frank Gore went to the high school I went to my Junior year. Johnathan Vilma my sophomore year."
The most interesting connections, though, stretch beyond the football field. Media personalities Chris Myers and Dan Le Betard also attended Chaminade-Madonna, the high school from which Williams graduated. But we can do much better than that.
Connor Barwin shares a high school alma mater with bombastic play-by-play manGus Johnson and "Get Shorty" and "Out of Sight" author/screenwriter Elmore Leonard (not to mention former Eagles cornerback Geoffrey Pope).
Damion Square has some entertainment roots from Yates High School in Houston, Texas. Not only did Mrs. Cosby herself, Phylicia Rashad, attend Yates, but so did Kid from Kid N' Play. At Kirkwood High School outside St. Louis, Jeremy Maclin haunted the same hallways as Scott Bakula. Dennis Kelly went to the same high school outside Chicago as Shonda Rhimes, creator of Grey's Anatomy and Scandal (Rodney Harrison also shares the same school).
Taking it up a notch, Michael Vick's Warwick High School in Newport News, Virginia, was also once home to Sonja Sohn, better known as detective Kima Greggs on The Wire. Patrick Chung is a Rancho Cucamonga grad, as are fellow NFLers Terrell Thomas and Vincent Brown. More importantly, they share the alma mater with Craig Lamar Traylor, Stevie from Malcolm In The Middle.
Emmanuel Acho takes the cake when it comes to acting connections, though.
"We have Tommy Lee Jones," Acho said, representing St. Mark's School in Dallas, Texas. "We also got Luke andOwen Wilson, except Owen got kicked out for plagiarism sophomore year."
Not everybody can be so lucky with their connections. Take kicker Alex Henery for instance.
"There's one girl who's in more of the kind of commercial stuff," Henery said of a classmate. "She's in a 5-hour energy ad. They're walking around the grocery store and she's the mom. But she's my age."
If it's pseudo-celebrities you're looking for, Riley Cooper's alma mater Clearwater Central Catholic was the home, for only one year, to Brooke Hogan, now a Dallas Cowboys in-law. When prompted, Zach Ertz recalled his high school basketball days, where he teamed with future No. 1 overall pick in the MLB Draft Mark Appel. A nice story, but he forgot to mention supermodel Christy Turlington also attended Monte Vista High School.
As hinted at earlier this season, Colt Anderson, the Butte Missile himself, shares a high school with daredevil Evel Knievel.
If music is your thing, Jon Dorenbos attended Pacifica High School, which is where the band Offspring was founded. DJ Premier, long-time hip-hop producer and one half of Gang Starr, attended Waller High School in Texas, as did linebacker Jason Phillips.
Looking for money? Then look no further than Bryce Brown's Wichita East, which produced billionaire Phillip Anschutz (and former Secretary of Defense Robert Gates). Or perhaps you prefer Wal-Mart CEO Mike Duke, a graduate of Brandon Boykin's Fayette County High School.
How about elsewhere around the sporting landscape? Chris Polk shared Redlands East Valley High School with United States soccer's all-time leading scorer Landon Donovan and pitcher Tommy Hanson. Travis Long attended Gonzaga Prep in Washington, as did John Stockton (and Bing Crosby). Long, in fact, remains good friends to this day with Stockton's son David, a redshirt senior on the Gonzaga basketball team.
For basketball connections, there's WNBA star Vickie Johnson, who attended the same high school in Louisiana as Bennie Logan. But Jason Avant takes that to the next level not only with a WNBA star of his own (Yolanda Griffith), but also Terry Cummings, Cazzie Russell and Tim Hardaway.
What about Foles' Westlake? In addition to Brees, the school also produced Ravens kicker Justin Tucker, former NBA stiff Chris Mihm and MLB closer Huston Street. For sheer volume of athletes, it's tough to top Matt Barkley's Mater Dei, with a roll call that includes Colt Brennan, Khaled Holmes, Matt Leinart on the football side, Danny Espinosa andSergio Santos in baseball, Miles Simon in basketball, Robbie Rogers in soccer and Jessica Bowlin in competitive dating (she won The Bachelor, though she and Jesse Palmer did not last).
In the end, though, everyone's high school pales in comparison to Long Beach Poly, the high school that produced DeSean Jackson. If you're looking for famous alumni, this is the proverbial Jaccpot.
A volume of NFL players? Marcedes Lewis, Willie McGinnest and former Eagle Winston Justice fulfill that requirement. Star baseball players? How about Chase Utley and Tony Gwynn. Yet none of those are even the most influential athletes to have graduated from Long Beach Poly. That honor would go to Billie Jean-King.
But this is no jocks-only list. Apollo Creed and Chubbs Peterson portrayer Carl Weathers is a Long Beach Poly guy, as are Cameron Diaz,Snoop Dogg and Nate Dogg.  
As always, click the graphic for a closer look.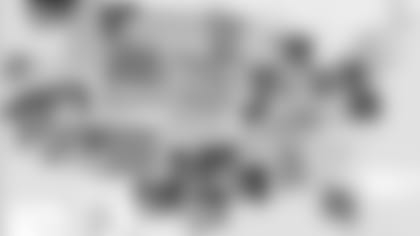 ](http://prod.static.eagles.clubs.nfl.com/assets/docs/18301200SameSchool.jpg)
Each week, we'll sit down with a member of the Eagles to discuss something beyond the playing field. This week, we stick with the high school theme, with Mychal Kendricks as our Yearbook editor ... Bo Wulf: Alright, I want to run through some High School Yearbook-type superlatives with you and let you tell me which guy on the team gets what. Let's start with best car.
Mychal Kendricks: Best car?
Jason Kelce (walking by): Jason Kelce.
Kendricks: Car or truck? Either? I don't want to say somebody and then count them out for something later.
Wulf: You can overlap if someone's deserving.
Kendricks: Alright, best car? Trent Cole. Ooo no. Jason Peters. Jason Peters for sure.
Wulf: That's what I was expecting. What kind of car is it?
Kendricks: He has so many. There's not one, that's why he has the best car.
Wulf: Is there one that stands out?
Kendricks: Yeah, right now in this winter condition, there's this Jeep Rubicon that's tricked all the way out. Like 26-inch rims. It looks like a toy car. It looks like something that's out of this world. It's elevated. It's got these big rims and about this-much tire, with a matching rim on the back, and the paint job is crazy too.
Wulf: Alright, how about class clown?
Kendricks: Class clown? Chris Polk.
Wulf: Any good reason why?
Kendricks: He's by far the funniest guy on the team. He has these little impersonations, these little voices that he does, and he can make anybody laugh on the team. It doesn't matter whether you like his jokes or not, he's definitely – Hey, who's the funniest guy on the team?
Patrick Chung: As far as what, though? Jokes or just a funny person? There's a difference.
Kendricks: Who's funny as a person and has funny jokes? I say Chris Polk.
Chung: Yeah, Polk's funny. He has me laughing all the time.
Kendricks: For no reason.
Chung: Clifton (Geathers) is the funniest person.
Wulf: Like Trent (Cole). People just laugh at Trent.
Chung: Trent's funny too. He's a funny person.
Kendricks: But Chris has the jokes.
Chung: Yeah, I'll say Chris.
Wulf: OK, how about smartest?
Kendricks: Ooo. There are a couple of them, man. Outside of football or in football?
Wulf: We'll say outside of football.
Kendricks: Brent Celek would want to be the answer. (Emmanuel Acho's) pretty smart. I want to say (Julian Vandervelde). Julian's really smart.
Wulf: Most likely to be a head coach one day?
Wulf: Is he the smartest in the meeting room?
Kendricks: No, he told me that one day he wants to coach.
Wulf: Well there you go. Most likely to make their first Pro Bowl next season?
Kendricks: Nick Foles. Well, not as an alternate. Me. Zach Ertz. Brandon Boykin. We have a couple guys.
Wulf: Who would you say is the most underrated player on the team?
Kendricks: Underrated? I would say Brandon Boykin.
Wulf: Most likely to play professionally in a different sport?
Kendricks: I want to box. I think me, Mychal Kendricks … Boxing seems fun. I really want to play soccer again. I'd have to lose 20 to 50 pounds.
Wulf: What position did you play?
Kendricks: I played sweeper. Defense.
Wulf: Most likely to be President?
Kendricks: Most likely to be President? I would say Kurt Coleman.
Kendricks: Oh man, I should do Acho for teacher's pet, but then he can't be the smartest.
Wulf: It's ok, you can do both.
Kendricks: Then I would say Najee Goode for the smart guy.
Wulf: Best dancer has to be you, right?
Kendricks: It's between me and Chris (Polk).
Kendricks: Yeah, and D-Jack too.
Wulf: How about best couple? Are there two guys that are always together?
Kendricks: Matt Barkley and his wife.
Wulf: OK, I was thinking like Donnie Jones and Alex Henery but that's better. Any good celebrity lookalikes?
Kendricks: (after thinking for a long time) Let's come back to this one.
Matt Barkley: Riley Cooper and Will Murphy look like Dumb & Dumber in the poster if you look at their high school pictures.
Wulf: We'll come back to it. Who's the best card player?
Kendricks: Jon Dorenbos, that's easy.
Wulf: Yeah, that's fair. Who's the quietest?
Kendricks: Emil (Igwenagu), by far.
Wulf: Yeah, he is quiet. Clumsiest?
Kendricks: Big Mike (Michael Bamiro).
Wulf: Yeah, I can see that. Most likely to win an Academy Award?
Kendricks: I would say me, I want to act, but I don't want to say me. I'll say Jon Dorenbos again because he's into all that entertainment stuff.
Wulf: How about most likely to fall asleep in a meeting?
Wulf: Most likely to make the game-winning play?
Kendricks: Brandon Boykin.
Wulf: Yeah, you can't go wrong with that. Best nickname?
Kendricks: Biggest flirt. Biggest flirt would have to be probably Jason Kelce, because he never takes anything too seriously. He's always wearing like crazy sweaters as conversation starters. He knows exactly what he's doing.
Wulf: Most school spirit? Like brags about their college the most?
Kendricks: Casey Matthews and Fletcher Cox.
Wulf: Alright last one. Most likely to win an eating contest?
Wulf: Really? He said something about that the other day and I didn't believe him.
Kendricks: Oh yeah. He's serious.
Kendricks: Hold on, I have the celebrity lookalike. Bennie Logan and Rick Ross.