A wise old journalist once said that his goal was to write better than anyone quicker than him and to write quicker than anyone better than him. Recalibrated for the 2013 Eagles, the same philosophy can be applied to the Eagles offense. Can the Eagles be better than any quicker offense and quicker than any more productive offense? Despite their occasional trouble with ball security, the Eagles offense is close to achieving that balance.
For now, we'll measure speed by looking at offenses when they're functioning at their most optimal level – on scoring drives. Through three games, the Eagles offense has racked up 77 points on 14 separate scoring drives. Those drives have averaged 5.9 plays for 59.9 yards and an elapsed time of one minute and 53 seconds. No scoring drive for the Eagles thus far has lasted longer than three minutes and 41 seconds. How does that compare to the rest of the league?
Only two teams have a quicker average scoring drive thus far in 2013. The leader is a bit of an anomaly in the Tampa Bay Buccaneers, whose average scoring drive is 1:48. But the Bucs only have four offensive scores on the season, with a five-second touchdown drive dragging their average down. They aren't likely to remain atop the list throughout the season. The second place team, however, is a team that the Eagles will be watching very closely this weekend. Over 13 offensive scoring drives in two games, the Denver Broncos have averaged scoring drives of one minutes and 51 seconds, two seconds better than the Eagles' pace.
The NFL's Quickest Offenses
Team
Avg. Scoring Drive
FO Pace Rank
Off. PPG
TB
1:48
22nd
12
DEN
1:51
3rd
41.5
PHI
1:53
2nd
25.7
PIT
2:05
19th
8.5
NE
2:21
4th
18.0
The Broncos, meanwhile, have also scored the most points of any offense in the NFL. Again, it's only been two games, but Peyton Manning and Co. have scored 41.5 points per game on offense through those two games, topping the second-place Green Bay Packers' mark of 33 points per game. Following their turnover-filled 16-point performance against the Kansas City Chiefs on Thursday night, the Eagles now rank sixth in offensive points per game with 25.7.
Of the five more productive offenses thus far, only the Broncos are running their offense at an explosive speed in the same ballpark as the Eagles. There are, of course, other ways of measuring both effectiveness and pace. The Eagles rank second in the league in yards per play, for instance, with 7.1, trailing only the Packers. And according to Football Outsiders' measurement of offensive pace, the Eagles ranked second behind only the Buffalo Bills heading into Week 3 with 22.2 seconds per play.
The NFL's Most Productive Offenses
Team
Off. PPG
YPP
FO Pace Rank
DEN
41.5
6.6 (4th)
3rd
GB
33.0
7.5 (1st)
8th
SD
30.5
6.2 (7th)
26th
NYG
27.0
6.7 (3rd)
7th
HOU
26.0
5.9 (8th)
14th
PHI
25.7
7.1 (2nd)
2nd
So yes, it's still very early and the Eagles have plenty to worry about offensively at the moment – namely protecting the football. But it's already clear that the Eagles offense stands among the best in the NFL and that the ideal balance of speed and productivity is within reach.
Every week, we'll monitor the pace of the Eagles' rushing attack to check in on our preseason prediction that the franchise team rushing record is in serious danger. Despite the loss to the Kansas City Chiefs, the Eagles piled up an impressive 260 yards on the ground on Thursday night, putting another early dent in the season total.
Franchise Record: 2,607 rushing yards (1949)
2013 16-Game Pace: 3,333 rushing yards
*The NFL record for team rushing yards in a season is 3,653 by the 1948 San Francisco 49ers.
After taking the locker room down a peg with last week's survey question, the goal this week was to reward the players who show up every day dressed to impress. Who is the best dressed Eagle? For starters, it's apparent that the most style resides in the secondary. Of the 22 votes cast, 50 percent went to either cornerbacks or safeties.
The other common thread? NFL players can be a vain species. Six of the 22 voters cast votes for themselves.
"I would say it's me, definitely," said Mychal Kendricks, unafraid of self-promotion. "One, I'm from Cali and we just know how to dress. We actually care. Two, because you don't have to spend a lot of money to look good. You do a lot of vintage stuff and little boutiques that no one else can find. ... You want to go to shops where there's not a whole lot going on because you don't want to wear something that someone else has. Here (at the NovaCare Complex), I don't dress up. But if you find me on the outside, I've got all the fits."
Kendricks received one vote.
In the end, two contenders emerged – both draft classmates of Kendricks. Coming in second, with four votes, was Vinny Curry, who garnered most of his support from the defensive line and who also voted for himself.
"I think my passion for clothes comes from not having enough money growing up," Curry said. He later recalled his first major clothing purchase – a puffy Northface jacket with fur hood for which he saved several months' worth of money from a part-time job during high school.
The Eagles' Top Model, though, goes to Brandon Boykin, who received six votes, none of which were cast by Boykin himself.
*Each week, we'll sit down with a member of the Eagles to discuss something you may not know about him. Yes, you know the last name of the Eagles' rookie safety out of North Carolina State, but do you know what it's like to attend a school with a mascot that's homonymous with your last name? Bo knows explores ...
*Bo Wulf: So my last name is Wulf, W-u-l-f. You're W-o-l-f-f. Do you ever get frustrated when you have to tell people how to spell it because they think it's like the animal?
Earl Wolff: You know what I get more? It seems like it's more putting the 'e' at the end than putting the animal. For example, somebody gave me something here (in my locker) the other day that had an 'e' on the end. I can't find it.
BW: It's terrible. Get it right.
EW: It happens all the time. As a matter of fact, when I was at NC State for our pro day, they gave us shirts to wear with our numbers and our names on the back. I'd been there for five years.
EW: I'm the captain of the defense. They still put an 'e' at the end of my name.
BW: So do they do two f's and an e, or just one f and an e?
EW: It's terrible. I don't see how they still spell it wrong.
BW: Especially, for you, what was it like being at NC State – the Wolf Pack. Did they have like a fan group for you? The Wolff Pack?
EW: I could have done something like that, but I'll tell you what they did do. During the game, they're always yelling Wolf then Pack, from sideline to sideline. If I made a play or something, they would yell my name, Earl then Wolff from side to side. They'd get it going back and forth. Every time my name came up, every time I made a tackle, all the fans went crazy. It all made sense.
Of course I had to go there because I wanted to stay in state. I couldn't go to North Carolina and have the last name Wolff. I couldn't go to Wake Forest and have the last name Wolff.
BW: Don't start with Wake Forest on me now.
EW: I can't do Wake Forest.
BW: You know what the NC State chant was at Wake Forest? Did you hear that when you went there?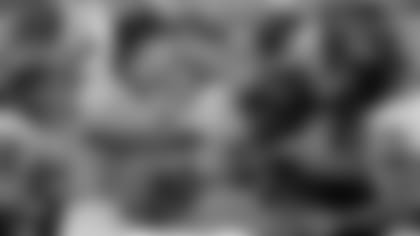 BW: "If you can't go to college go to State."
EW: Wow. Wow. Why do y'all do that to us? That's rude, man.
BW: What did you think was your biggest rival? UNC?
EW: Yes. It really was because UNC used to act like they weren't our rivals. That's what made it even worse. You act like you aren't our rivals, but then every year we play y'all, it's a battle. There's always a fight. There's always a brawl. Something always happens every year. We were only about 15 miles away, we would see each other and not speak to each other. Like we just didn't get along at all. It's two different worlds, that's why we didn't get along.
BW: They're caught in the middle. They're trying to be more athletic than Duke but more sophisticated than NC State.
EW: Exactly. It's weird. That's why you hear people say they like Duke, they like NC State. If you like Duke, you might like NC State. If you like NC State, you might like Duke. But if you like Carolina, you only like Carolina.
BW: So do you feel a camaraderie with other Wulf last names?
EW: Yes I do. I really do.
BW: I like people with other Wulf last names. What I don't like is people who spell Bo differently. If they spell it B-e-a-u, that's a no-go for me.
Brent Celek (Wolff's locker neighbor): Dude, you went to Wolf Pack because your last name's Wolff?