The Eagles and Lions both sit at 7-5 in the NFC with at least a share of the lead in their respective divisions. One of the biggest storylines this week, though, has surrounded perhaps the biggest difference between the two sides. Thanks to Nick Foles' historical ability to protect the ball, the Eagles have only 15 turnovers this season, compared with 22 takeaways. That plus-7 turnover differential ranks tied for eighth in the league. The Lions, meanwhile, rank 26th at minus-8, thanks to 25 turnovers and 17 takeaways.
If the Lions maintain their current turnover differential and make the playoffs, they would join rare company. Of the 120 playoff teams from 2003-2012, only nine had turnover differentials of minus-8 or worse. Eighty percent of playoff teams over that time had at least an even turnover differential.
Meanwhile, if the Eagles can keep up their pace of protecting the ball and forcing turnovers on defense, chances are they'll find themselves playing football in January. Sixty-four of the 81 teams (79 percent) who have finished the season with a turnover differential of plus-7 or better since 2003 have made the playoffs. It should be noted, though, that the Dallas Cowboys are tied for second in the league with a plus-12 turnover differential (thanks in large part to a plus-4 mark in their loss to … the Lions).
Turnover Differential In The Playoffs Since 2003
Total Teams
Pos. TO Diff.
Even TO Diff.
Neg. TO Diff.
120
89 (74.2%)
7 (5.8%)
24 (20%)
If you want to dream really big, nine of the last 10 Super Bowl champions finished the regular season with at least a plus-4 turnover differential, including three that finished at plus-7. First thing's first, though, the Eagles need to take care of business this weekend.
Teams With At Least +7 TO Diff. Since 2003
Total
In The Playoffs?
81
64 (79%)
On a per-game basis, the Eagles have won the turnover battle seven times this season and are 6-1 in those games, with the lone loss coming in Week 2 against the San Diego Chargers. The Lions have won the turnover battle four times this season and are undefeated in those games.
So yes, it sounds trite to say that winning the turnover battle will be key for the Eagles on Sunday. But with two of the league's top-five offenses at work, the game very well may be decided by which side protects the ball better.
Prior to the start of the season, the Wulf's Den predicted that the 2013 Eagles would challenge the franchise record for team rushing yards and every week we keep track of that race. We're nothing if not accountable here at the Wulf's Den and though the Eagles rank second in the league in rushing, reaching the record set by the 1949 Eagles appears unlikely. We blame Nick Foles.
Franchise Record: 2,607 yards
2013 Eagles Pace: 2,349 yards
Enough about the Lions' play on the field. After all, when you think of lions, the first thing that comes to mind is not Calvin Johnson nor Matthew Stafford, nor even the great Barry Sanders. For any right-thinking person, the mention of lions conjures up memories of our time's greatest coming-of-age story. We're talking, of course, about the Disney's The Lion King.
It is the contention of the Wulf's Den that the tale of Simba, Mufasa, Nala and Scar – not to mention Zazu – ranks as the greatest Disney animated film of all time. Fortunately, the Eagles locker room is in complete agreement. Of 49 players surveyed, the Lion King received an overwhelming 19 total votes for favorite Disney movie.
Now, there were admittedly some flaws in the criteria for this question. Michael Vick was granted the leeway to tab Toy Story 3 as his choice because Pixar is owned by Disney. Toy Story 3 is a wonderful movie and a worthy selection, but opening the door to Pixar movies created a slippery slope. Eventually, the doors were opened to all animated movies, since much of Pixar's best was produced prior to Disney's 2006 acquisition. As a result, Shrek, a Dreamworks film, was included in the discussion and finished in second place with five votes from the likes of Todd Herremans and Brent Celek.
That's right, the Lion King finished 14 votes ahead of its closest competition.
"Not even close. Not even close," said Damaris Johnson. "They got all these new movies, they got some good new Disney movies, but Lion King was the first Disney movie that looks like the movies they got today. What's better than the Lion King? What's better than that?"
"It's a classic," said Kurt Coleman. "It's all about falling down, getting hit with a lot of adversity and Hakuna Matata. Hakuna Matata, baby."
To be fair, there are plenty of classic Disney films worthy of mention that ranked No. 1 in the hearts of some in the locker room. Aladdin was tabbed by three, including two-time NFC Special Teams Player of the Week (no doubt for his holding prowess) Donnie Jones. Jon Dorenbos went with the Little Mermaid "because of Sebastian," while Jason Avant and Emmanuel Acho both chose Mulan.
Further back into the Disney archives, the Jungle Book received three votes from B.J. Cunningham and the offensive line duo of Jason Kelce and Lane Johnson, who continue to be kindred spirits after their misguided turkey hate last week. Nate Allen was alone in his choice of Peter Pan ("I was a big fan of the lost boys," Allen said) while Cary Williams dug deep for Bambi.
"I like those old school ones, man," Williams said. "The songs. It just seemed like a cool movie. It'll always have a special place in my heart because of Bambi's dad. He was like the Daddy of the forest or whatever he was. 'Get up, Bambi. Get up.'"
Into the Pixar universe, Casey Matthews and Dennis Kelly both went with Up, while Connor Barwin and Colt Anderson fairly named the original Toy Story. Cars received votes from Brandon Graham and Keelan Johnson while Zach Ertz and Vinny Curry got behind Finding Nemo.
No one, though, was more excited to answer the question than rookie safety Earl Wolff.
"Lion King is the classic," Wolff said. "That's what everybody's going to say. But it is a classic for a reason. Lion King is definitely the best. I used to watch every Disney movie … Have you ever seen Oliver & Company? I used to like that one a lot. I used to have a little Disney game and I knew all the answers. I might have watched a Disney movie a day."
In the end, despite wanting to show his Disney street cred, Wolff did the right thing and voted for the Lion King before convincing Najee Goode to give Oliver & Company a deserved vote.
The voting process was not without drama, however. In fact, the Wulf's Den has a bone to pick with the team's starting quarterback, Nick Foles. On Tuesday, Foles, who has already experienced the NFL's circle of life in his journey from backup to starter to backup to starter again, was asked for his favorite Disney movie. Without hesitation, Foles replied "The Lion King."
Shortly thereafter, Foles, in keeping with the Disney theme, appeared on ESPN's Sportscenter. He was asked to tell the viewers a few things they might not know about the reigning NFC Offensive Player of the Month. Knowing to be prepared, Foles answered by proclaiming his love for the Lion King as his favorite Disney movie, adding that he is a "big fan of Simba." A wonderful answer which shows that Foles just can't wait to be king of the NFL.
In the process, however, our hero stampeded right over our hearts. As you can see, Foles begins his answer by saying, "I was just asked this question a while ago by a media person."
"A media person," Nick? This was your chance to tell the world about the Wulf's Den. We could have had something special. If you didn't feel comfortable name-dropping the Den itself, at least toss in a worthy adjective. Something like, "my favorite media member" or "a handsome, whip-smart reporter." No, in fact, we cannot feel the love tonight.
Alas, after a soul-searching trip into our the pride lands of our mind, and a conversation with tight end James Casey, we were reminded to, for the rest of our days, have no worries.
"There are a lot of life lessons in the Lion King," Casey said. "Overcoming tragedy, your ups and downs in life. Hakuna Matata."
So, in order to bury the hatchet, we offer this piece of artwork as a gesture of good faith to Foles, or, as he'll forever be known our minds "an Eagles person."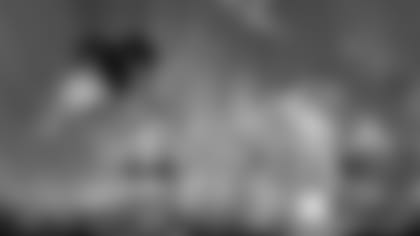 ](http://prod.static.eagles.clubs.nfl.com/assets/docs/1230x740_Disney.jpg)
Each week, we'll sit down with a member of the Eagles to discuss something you may not know about him. This week, we go one-on-one with a member of the Eagles you've never heard of. Welcome to the Den, team barber Eric Jones ...
Bo Wulf: How did you come to be the team barber?
Eric Jones: A family member knows Duce Staley, went to school with him. When he came back to the city after leaving Pittsburgh, I cut him maybe three times and then he called me back year after year until eventually it turned into this. So it was a blessing, I got lucky.
BW: So how long have you been doing it?
EJ: I've been cutting hair since high school. I graduated in 2001, so I started probably around '98. Professionally, in Philadelphia, in 2005.
BW: And how long have you been doing it for the Eagles?
EJ: This is the third season.
BW: So tell me who is the most interesting guy to cut.
EJ: The most interesting guy this season would be Trent Cole, one of my all-time favorites.
EJ: His influence on the team, especially in there. For the barber, it's the more social aspect of it and he kind of gets the team going, keeps the morale up, the camaraderie up.
BW: So how many guys do you cut?
EJ: Players, I'm not sure, maybe about half the team. A couple of guys have their own personal barber, some of them can't grow hair. And some of the coaches too, I guess about 15 of the coaches.
BW: Do you remember who the first Eagle besides Duce was that you cut?
EJ: The first Eagle besides Duce would be actually Shady, LeSean McCoy. He introduced me to him the first time I was coming down, like, 'Yo, I'm going to hook you up.' He didn't tell me who he was and not knowing what Shady looked like without a helmet on, I was kind of like, 'I think this is him, but I'm not sure.' And it was him.
BW: You're sort of like part of the team a little bit. You come to the locker room and you're one of the guys.
EJ: Yeah, it's cool. As a barber, it's definitely cool. I really feel like one of the guys. I don't get to suit up or anything, but I didn't have to try out either.
BW: Listen, there's a deep connection with your barber. There's only one guy I let cut my hair (ed. note: shout-out to Cosimo). So where's your other place?
EJ: My shop is located in West Philly, neat St. Joe's, it's called Creative Kuts.
BW: Any other good stories about cutting hair in the locker room? Where do you do it? In the bathroom, right?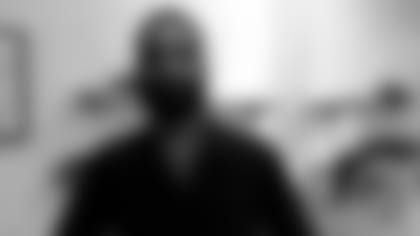 EJ: I do it in the bathroom. It's kind of weird.
BW: Because your office is the bathroom?
EJ: Yeah, I have a barber chair in there, a little station set up. I have a board in there so the guys can sign up. It's pretty cool, when I walk in, I feel welcomed. They kind of look for me.
BW: How often do you come in?
EJ: I normally come two times a week during the season and then I do house calls to these guys, so if they stick around after the season, I will see them. It gets personal after a while. They call me late at night and I'm like, 'Ah,' but it's fun. It's my job.
BW: What's the weirdest call or weirdest time you were ever called?
EJ: So far it was 12 o'clock Friday night, I was leaving my barber shop and he was like, 'Dude, I'm about to leave.'
EJ: It was Duce. He had late meetings and I think he was flying out, so I ended up meeting him at the airport kind of last minute and I took my bike there.
BW: So what's the travel pack like? Is there an emergency road kit?
EJ: A book bag and a bike. I'm a biker, I love riding my bicycle right here. Book bag, clippers, it's real light, I just get it going. As long as they pay, I'm there.
BW: Who's the hardest guy's hair to cut?
EJ: The hardest guy's hair to cut and everybody probably knows it is Michael Vick. I'm a guy, I like the natural lines, Mike likes the natural lines, but most fans don't like natural lines. They like sharp lines, the crazy contour lines and Vick is a fan of natural lines. So it's kind of hard to please him and everyone else as a barber.
BW: Explain to me what the natural lines means.
EJ: The natural lines is when the hair is cut but the line is not shaped up. Vick has real deep waves, so his line gets a little bubbly, a little wavy, and most people like that really, really lined up. So I get a lot of criticism as a barber.
BW: But that's what he wants?
EJ: Yeah, and I have to give him what he wants. And I like it, I don't shave my own hair.
BW: So it's about half the team, huh?
EJ: Yeah, they keep me busy. Two days out of the week and it makes my week even longer when I get back to the shop. Like I'll get phone calls when I'm down here, like, 'Aw man, come on, those guys have all week.' And I'm like, 'I gotta do it.' But they support me and I like it. As a fan, it makes me more supportive of them when they support me.
BW: What do you do on game days?
EJ: Believe it or not, game days I stay in the house, I watch TV, I sit on the sofa, I put my feet up. I learn from these guys, time on your feet plays a big part. And I bike and I do stand on my feet all week, so come Sundays, I'm excited to see these guys on Television.
BW: So has there ever been a guy where you cut his hair, he went and had a big game on Sunday and then you have to cut it the same way every week?
EJ: Trent Cole. Actually, Trent Cole, he normally wears his hair bald and lately he's been getting a fade. And ever since he's been growing his hair out to a fade, he's been getting sacks.
BW: So you're behind the turnaround?
EJ: Yeah, I should get credit for the sacks.
BW: Alright one last question. Have you ever been the barber for Allen Barbre?
EJ: No, not yet. One day. Maybe I'll catch him sleeping.