On Sunday, the Eagles return to action after their bye week with an eye on keeping pace atop the NFC East with the 7-5 Dallas Cowboys. Coming to Lincoln Financial Field will be the red-hot 7-4 Arizona Cardinals, winners of four straight games. The Eagles, meanwhile, will be looking to win their fourth straight game as they head into the final quarter of the season.
Cementing that four-game winning streak would self-evidently improve the Eagles' playoff chances. And it may be obvious, but teams that can win four games in a row are generally playoff bound. Since the NFL expanded to 32 teams in 2002, there have been 441 four-game winning streaks, counting any stretch of four straight wins as a separate streak. Only 59 of those, 13.3 percent, have been accomplished by non-playoff teams.
Four-Game Winning Streaks
Four-Game Streaks Since '02
Playoffs?
4-0 In Games 9-12
Playoffs?
441
86.7%
44
88.6%
Incidentally, there have been more 4-0 stretches over that time among a team's third quadrant games (games 9-12) than any other four-game stretch of the season. Among those stretches, 88.7 percent of perfect third quarters have led to the playoffs.
Obviously, teams that are good enough to win four games in a row are more likely to be good enough to go to the playoffs. So this is not to say that the Eagles would be playoff bound simply by virtue of notching a fourth straight win. After all, there would still be four games remaining and no games separating the Eagles and Cowboys. Football Outsiders, for instance, currently pegs the Eagles as 58.2 percent likely to end up in the playoffs.
Sunday, then, provides more of a litmus test for the Eagles than anything else. Facing off against an impressive defense, an emerging offense and a fellow playoff chaser, the Eagles will have their hands full. A win, a fourth straight, would mean that the 2013 Eagles are to be taken very seriously as a contender.
What better way to help get over your Thanksgiving food coma than by revisiting all the food that got you here? This week's survey of the diverse Eagles locker room tackled the season's most difficult question: What's your favorite Thanksgiving food?
The good news for Todd Herremans and Mychal Kendricks is that the best is yet to come.
"Leftover sandwiches with everything from Thanksgiving in it," Kendricks said. "You feel what I'm saying? It's everything combined."
Herremans agreed, adding that his family uses the leftover turkey to make a turkey pot pie.
Turkey itself came out as the second most popular item, garnering six votes, whether it be deep fried, jerk turkey or turkey wings specifically.
The most galling answers, however, came from a pair of offensive linemen who turned their nose up at the day's centerpiece bird.
"It's not turkey. I'm tired of eating all that," said Lane Johnson, adding, incorrectly, "I just think it's overrated."
"I absolutely hate turkey," blasphemed Jason Kelce. "One of my least favorite foods ever. It's terrible. The only way I'll ever eat turkey is if it's deep fried … We did a turkey for a while and everyone in my family eventually was like, 'What are we doing turkey for? We could make pork chops or honey baked ham.' So it was usually honey baked ham."
Macaroni and cheese was a popular answer, and helped to bring Earl Wolff and Chris Polk, separated in age by only one day, even closer together.
After hearing that macaroni and cheese was Polk's favorite food, period, Wolff touted his mom's culinary prowess.
"I'll tell you my mom's baked macaroni and cheese is the best ever," Wolff said. "It's the best ever. I know a lot people say their mom can do this, their mom can do that, but I'm serious. I promise you."
"I would be honored to try that," Polk said.
DeSean Jackson, Kurt Coleman and Connor Barwin all said their favorite food is the combined bites of turkey, mashed potatoes, cranberry sauce, gravy and the like. Green bean casserole received votes from Dennis Kelly and Travis Long, while Brandon Graham and Cedric Thornton opted for chitterlings.
Individual pies received votes from Matt Barkley (his grandmother's banana crème pie), Johnson (chocolate crème pie) and James Casey (pecan pie). Casey's vote actually turned out to be the most controversial, creating perhaps the most divisive locker room debate of the season. Pecan pie – is it pronounced Pee-can or Pe-kahn? Twenty-three players in all took part in the debate, with 11 players siding on either side and Kelce, in a complete turnaround from his misguided turkey stance, providing the voice of reason.
"I feel like it depends on who I'm talking to," said Kelce. "I feel like if I'm talking to a southern person, I'm more likely to say Pe-kahn. I don't even know if that's the right stereotype … If somebody were to just say one in a sentence, I would just answer it the same way, because I've heard both. I think I grew up saying pee-can."
In the end, though, the star of the show turned out to be sweet potatoes. Sweet potato pie itself received four of 46 votes, making it the most popular dessert. But sweet potatoes themselves, often with an insistence on accompanying marshmallows, received a plurality of eight votes.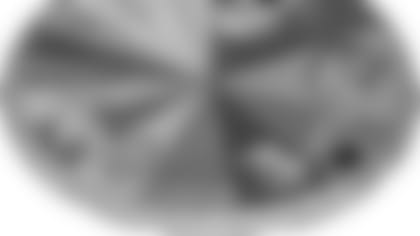 Each week, we'll sit down with a member of the Eagles to discuss something you may not know about him. This week, we go one-on-one with Donnie Jones. Sure, he's a great punter, but how much do you know about his ability as one of the league's best holders? ...
Bo Wulf: At what point did you realize that you could be a professional holder?
Donnie Jones: A professional holder? At what point did I realize? The funny thing about holding is I couldn't do it. I got to the NFL as a rookie, I couldn't hold. I was in Seattle. Basically I got drafted, they cut me before the season and put me on the practice squad. I was on the practice squad and, in Week 3 or 4, Tom Rouen goes down so they activate me. I'm up like six games, I don't play very well and after the sixth game I have a horrible outing so they cut me. They put me back on the practice squad and sign Ken Walter and Ken held for I think a couple of (Adam) Vinatieri's Super Bowl-winning kicks in New England. The rest of that year, he taught me how to hold. So we would work every day, he was a great guy. He didn't have to take the time to do it, but every day when he was done with his part of practice, he would throw me balls and he'd work with my hands, give me pointers on what to look for, 'Hey, feel the laces.' Try to feel this, try to feel that. And he taught me how to hold. It's weird, you take a bad situation where I was playing and got cut. Fortunately, it worked out for me to where this guy was nice enough to help me out and I've been holding ever since.
Wulf: So what were the keys to becoming a good holder?
Jones: Oh shoot, it's been so long. Just a lot of the things on feeling the laces, turning it in the air before you get it on the ground. We would just work different drills and basically it was repetition of throwing balls after ball and catching them and just learning how to do it. I think that's probably one of the reasons why I didn't get the job there as a rookie. I had punted pretty decent in preseason. In the regular season, (not so much). It was a blessing. He taught me to how to hold.
Wulf: So what makes a good holder, just consistency?
Jones: Yeah, being consistent. Really, you catch a ball with your eyes. I think it's an underappreciated position until something goes bad. And then when something goes bad, then you're in the limelight. I look back at the game when (Tony) Romo fumbled the snap and I think after that they had the new K-ball rule because it was a slick ball or something. You have to have good eyes.
Alex Henery: And a good kicker too.
Henery: If you mess up and the kicker still makes it, no one knows.
Wulf: Do you think we'll ever see the day when a holder gets into the Hall of Fame?
Jones: A holder gets into the Hall of Fame? I'm sure if you research it, there's probably several that are in there. They probably did other things. I think Sammy Baugh's in the Hall of Fame, I don't know if he was a holder or not.
Wulf: Well Dan Marino held in Ace Ventura.
Jones: What was his name? No, that was Finkle.
Wulf: Finkle was the kicker, yeah. Are Ace Ventura/Ray Finkle jokes sort of cliché in the holding community?
Jones: We haven't joked about that in a while. There was a guy my last year when I was in Houston, the coach would always talk about Cole Ford. The Cole Ford kick. Apparently it was a real short field goal, it might have been from inside the 5-yard line, and he missed it. And I think it cost them the game or something, but he always talked about the Cole Ford kick. But anyway, yeah we don't really discuss Ray Finkle too much.
Wulf: What's the worst holding story you have? Have you ever been kicked in the hand or anything?
Jones: No. I don't think I've ever dropped any balls either, knock on wood (knocks on wood).
Jones: I've given the kicker laces straight back a couple times from 50, but other than that, no.
Wulf: Have you ever tried the Charlie Brown move?
Jones: No, that wouldn't be good. Get somebody injured.
Wulf: During the game, do you ever go up to the offensive linemen and ask them how much the refs are letting them get away with holding?
Wulf: Do you ever stand around just like holding your phone or something and you feel like you're practicing your craft because you're holding something?
Wulf: When you're grocery shopping with your wife, does she give you stuff to hold because you're the holder? Or if you ask her to hold something, does she give you grief?
Jones: These may be some of the worst questions I think I've ever fielded. I thought at first this was a serious interview.
Wulf: It started serious.
Jon Dorenbos:(Takes list of questions) Do you root for middle relievers in baseball to get holds? What does that mean?
Wulf: It's all about holds. It's a stat for middle relievers.
Dorenbos: I don't even know what it is. What's a hold?
Wulf: It's like a bridge from the win to the save.
Henery: You don't lose the lead.
Dorenbos: Alright, so do you root for middle relievers in baseball to get holds?
Jones: I don't watch baseball.
Droenbos: Do you get angry when you're on the phone and someone puts you on hold? You don't hold me, I'm the holder.
Jones: That doesn't say that, does it?
Jones: I haven't been put on hold in a while. It is annoying when someone puts you on hold though and they say the wait time is this. It's pretty annoying.
Dorenbos: Can you differentiate Jon Dorenbos' snapping position from other snappers you've received from?
Jones: I don't look at the butt, I look at the ball.
Dorenbos: Dude, so you're telling me you can't tell me from (Texans long snapper Jon Weeks)? You can't tell my legs, quads and butt from Jon Weeks?
Jones: (Weeks) does have extremely abnormal calfs.
Dorenbos: In your mind, when you put the ball down, are you picturing Mel Gibson in Braveheart when he's like, "Hold. Hold. Hold." These questions are great.
Wulf: Alright, last one. Give him that one.
Dorenbos: Which of the following best describes your holding philosophy? (Singing) "Hold on for one more day" or "Hold me closer, Tiny Dancer" or "Hold On Loosely" or "You got to know when to hold 'em, know when to fold 'em?"
Jones: Kenny Rogers, the Gambler?
Jones: I was thinking more like (grabs the recorder, starts signing), We've got to hold on to what we've got, It doesn't make a difference if we make it or not, we've got each other and that's a lot ….
Jones: I hope that worked out.