Every Eagles fan knows that Jason Avant is among the most consistently reliable players on the team. The man with the amazing hands is a perpetually trustworthy option on third down and he's made more difficult catches that anyone over the past few years.
Avant, though, has a chance this season to do something that has never been done before in NFL history, something that would cement him as one of the most consistently improving of all-time.
Through his first seven seasons in the NFL, Avant has increased his number of receptions each year. Three other players who had at least 150 receptions through their first seven seasons in the league were able to increase their reception totals each season – Reggie Wayne, Raymond Berry and Shawn Jefferson. But each of those three fell back in their eighth season.
If Avant can catch 54 passes or more in 2013, he'll become the first wide receiver to ever increase his reception total in each of the first eight seasons in his career.
This is a quirky record, no doubt, and Avant would tell you himself that he'd trade the yearly improvement for a 100-catch season thrown in the middle, but there's a workmanlike quality to the trend that befits Avant's personality. At 30 years old, Avant is at least four years older than every other receiver who was with the Eagles throughout the offseason. And yet, he was the one working tirelessly after practice catching extra passes in a constant search for improvement. The deeply religious Avant is also always in search of personal improvement and he serves as a locker room example in that quest.
As for the record in question, there is an impressive nature to such a mark as well. Yes, it means that Avant has never had one breakout season, but it also means that he's remained healthy throughout his career (Avant has missed a combined four games over his last seven seasons). It also means that despite playing a position for which youth is valued, Avant has always found a way to increase his role, albeit by the tightest of margins each of the last three seasons.
Jason Avant's Career Totals
Year
Receptions
Yards
2006
7
68
2007
23
267
2008
32
377
2009
41
587
2010
51
573
2011
52
679
2012
53
648
2013
12
146
So what does the veteran think of his chances of etching his name in the history books?
"I don't worry about that," Avant said. "I really don't like thinking about it, because one thing I never control is how many times they throw it to me. I like to think that if they throw it to me good things happen, but I like to focus on doing my job."
Avant has ranked among the top five in the league in catch rate (the percentage of passes caught on balls thrown his way) twice over the last four seasons, in 2009 and 2012.
Through four games, Avant is slightly behind the pace needed to get to 54 catches, but not by much. With 12 catches thus far, he's on pace for 48 catches, but the target is still well within reach. Rest assured that, as ever, Avant will do his best to keep improving.
"I'll continue to try," he said. "It's all about opportunities."
Prior to the start of the season, the prediction was put forth in the Wulf's Den that the 2013 Eagles would challenge the franchise record for team rushing yards. Every week, we keep track of their process. Through one quarter of the season, the Eagles lead the league with 793 rushing yards and remain ahead of the pace to break the team record, set by the 1949 Eagles.
Franchise Record: 2,607 yards
2013 Eagles Pace: 3,172 yards
With the Major League Baseball playoffs upon us, it's only right to wonder how a baseball team of Eagles would fare. The answer? Quite well, thank you very much. The Eagles have an NFL record* four players on their 53-man roster who were drafted in the Major League Baseball Amateur Draft, with at least one more player who was in early-round conversation. Beyond those, the current Eagles roster consists of several high school baseball standouts, including a few who were ticketed for college ball at one time or another. The boast here, then, is that in a league-wide competition, the Eagles would win an NFL World Series.
*This record has not been close to fact-checked.
So what would the lineup look like? Glad you asked. But before you go any further, know that this lineup has been pained over and that any possible changes you might offer have already been considered several times over. Also, note that only current members of the active 53-man roster were considered. So apologies to Will Murphy, whose father played baseball at Oregon, but once you open the doors to the practice squad, everybody in the organization wants to be considered and some worthy member of the actual Eagles roster loses a third-base spot to a certain someone from PhiladelphiaEagles.com. Onward …
](http://www.philadelphiaeagles.com/assets/images/news/EaglesBaseballBig%20(2).jpg)
(Click on the image for a larger version.)
1. CF DeSean Jackson – Rated as the third-best overall athlete by Baseball America entering the 2005 MLB Draft, Jackson was considered a second- or third-round talent following a senior season in which he hit in the high .300s and stole more than 20 bases. It was apparent, however, that Jackson preferred football and he let it be known that it would take high first-round money to woo him away from California, so he went undrafted. Still, imagine Jackson's speed patrolling centerfield and wreaking havoc on the basepaths.
2. 3B Jordan Poyer – A 42nd-round pick of the Florida Marlins in 2009, Poyer played two seasons of baseball at Oregon State before focusing solely on football. Poyer is an outfielder by trade, but we're overcrowded there and the former high school pitcher has the athleticism to man the hot corner for now. He'll also be one of the primary options out of the 'pen.
"I couldn't hit the changeup on the outside corner, but you throw me a hanging breaker I'm hitting it 450 (feet)." Poyer said. "My bat speed was good. I had a solid arm, four-out-of-five arm.
"(As a pitcher) I have a fastball, I have a 12-to-6 curve, I have a changeup that's pretty nice, has some movement, and a slider. I'm dealing up there … I'll come in relief."
3. P James Casey – Seeing as Philadelphia is a National League town, we're eschewing the Designated Hitter and putting our Ace in the three-hole. A seventh-round pick out of high school by the Chicago White Sox in 2007, Casey spent four seasons in the minor leagues as a relief pitcher, climbing as high as double-A. After playing with the likes of Gio Gonzalez, Chris B. Young, Boone Logan, Ryan Sweeney and Carlos Torres, Casey, also All-State as a hitter, stars for this Eagles squad and gets the start on the bump.
"I threw straight gasoline," said Casey. "But I had no idea where it was going, hence why I'm not playing baseball anymore. I got drafted because I was throwing so hard in high school and I was striking everybody out. I had a really good curveball, never really had a changeup and I never had any pitching lessons ever until I got to the professional level. Then they tried to change all my (mechanics) up and I just never really got it. I'd been throwing the same way for 18 years of my life and had no lessons at all and then they all of a sudden changed it. I just couldn't get it."
4. LF Riley Cooper – Once ticketed to play baseball in Philadelphia as a 15th round pick of the Phillies in 2006, Cooper fulfills that destiny in the cleanup spot here. Cooper is the only member of the Eagles to be drafted twice (he was also taken in the 25th round by the Texas Rangers in 2009) and played two seasons at Florida, where he hit four home runs in 41 starts. He'll also contribute to a stacked defensive outfield.
"Here's the deal," Cooper said, "I think if you gave me a month and half, I would be a top-five best (defensive) outfielder in Major League Baseball. You know how much of a humble guy I am, and that doesn't include hitting. Hitting takes years."
5. SS Jake Knott – A high school shortstop, Knott hit .458 as a senior in 2008 and did the unthinkable before he chose to play football at Iowa State – he committed to play baseball at Iowa, where he would have played third base and pitched. He'll be in our bullpen as well.
"I was a line drive power hitter I guess, but always had a really good batting average," Knott said. "I was a pretty good fielder. I had a pretty good arm. I was going to also be a reliever a little bit in college. I've hit 90 a few times."
So why the change of heart?
"I just knew I couldn't live without football," Knott said. "Baseball didn't get me excited like football did. I didn't get goosebumps before all the game. I loved baseball, but I never really had that same type of feeling. Football was a different type of love I guess."
6. 1B Matt Tobin – Another two-way player, Tobin is our lefty in the bullpen as the big man could crank it up to the low 90s in high school and was recruited by several lower-level D-1 baseball programs. As a hitter, Tobin says he never had much deep power, despite his 6-foot-4 frame, but he was an on-base machine.
7. C Jon Dorenbos – After some heavy lobbying, Dorenbos wrestled the starting catcher job away from Julian Vandervelde on the heels of an impressive senior season at Pacifica high school after which he was named Offensive Player of the Year in the conference. A one-time teammate of Bobby Crosby, Dorenbos is willing to get behind the dish, where the crouch will seem familiar.
"I wasn't really a good hitter until my senior year when I quit basketball and spent the summer working on my game," Dorenbos said. "My buddy's dad helped me out, I hit every day. I worked on my mechanics, my hips, hands, and I really learned how to hit going into my senior year."
8. 2B Damaris Johnson – An all-state shortstop as a freshman for a Destrehan high school team that lost in the Louisiana state championship, Johnson certainly has the quickness to slide to second base and will provide some juice on the bases as well. The diminutive Johnson stopped playing baseball after that freshman season thanks the old trope of the overbearing coach.
"I remember my coach told me, 'You're not going to grow anymore. You're only going to be 5-foot-8, 5-foot-7, so you should quit football and play baseball,'" Johnson said. "That's what really made me want to quit. So every time I see him now, I just give him a little look. I'm still the same size."
9. RF Michael Vick – Although he hasn't played baseball since eighth grade, Vick was selected in the 30th round of the 2000 MLB Draft by the Colorado Rockies. Despite the long layoff, Vick's innate athleticism is enough to get him the final spot in the lineup and a role in perhaps the most athletic outfield trio baseball has ever seen.
"I was a centerfielder," Vick recalls. "I ran everything down. I couldn't hit though, I couldn't bat."
SS Colt Anderson – One of the two most difficult omissions from the starting lineup, Anderson was a standout high school player as well and was recruited by a few college programs. He was ticketed for the starting lineup before he mistakenly called a double play a "double two."
2B Jason Avant – The man with the best hands on the team obviously works in the infield, though there's some expected rust since Avant hasn't played since eighth grade either. Baseball is in his blood though, as Avant's brother Edwon Simmons was a ninth-round pick of the Baltimore Orioles in 1993.
PH Fletcher Cox – Cox is on the team because he mentioned in his introductory press conference as a first-round pick that one of his hobbies was playing softball with his friends. He's unlikely to see much of the field.
1B/P Todd Herremans – The other difficult omission, Herremans was a high school standout as well and was one out shy of a no-hitter in high school before his left fielder misplayed a routine fly ball. He'll be a key member of the bullpen. Another high-contact first baseman, Herremans will platoon with Tobin at first base.
OF Jeff Maehl – A high school centerfielder who hit in the .400s, Maehl would likely be worthy of a starting spot on most NFL teams, but he's a victim of the numbers game in Philadelphia.
C/1B Julian Vandervelde – The final piece to the puzzle, Vandervelde was ticketed for big things in baseball before he stopped playing after his Freshman year in high school. But as a member of the Davenport, IA, little league team that reached the Little League World Series, Vandervelde brings some prestige to the table. He led that team in home runs and he'll bring some pop off the bench. Most importantly, he gives us a reason to share this picture.
Each week, we'll sit down with a member of the Eagles to discuss something you may not know about him. This week's subject is wide receiver Jeff Maehl, who caught his first career touchdown pass last week against the Denver Broncos. Maehl is a native of Paradise, CA ...
Bo Wulf: So how did it feel to score your very first NFL touchdown?
Jeff Maehl: Man, it was pretty cool. It's been a pretty long journey for me. I actually got my first catch the play before, so to knock out both of those right there was pretty cool.
BW: Would you say that it was Almost Paradise?
JM: Yeah, but if we would have been playing better the whole game and won, it would have been a little better. It was still a special feeling.
BW: What was it like growing up in the Paradise City?
JM: Well, unfortunately it's not quite all the name implies, but it's a nice small town in Northern California. I really enjoyed it, being with a tight-knit community like that that still supports me pretty highly. So it was really enjoyable.
BW: Is the grass green and are the girls pretty?
JM: Oh yeah. Some would probably beg to differ a little bit, but yeah man, like I said it's a great tight-knit community.
BW: What's the best place to get a Cheeseburger In Paradise?
JM: Oh man, I'd probably say a burger place called Izzy's is pretty good.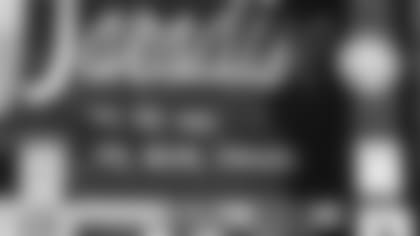 BW: Is there ever any Trouble In Paradise?
JM: Every once in a while we get some people doing what they're not supposed to do, but other than that it's pretty clean.
BW: So it's just Another Day In Paradise?
BW: Do you get these a lot?
JM: No, this is the first time I've gotten questions about Paradise.
BW: So when you fly home, do you get one or Two Tickets To Paradise?
JM: It depends, you know. Now it's two since I recently got married.
BW: So if I went there, would I get Lost In Paradise?
JM: You might. There's one main road and that'll get you to a lot of stuff, but if you get on some of the side roads, then you'll get lost.
BW: I guess that's what happens when you're a Stranger In Paradise.
BW: I know that there's another Paradise in Utah. Would you say that's a Fool's Paradise?
JM: Yeah, definitely. Paradise, California is the real deal.
BW: I'm not sure how to work in Paradise By The Dashboard Light. I've got nothing for that.
BW: Tell me which one you prefer, Gangsta's Paradise or Amish Paradise?
JM: Gangta's Paradise, for sure.
BW: And how 'bout Pimpa's Paradise? That's a deeper track, Damian Marley.
JM: I haven't heard that one, but hey, it works.
BW: Alright, thanks for playing along.