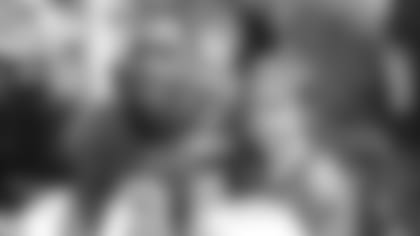 At only 2 years old, Danny Feltwell was diagnosed with stage four T-cell lymphoblastic lymphoma with a tumor in the center of his chest that was larger than his heart.
Today, almost 7, Danny is healthy and there are no more signs of cancer.
Danny became close with the University of Delaware football team in 2012 through the Andrew McDonough B-positive Foundation, a foundation that provides financial and emotional support to families of children with cancer nationwide, where he became close with all the players. Among them was current Eagles wide receiver Mike Johnson.
"Danny was adopted by the University of Delaware football team in 2012 because he was named the B-positive hero and he absolutely loved it. He stayed involved. The first year he was adopted he was too sick to really go and the second year we only went a few times. He was getting better but he was still sick. Last year was his third year and he was able to enjoy every home game and the team even flew us to an away game in New Hampshire," said Danny's father, Dan Feltwell.
On August 3, the Eagles signed Johnson, the Delaware wide receiver. And wouldn't you know it, the Eagles are also Danny's favorite team.
"It's Delaware and the Eagles for Danny," said Dan. "When Baltimore comes up to play in the preseason, Danny can't wait to come see Nick [Boyle] and Joe [Flacco]."
Danny welcomed players with high-fives as they entered the NovaCare Complex practice field during Training Camp and got to have a one-on-one conversation with Johnson after practice.
"During my time at the University of Delaware, we adopted Danny. He's been through a lot so we basically set him up a locker in the locker room. He's one of us and we basically took care of him. He would come to our games and we would treat him like one of our brothers," said Johnson.
Seeing Danny at practice was a taste of home for Johnson and he was looking forward to it.
"His dad communicated with me that he'd be coming and I was excited. I had to show my face to him because I'm a familiar face. But, it's just a blessing seeing him here today. It's amazing, he's a great kid," said Johnson.
Danny was overwhelmed with joy as he watched the Eagles walk by him in to the locker room. Many players stopped to sign Danny's football and he was especially excited to receive an autograph from quarterback Tim Tebow.
"He absolutely loves this," said Dan.
Right now, Danny is not allowed to play organized football because he is still finishing his standard checkups.
"He and I play together. I have videos on my phone of Danny playing football in our living room and yelling that he's Mike Johnson," said Dan.
Although Danny had a very long and painful recovery, according to Dan, they are very blessed and there is no evidence of the disease today.
"Football has helped Danny both physically and mentally. Danny was very sick, he couldn't walk, and he couldn't run. All of his doctors told me that it would be years before Danny would recover, if it's not permanent. Danny fell in love with football and fell in love with the University of Delaware team. Danny wanted to be just like those players so he played every single day. He played even when it hurt and he cried and would take a break and go back to it," said Dan.
Danny has always loved football and the sport and the University of Delaware football team helped motivate him.
"Danny recovered far quicker because of the love he has for football and the team," said Dan.