Wide receiver Hank Baskett, when doing sprints at football practice for his Clovis (N.M.) High School team, felt an asthma attack coming on.
Not wanting to use his asthma as an excuse for bailing on his teammates, Baskett battled on. Then, he collapsed. Though his life was saved, the life of a junior high school student from Baskett's neighborhood was not. The girl, Baskett said, also suffered from asthma and collapsed that same day during gym class.
It was then that Baskett, who was born with the condition, knew he would take his asthma seriously from that point on.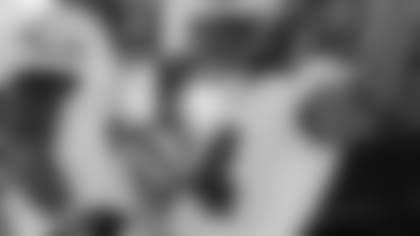 WR Hank Baskett has a career-high 30 receptions this season
"I never wanted to use asthma as a weakness," Baskett said. "But this is a very serious disease to have. At any moment, you can pass out and just fall over."
A new partnership between the Philadelphia Eagles and Teva Speciality Pharmaceuticals, a world-class competitor in respiratory therapy, is designed to raise awareness about asthma healthcare and testing, as well as the use of new hydroflouroalkane (HFA) inhalers. These inhalers, which contain a softer spray and do not use ozone-depleting chloroflurocarbons (CFC) to dispense medication will be made available to the 10 Eagles players that suffer from asthma on the 53-man roster.
The partnership, said Mark Donovan, Eagles senior vice president of business operations, allows the Eagles to "leverage the power of (their) brand" to get both a message to the public about asthma awareness, as well make a positive impact on the environment, consistent with the team's "Go Green" program.
Head athletic trainer Rick Burkholder said he has tried to make asthma awareness a key focus of his work since he took the job in 1999. Burkholder said asthma is prevalent in both African-American males and those from urban areas, a large percentage of players on both the Eagles and teams around the NFL.
African-Americans make up about 65 percent of NFL rosters.
"As I was putting together my plan here in '99, it was one of the things that kind of kicked up for me to say, 'Hey, we've got to look at this,'" Burkholder said.
Burkholder said the Eagles currently have 10 asthmatics on their 53-man roster, but he's had as many as 16 and as few as seven. Burkholder puts his players through extensive testing to determine lung capacity, peak flows and to assess potential risks, he said.
Burkholder said the new partnership will help to prevent tragedies on his watch as trainer.
"You've got to look; as a professional athlete, I'm not invulnerable to not having my asthma," Baskett said. "It's a very serious disease."