Welcome to the debut of Women's World. Brandyn Campbell is the founder, editor and writer of the Philly Sports Muse. Every Thursday, Campbell will offer a unique perspective as she shares her passion for the Eagles ...
We're almost there. On Monday, a new era of Eagles football will get underway at FedEx Field against the Washington Redskins. The promise of a new season brings with it the excitement of a fresh start. Last season's upsetting 4 -12 season doesn't matter now— only what happens from this point forward does. It makes the excitement of a new football season a pure expression of hope and joy.
Philadelphia Eagles football is one of the biggest loves of my life. A fan since the days of Randall Cunningham, when I first moved to the Philadelphia area, I can't imagine fall without it. Brunch is great, but not if it interferes with a game.  My friends know to check the schedule before even asking. The cooler weather is perfect for donning midnight green jerseys accompanied by chants of E-A-G-L-E-S, EAGLES!
A lifelong sports fan who loves writing almost as much as football, I launched the blog Philly Sports Muse in January of 2011. Yes, even in the middle of the NFL lockout I wanted to write about the Eagles. But loving a team isn't just about the games. It's also about having an interest in the storylines that impact what happens on the field. Learning about the journey of the team's players to make and stay on the roster. Expressions of contentment - or otherwise - that provide insight into a player's personality via social media. Finding amusement in particularly colorful outfits worn to travel to meet the team's next opponent. I love it all. Two-and-a-half years after the launch of that site, I hope that some of the topics explored via this column will help readers explore another side of the game, their fandom and the Eagles.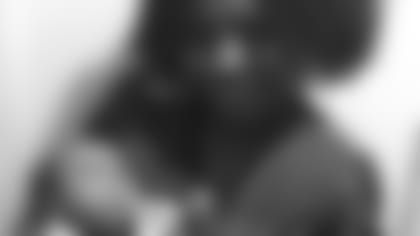 Loving the stats as much as the storylines is what makes football season much more than what happens on Sunday afternoon. This season is particularly special for me as, in addition to welcoming a new era of Eagles football, there is a new era in the Campbell household. We welcomed our first child, Matthew, at the end of July, just before the start of the preseason. Good timing, eh?
Upon announcing that we were expecting to friends and family, the first gifts we received were Eagles outfits for the baby. That's right, before we had a crib, bottles or even diapers, we had Eagles gear for our eagerly anticipated arrival. And I can't imagine it any other way.
Right along with the typical parenting concerns of how to get the baby to sleep and being the best, most nurturing parents possible, worries about watching football with baby have filled my brain more than I care to admit. Eagles games are an interactive experience for me, as demonstrated by the volume with which I shout at the screen and fervor with which I jump up and down on the floor while watching games at home. The noise is such an issue that my husband closes our windows on game days in an effort to prevent our neighbors from thinking that I am insane. How will I tone down my football watching exuberance so as not to alarm the baby?
These are the deep questions that keep this new mother up at night, along with a hungry baby, of course. While on the surface these matters may seem trivial, it is really parenting in its purest form—wanting to share something that you love with your child.
This season will be special because we will set the tone for our son as an Eagles fan. It all starts here. He may be too young to understand the reasons, but he will hear, see and feel the enthusiasm, passion, pure joy and utter heartbreak that is Eagles football. Hopefully, he will gain an inherent understanding of what is difficult to explain: The reasons behind the questions of why we do it all. That's just what it means to be a fan, son.
When Matthew is older and begins to understand the concepts of winning and losing, how will I soothe his disappointment while trying to address my own following a loss? And the biggest question of all: Will my child get to see the Eagles hoist the Lombardi Trophy and celebrate a Super Bowl win side by side with millions of fans along Broad Street? Please, oh please?
Fittingly, my son was born at a time of rebirth and rebuilding for the Eagles franchise. There is a new coach with an entirely different perspective, a new defensive scheme, new players - a new life for the Eagles. And the hope for both child and team is the same: to fly high and flourish.