Imagine being trapped in a cage and the only thing standing in the way of freedom is a lion.
That's how defensive end Trent Cole described what it's like being double-teamed in the NFL. It's something he faces on almost every down he's on the field.
But that hasn't stopped Cole from having another productive season. He's tied for the team lead in sacks with eight and leads all Eagles defensive lineman in tackles, tackles for loss, hurries and forced fumbles.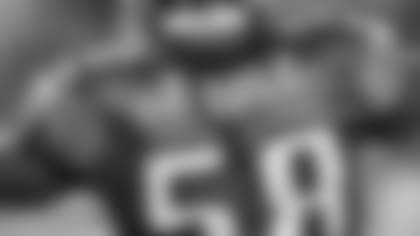 DE Trent Cole
According to Cole, however, all that doesn't add up to squat if the team doesn't make the playoffs, meaning the game in D.C. this weekend is another must-win for the Eagles.
"This is big right here," Cole said. "It's not only us. There's a lot of other games deciding if we got a shot at the playoffs too. We're going to go into this week (hoping) to have a great game, win and hope for the best on the scoreboard."
Cole, as well as the rest of the Eagles defensive line, will have a distinct advantage heading into Sunday's matchup at FedEx Field.
Redskins starting left tackle Chris Samuels, who routinely matched up against Cole, is out for the year with a triceps injury and starting right tackle Jon Jansen did not practice all week.
"If the O-line is banged up, it's better for the guys beside me," Cole said. "I know they're going to take advantage of the situation. That's my D-lineman that I've been riding with all these years, I know they're going to take advantage of the situation too."
That means Stephon Heyer, who's replacing Samuels, will be responsible for protecting quarterback Jason Campbell's back from being obliterated by Cole.
"Nothing really changes," Cole said. "There's a guy (in there) that's maybe a step down from Samuels. You get in your head as a defensive end, depending on how you are, if you're an aggressive-type D-end, you're going to try to take advantage of the situation. You're going to try to dominate, just take advantage. That situation, that's the way you have to approach it."
In seven career games against the Redskins, Cole has sacked the quarterback just once. That's a testament to just how good Samuels is and just how much Washington will miss him on Sunday.
"Samuels is very good," Cole said. "I think he's the best in the league. He's a very athletic guy. I've played against him and it's been a battle between me and him. He's a great tackle."
Not having to face Samuels doesn't mean the Eagles will have a free pass to the quarterback. Despite playing without Samuels and Jansen last week against the Bengals, the Redskins offensive line didn't yield a sack.
But the Eagles are riding a three-game win streak and they're playing with distinct swagger.
"There's a lot of confidence riding through us right now," Cole said. "It's great to have that. When you have confidence, you play great games. You go into games feeling good. Confidence is a good motivator, (especially) starting the game out."
"The guys that have been called to step up have done a great job. They've stepped up big. We're on a roll right now, we're winning games. That's what we've been doing and we're going to keep doing what we've been doing."