In the span of a few hours, Will Witherspoon, the newest member of the Philadelphia Eagles, went from playing on an 0-6 team to playing for a 3-2 team with playoff aspirations.

"It means a lot to go to a team that is going to be great, or has the opportunity to be a contender," Witherspoon said. "You have to understand that you have to do what's best to make it in this game. I think going to a team that already has a couple wins under its belt and is already moving in the direction that I think, as a player, you'd like to be (moving in).""

The Eagles acquired Witherspoon in the waning minutes of the 4 PM (EST) trade deadline from the St. Louis Rams for rookie wide receiver Brandon Gibson and a 2010 fifth-round draft pick. Head coach Andy Reid said that Witherspoon will step right in and play middle linebacker in place of the hampered Omar Gaither.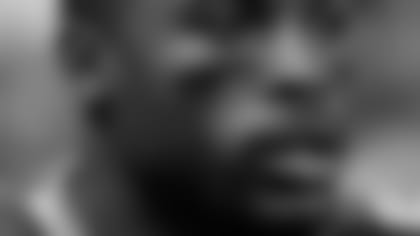 LB Will Witherspoon
"I'm definitely comfortable (playing inside)," Witherspoon said. "I'm a guy who just wants to be out on the field and have the opportunity to make plays.
"I think (coverage) is one of my strong suits. Again, it's one of those things I've always had to do, I've always had to be comfortable with, and I've always taken great pride in. I can go out and cover, I have to trust myself that I can go out and cover anybody."
Of course, the trade took Witherspoon somewhat by surprise, but he was able to catch up with former Eagles' assistant coach and current Rams' head coach Steve Spagnuolo on the way out.
"You're taken a little off-guard when you get the call, but, you know, it's business," he said. But "(Spagnuolo did have a lot of great things to say about Coach Reid.
"He said, 'I think you're going to love the city, you're going to love the guys that you're going to be working with.' And I have to agree. From the little time that I have spent in Philly and around the area I know there's a lot of great things that it has to offer and I'm just going to try to embrace it and make the best of it."
Because Spagnuolo's defense in St. Louis is similar to the current Eagles' defense, Witherspoon's transition won't be so daunting.
"I think there's a lot of similarity and that'll be kind of the good thing about it," Witherspoon said. "There's a lot of things that can be done, things that we'll be able to do that won't ask for a lot more. It's not like I'm stepping into a situation where everything's totally changed."
"The game is the game. You have to take it from that standpoint. The terminology is going to change, the players in position are going to change, but the game itself stays the same. I think that's the easiest part of the transition."
Witherspoon also discussed the injury he suffered last week in the Rams' loss to the Jaguars.
"I'm ok, I just bruised my tailbone a little bit, actually just bruised my butt cheek," Witherspoon said. "I'll be alright. It's just one of those things that you do, kind of locks you in place a little bit there. But I'll be ready to go."
Witherspoon played mostly middle linebacker in his first three season in St. Louis before moving to the weakside this season. This won't be the first time that Witherspoon will be thrust into the fire, switching positions mid-season.
"I don't think (this) can be any more challenging than my rookie year," said Witherspoon, who was practicing exclusively at weakside his rookie season for the Panthers. "I'm sitting there, haven't played a snap (all season) and I'm still trying to learn the defense ... I have (then Panthers' defensive coordinator) Jack Del Rio turn to me and say, 'You're getting ready to start at (middle linebacker) next week.
"(I'm) sitting there with every (defensive) lineman in the back of the room and the (defensive backs) going, 'Oh my god, we're going to have a rookie that hasn't even taken a snap at (middle linebacker) getting ready to start this week?'"
Witherspoon responded not only by finishing the season at middle linebacker for the Panthers, but by starting 97 of the next 101 games for the Panthers and Rams. And he's excited to take on the next phase of his career in front of the fans at Lincoln Financial Field.
"Playing in that stadium is awesome," Witherspoon said. "You love the atmosphere. It's electric all the time, the fans are great. You've got to go out there and perform."
Will Witherspoon's Career Statistics
Year
Team
GP/GS
Tot
Solo
Ast
Sacks
Yds
INT
Yds
Lg
TD
KD
FF
FR
Yds
2002
Car.
15/8
88
49
39
1.5
17.0
0
0
0
0
5
1
1
0
2003
Car.
16/16
114
76
38
1.0
9.0
1
10
10
0
4
0
0
0
2004
Car.
16/16
110
82
28
3.0
21.0
4
48
25
0
5
2
1
0
2005
Car.
15/15
109
78
31
2.5
13.0
2
35
35
1
13
0
0
0
2006
StL.
16/16
136
104
32
3.0
8.0
0
0
0
0
9
1
1
0
2007
StL.
16/16
132
103
29
7.0
54.0
0
0
0
0
10
2
1
0
2008
StL.
12/12
88
61
27
1.0
10.0
1
2
2
0
2
0
1
0
2009
StL.
6/6
36
24
12
0.0
0.0
0
0
0
0
0
0
0
0
Totals
116/105
813
577
236
19.0
132.0
8
95
35
1
48
6
5
0